We use cookies for a variety of purposes, such as website functionality and helping target our marketing activities. Some cookies are essential, others help us improve your experience by providing insights into how the site is used. For more information, please visit our Cookie Notice.
Timber and builders' merchant takes DAF CF 480 tridem to boost productivity

Enhanced manoeuvrability delivered by DAF's 8x2 'FAQ' tridem axle configuration

New truck fitted with Hiab crane and purpose-designed body from Forshaw Engineering

"By working with DAF, Forshaw Engineering and Hiab on the truck, body and crane, we've created an exacting specification..." North West Timber Treatments' Sam Mayor
North west timber specialist welcomes agile new DAF CF 480 tridem
Regional timber and builders' merchant, North West Timber Treatments (NWTT), has taken delivery of its first new truck from market-leading DAF Trucks – a 32-tonne DAF CF 480 eight-wheeler with the manufacturer's 'FAQ' tridem axle configuration. Equipment includes Hiab crane and a specialist body designed and fitted by Forshaw Engineering. The vehicle was supplied by local DAF Dealer, Lancashire DAF.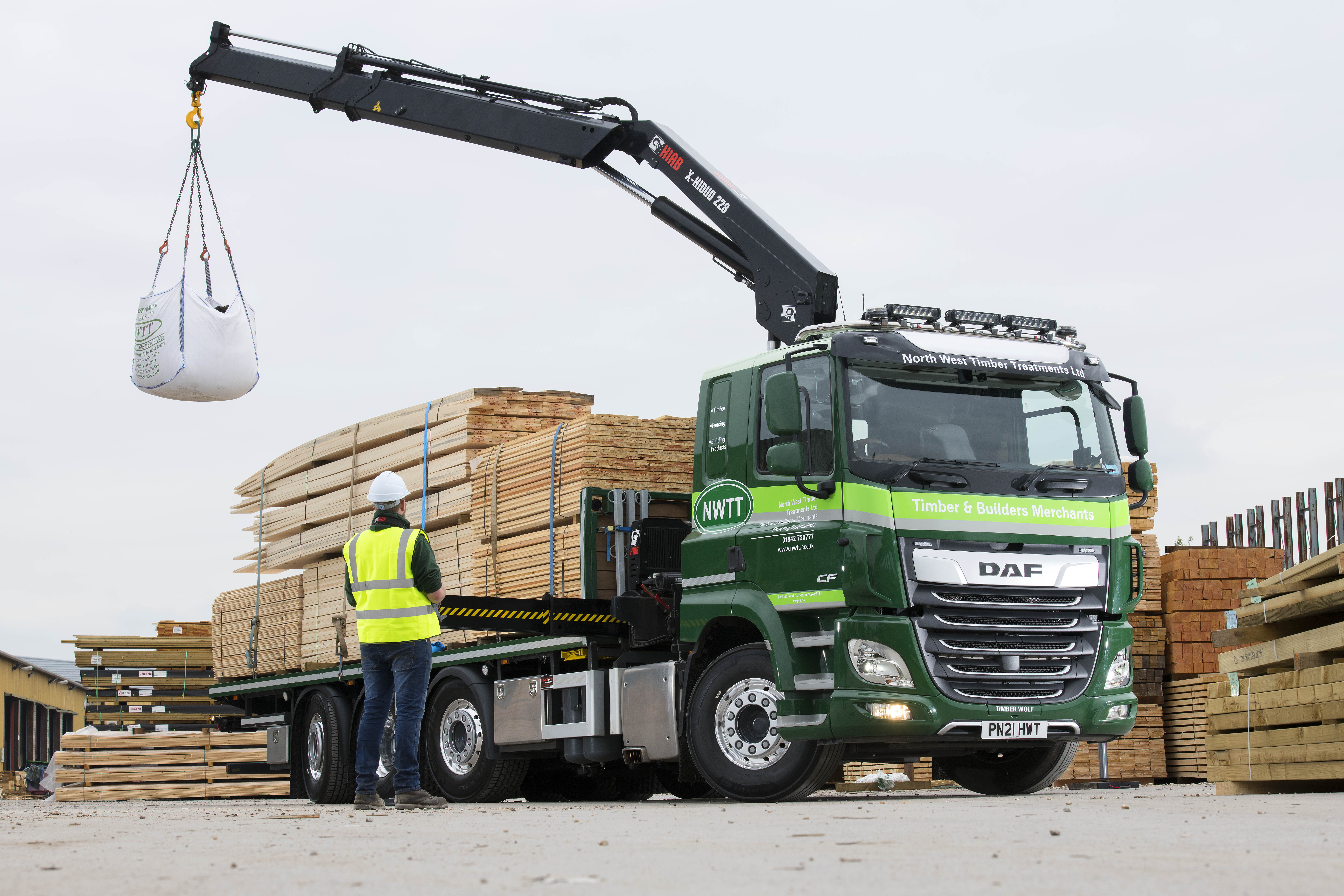 The new CF will complement NWTT's existing fleet of 6x2 vehicles operating on timber and building product drops to clients across Cheshire, Greater Manchester, Merseyside, and Lancashire.
Enhanced manoeuvrability was a key factor in NWTT's decision to specify the truck with DAF's FAQ 8x2 axle configuration. The 'steer-steer-drive-steer' tridem arrangement allows access to a greater number of customer locations, where space is often restricted and where frequent, complex manoeuvres are demanded. NWTT says that the new DAF CF eight-wheeler can match its 6x2 rigids for manoeuvrability, and with the benefit of an increase to 32-tonne GVW operation, saving time and money on bulk deliveries and multiple drops.
Due to the nature of NWTT's work, its trucks can often be found operating fully laden over unprepared surfaces. Despite this, the new DAF CF has already proven itself to be a durable and reliable addition to the fleet. When considered against the assurance of a high residual value, the truck represents value-for-money for the timber merchant.
The new CF has been well received by the firm's drivers, all of whom are used to driving NWTT's DAF-dominated fleet. Not only have they reported exceptional fuel economy from the PACCAR MX-13 engine, but all are enjoying the spacious and well-equipped cab, optimised for practicality, comfort and safety.
"We couldn't be happier with our new DAF," explains Sam Mayor, Director of NWTT. "We've been really well served by our existing DAF fleet, so when the time came to specify a brand-new vehicle, we knew we wanted a DAF. By ordering new, it has allowed us to tailor the truck specifically to our needs. DAF's tridem set-up," adds Sam, "is helping to make us more efficient. By working with DAF, Forshaw Engineering and Hiab on the truck, body and crane, we've created an exacting specification. The service we've received from all three companies has been excellent and our local DAF dealer, Lancashire DAF, was there to support us throughout the whole purchasing process."
Established in 1989, NWTT quickly established itself as a leading regional supplier of timber and building materials to the trade and public. The firm now operates from a purpose-built 11-acre site in Ashton-in-Makerfied and is supported by satellite depots in Manchester, St. Helens, Skelmersdale and Rossendale.