DAF respects your privacy. We use cookies for a variety of purposes, such as website functionality, improving your experience of our website, building integration with social media and helping target marketing activities within and beyond our website. By continuing your visit on our website, you are consenting to our use of cookies. However, if you want to customize your cookie preferences, click on 'Change settings' below. You can withdraw your consent at any time. For more information, please visit our Cookie Notice.
Norfolk-based bulk haulier part of New Generation DAF field testing programme

Low kerb-weight and an all-new cab design look set to make new DAF a fleet favourite

Truck fitted with complete air kit, LED lighting and DAF Digital Vision System

"The New Generation DAF XF has really reinforced our commitment to the brand…", Operations Director, Ian Barclay
Roger Warnes Transport Ltd. full of praise for New Generation DAF XF
Leading bulk haulage firm, Roger Warnes Transport Ltd., has welcomed a New Generation DAF XF 450 FTP mid-lift' into its predominantly DAF-based fleet. The Norfolk-based operator is one of a number of operators across Europe involved in the extensive New Generation DAF field test programme, in order to deliver the very highest standards of reliability, quality and performance from the start of series production.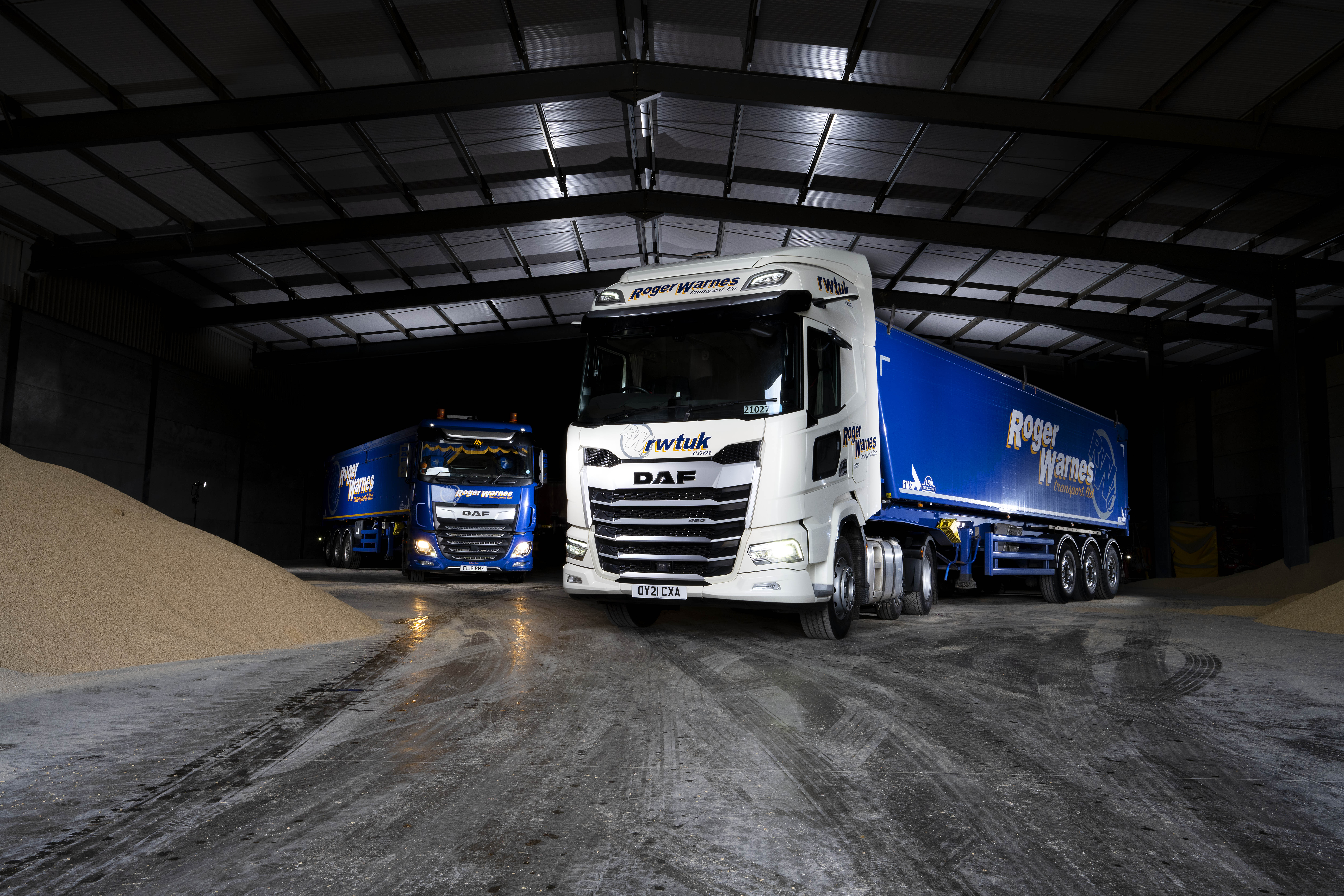 "The arrival of the New Generation DAF XF has captured the imagination of our drivers," explains Ian Barclay, Operations Director at Roger Warnes Transport Ltd. "It's a stunning looking truck, with exceptional comfort and space for drivers. Our own drivers are absolutely over-the-moon with it," he says, "and they're excited to be among the first in the UK to put the New Generation XF through its paces. We've allocated it initially to a driver that has come out of a 2016 competitor vehicle, and he immediately remarked on how comfortable it is. DAF has clearly put a lot of thought into redesigning the cab – it's a step-up in every way."
Fitted with the 10.8-litre PACCAR MX-11 engine, producing 450bhp and 2,350 Nm of torque from 900rpm, the all-new New Generation DAF XF 450 sports a full air-kit, including roof spoiler and side collars, and full LED lighting with integrated skylights. Equipment also includes the DAF Digital Vision System, which sees in-cab-mounted screens replace external mirrors. Combined with a kerb-view window and folding passenger seat, drivers are afforded increased direct vision and a 3-Star rating according to London's Direct Vision Standard.

For the driver, the new XF cab boasts benchmark levels of space and comfort for fleet operations. The deep, wrap-around windscreen and high seating position offers an unrivalled view of the road, while connectivity and general equipment specification ensure the driver is treated to the highest levels of comfort.
"As a bulk haulier," says Barclay, "the New Generation DAF XF's low kerb-weight is really benefiting us as we're paid by the kilo. It's allowing us to maximise payload and drive down costs. Even with our wet-kit fitted and a full 700-litre fuel tank, we're still easily hitting our 29-tonne payload target."

He adds, "One of the key areas of improvement we've seen is with the 12-speed TraXon gearbox, which is even more responsive when pulling out at roundabouts and junctions and while merging onto motorways. Similarly, despite some initial doubts, our driver absolutely appreciates the extra visibility provided by the door-mounted kerb view window."
The new truck supports Roger Warnes Transport Ltd's broad client portfolio, hauling predominantly foodstuffs and building materials to destinations across the UK. The company operates out of two sites in Norfolk – a headquarters based in Great Dunham and a larger depot in nearby Kings Lynn.

"The arrival of the New Generation DAF XF has really reinforced our commitment to the brand," Barclay adds. "It's made us take a step back and look at the fleet as a whole. We're excited to upgrade the fleet to New Generation DAF products as and when the time comes to make the switch."