We use cookies for a variety of purposes, such as website functionality and helping target our marketing activities. Some cookies are essential, others help us improve your experience by providing insights into how the site is used. For more information, please visit our Cookie Notice.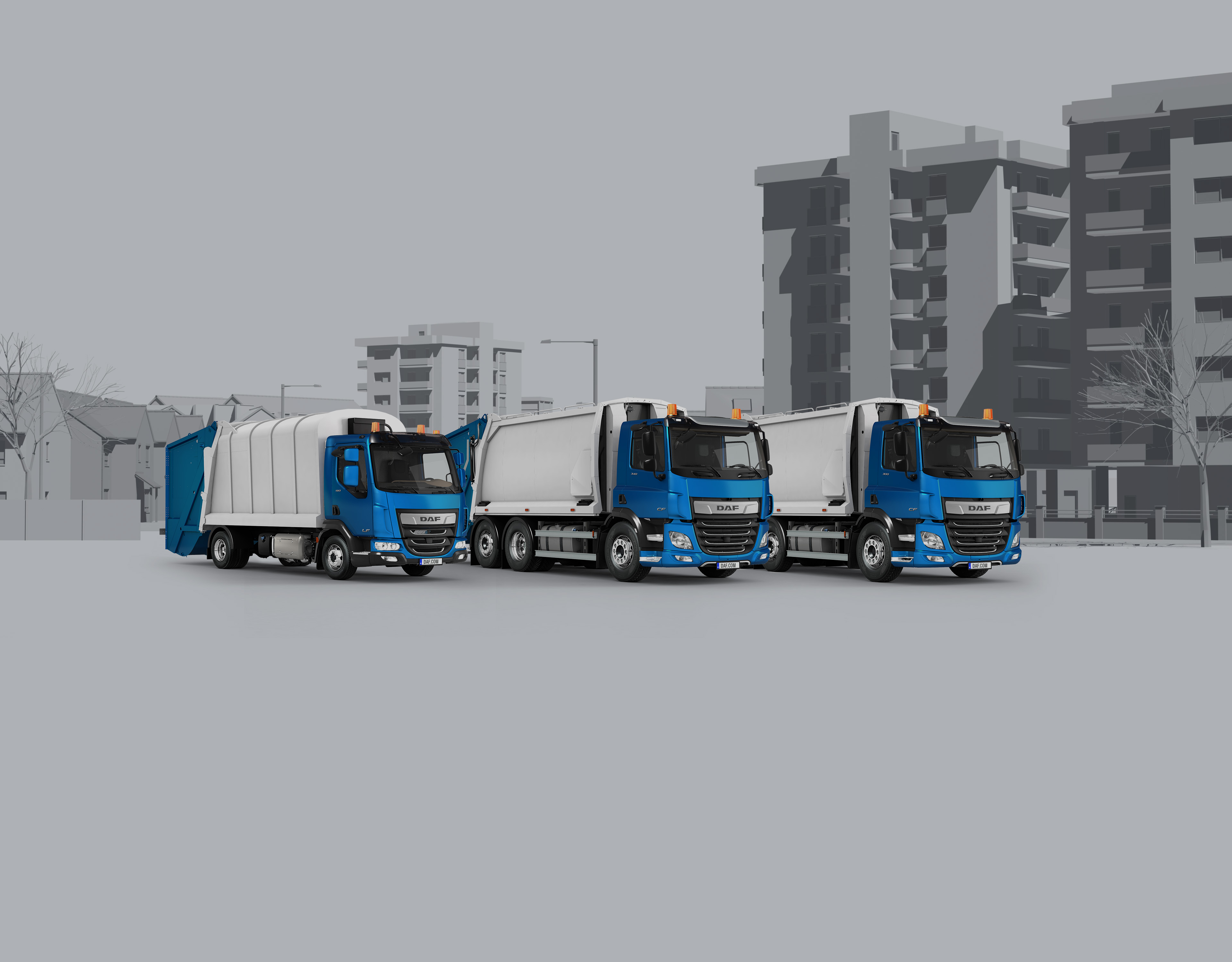 Discover the DAF solutions for garbage disposal trucks
Municipal
Garbage disposal trucks
A garbage disposal truck has to meet a long list of requirements, including a high loading capacity, excellent manoeuvrability and a spacious cabin with a large windscreen and optimal mirror placement for optimal vision. DAF can offer you a choice from the last generation of Euro 6 diesel engines and fully electric drivelines.
The correct choice of chassis is determined primarily by the specific application required. Do you work with side loaders or rear loaders? In other words: is the garbage loaded onto the truck at the side or at the rear? This will determine whether you need a tri-axle chassis with front steering axle to minimize surface damage or a tri-axle with rear steering axle for maximum manoeuvrability. And a trailing axle is probably the best option when the truck is loaded from above using a crane.
DAF is familiar with the demands placed on today's garbage disposal truck. We offer a series of PTO options for powering both lightweight and heavy-duty compactor systems as efficiently as possible. Most superstructure functions can be controlled from inside the cabin, while some operations can be controlled via the superstructure itself. This facilitates ease of operation, comfort and efficiency.
The efficient PACCAR diesel engines can be fitted with 'Stop & Go' software for an even more environment-friendly operation. They can run on HVO biodiesel, which can reduce CO2 emissions by as much as 90%*. DAF also supplies a fully electric, tri-axle chassis. Thanks to advanced battery technologies, these trucks boast a fully electric operating range of up to 200 kilometres, more than enough for a full day's work. Good for urban living conditions and the environment, and a major step forward in terms of reducing your CO2 emissions.
*) Well-to-wheel
Want to know more? Contact your nearest DAF dealer