DAF respects your privacy. We use cookies for a variety of purposes, such as website functionality, improving your experience of our website, building integration with social media and helping target marketing activities within and beyond our website. By continuing your visit on our website, you are consenting to our use of cookies. However, if you want to customize your cookie preferences, click on 'Change settings' below. You can withdraw your consent at any time. For more information, please visit our Cookie Notice.

The ultimate evolution with the ultimate package
DAF XF AND CF

Ultimate Efficiency
DAF XF AND CF

Ultimate Safety
DAF XF AND CF

Ultimate Driver Comfort
DAF XF AND CF
Previous
Next
The Ultimate in transport excellence
DAF has always led the transport industry in terms of total cost of ownership, with its focus firmly on efficiency, safety and driver comfort. With the introduction of the DAF Ultimate package, the DAF XF and CF evolve to the next level of excellence, offering the best driver comfort while satisfying the requirements of fleet managers and fleet owners. Naturally, care for the environment is an integral part of this package.
Contact me
DAF Ultimate package
The DAF Ultimate package for the XF and CF includes a whole range of features that
optimise safety, efficiency, and driver comfort.
LED headlights

Battery Energy Monitoring System

Automatic cab Climate Control

Tyre Pressure Monitoring System

Accessory power supply

Predictive Cruise Control

Rear light unit with LEDs
Download the leaflet
Ultimate Support
For DAF customers in the UK, the Ultimate Package complements an already high level of support for operators to achieve optimum levels of efficiency and total cost of ownership. All LF, CF and XF models offered for sale in the UK include the DAF Connect online fleet management system as standard.
DAF CF and XF models are also offered for sale as standard to UK customers with a DAF MultiSupport Preventative Maintenance contract, which reduces unexpected costs and ensures the truck is always perfectly maintained. The maintenance package takes care of all necessary planned maintenance needs, safety and legal inspections. For XF models, the package is for three years up to a maximum 480,000 km, and for CF models two years up to a maximum 320,000 km.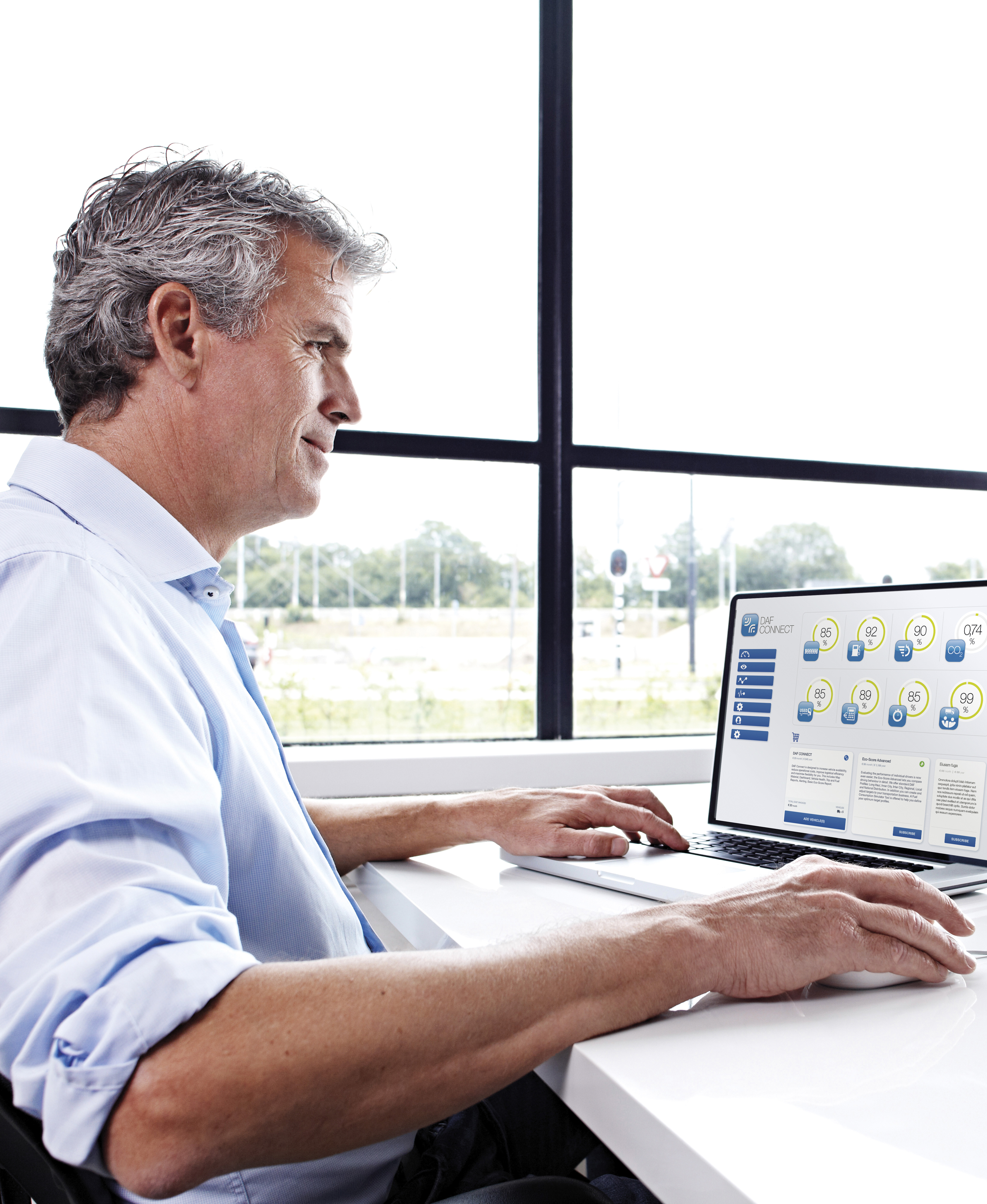 DAF Connect
All DAF models offered for sale in the UK include DAF Connect. This online fleet management system gives you real-time insight into the performance of your drivers, vehicles and logistic processes. And now with Open Platform capabilities you can keep using your current telematics platform and integrate the DAF Connect data seamlessly with your back-end systems. The Vehicle Health Monitoring functionality provides the opportunity to monitor any urgent warnings via the DAF Connect dashboard.
The DAF Connect App allows drivers to compare their trucking performance with peers. It all contributes to assessing the situation, taking the correct actions to prevent downtime, and keeping your truck on the road. In addition, remote tacho download gives fleet managers easy access to driver data to ensure legal compliance.
Ultimate Efficiency
Transport efficiency is key, and DAF Trucks leads the way. Through a program of continuous optimisation, we now have the most efficient vehicles on the market – cutting consumption to unprecedented levels. For example, the Tyre Pressure Monitoring System constantly checks tyre pressure, contributing to the highest possible fuel efficiency. In addition, Predictive Cruise Control determines driving conditions for up to 2 kilometres ahead. By making as much use as possible of kinetic energy, it enables additional fuel savings of up to 4%.
Ultimate Driver Comfort
The DAF Ultimate package incorporates new features for driver comfort. Automatic climate control makes for a cosy cab interior regardless of driving conditions. And with the accessories power supply, cabs can easily be fitted with all the necessities for longer overnight stays, like a parking cooler, microwave, fridge and TV. Better driver comfort results in safer driving, more fuel efficiency, lower operating costs and higher vehicle availability.
Ultimate Safety
Safety is our number one priority, resulting in many important improvements and innovations over the years such as the Advanced Emergency Braking System (AEBS-3). With the DAF Ultimate package, you can maximise night-time visibility and safety using LED headlights and rear lighting, as well as standard running lights to improve daytime visibility.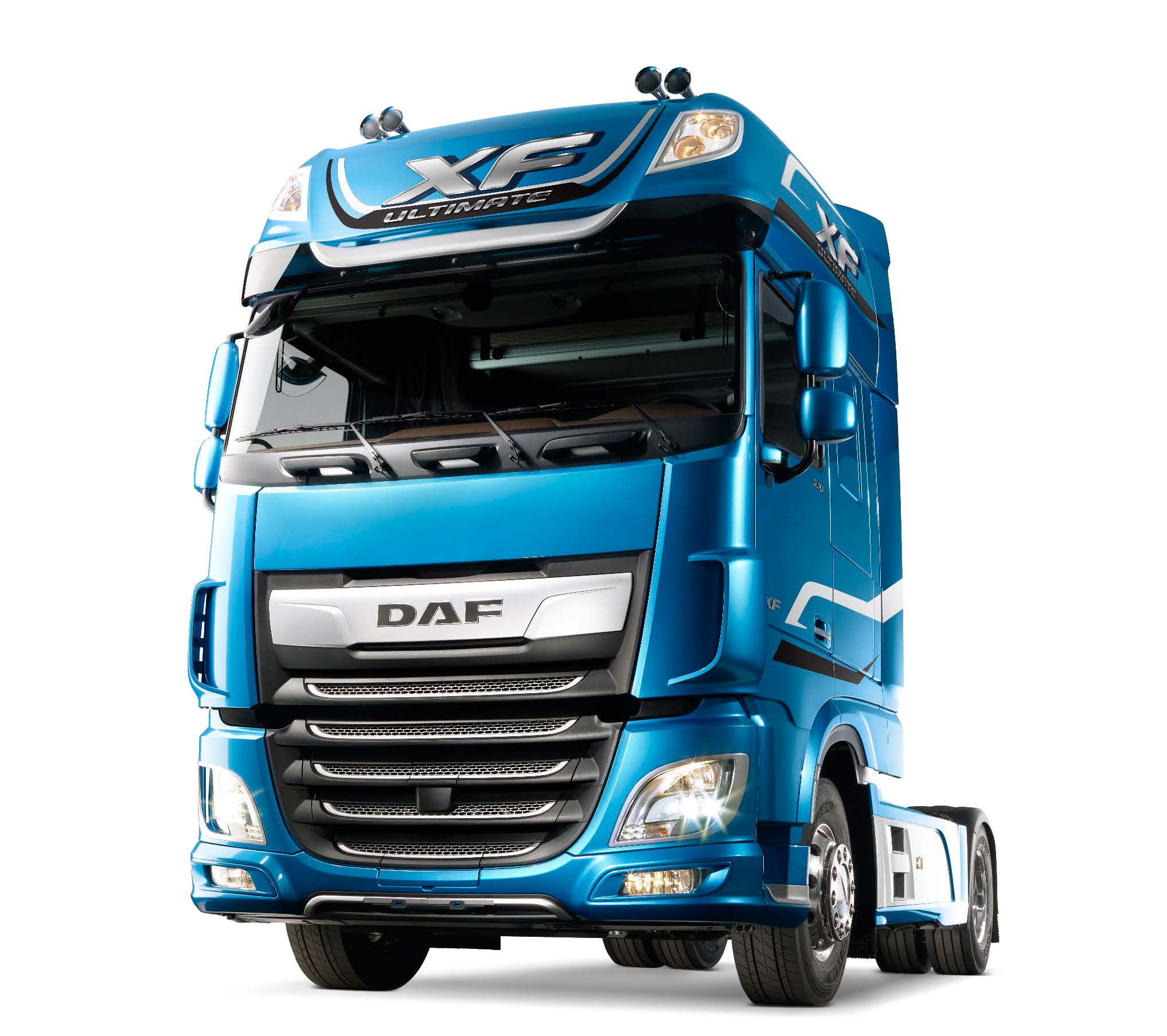 A total transport solution
Efficient transport involves more than just the perfect truck. Therefore, DAF offers a total transport solution. Behind DAF is a professional organisation and an international dealer network. They help you in choosing the right vehicle, arrange financing and keep your fleet in perfect condition.