We use cookies for a variety of purposes, such as website functionality and helping target our marketing activities. Some cookies are essential, others help us improve your experience by providing insights into how the site is used. For more information, please visit our Cookie Notice.
AG Barr takes first ever DAF products in planned fleet renewal
AG Barr, the Scottish soft drinks giant, famed worldwide for its IRN-BRU and other brands, has taken 16 DAF New LF 230 FA 18 tonne curtain-siders in a partial fleet renewal programme. They are the first DAF trucks ever to appear in the company's 100-strong fleet. The supplying dealer is F&G Commercials, at Trafford Park, Manchester.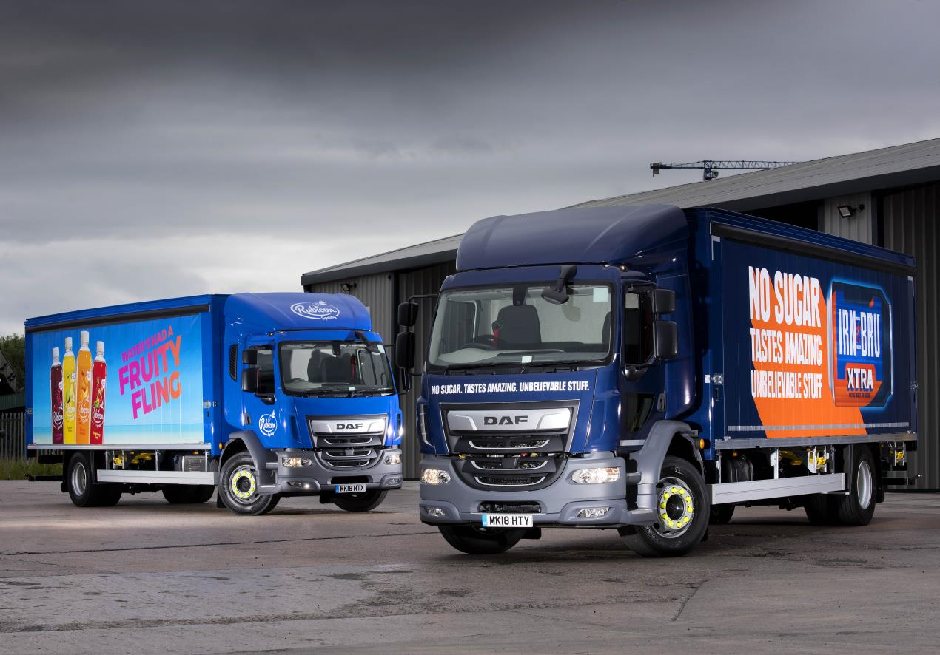 The decision to take the first DAF products was based on the willingness of the manufacturer to pursue high-level spec requests and deliver them with minimum fuss according to AG Barr's Transport Services Supervisor, Steve Bird. He said, "I had the task of speccing the new trucks and produced what in my mind was the 'full ideal spec', which I gave to DAF. They seemed to relish the challenges and came back quickly with everything we wanted, at a competitive price. We already knew the generally high reputation of the brand," he said, "so it was a pretty straightforward decision after that."

What Steve Bird wanted on the New DAFs included such things as excellent direct vision – DAF Trucks fitted the vehicles on the production line with the lower window in the passenger door for better near side visibility, essential when operating in London and other large cities. He also wanted the spec to achieve the lowest possible loading height; the vehicles are loaded by forklift, but once out on the road their drivers have as many as 30 drops a day to unload by hand. Also, for extra driver comfort, convenience and safety, he asked for automated gearboxes with Hill-start Aid, Adaptive Cruise Control, Lane Departure Warning and Advanced Emergency Braking, along with Sat Nav, Bluetooth connectivity and air conditioning.

"It was a very refreshing experience," adds Steve Bird. "Whatever I threw at the DAF team they basically said, 'No problem'. A lot of this is aimed at drivers, because we have good drivers and want to keep them on our team by making their places of work as comfortable and safe as we can."

AG Barr sounded out a number of its drivers before making the final decision, with feedback on the DAF LF and projected specs delivering a lot of enthusiasm.

"We really try to be as inclusive as we can, and our current 'Driver of the Year', Paul Yarwood, has been to look over a completed vehicle during its PDI, before the roll-out, to work with us on an enhanced loading plan for the new vehicles. We are very hopeful about developments in this direction as, sitting here today, we see potential opportunities for a significant improvement in loading capacity. In any business that's important and, for us, it could deliver a very important productivity and efficiency improvement." The DAFs are all fitted with curtain-sider bodies by Bevan, built at their Oldbury factory in the Midlands.

Alongside the pure logistics and economics of its fleet operations, AG Barr has a strong environmental focus. The whole company is bound to a policy of strict sustainability, and the DAF New LFs have been considered carefully in this light. "We know from reports that all DAF trucks set high standards for fuel economy," comments Steve Bird, "and the 'New' models are all expected to improve on even those, so we immediately reduce emissions and demands on fossil fuel resources. We have also specified an engine-idle shutdown system. Engine idling is a major contributor to any operator's costs and there's a big environmental price that goes with it."

AG Barr has long since divested itself of its own workshop facilities, preferring instead to use franchised service dealers to take care of the fleet. The DAF New LFs will be no exception, with a three-year R&M package already in place.
Press contacts:

Paul O'Malley, Torque Agency Group
M: pomalley@torqueagencygroup.com
Rutger Kerstiens
Corporate Communications Department, DAF Trucks N.V.