We use cookies for a variety of purposes, such as website functionality and helping target our marketing activities. Some cookies are essential, others help us improve your experience by providing insights into how the site is used. For more information, please visit our Cookie Notice.
New LF, New CF & New XF models from DAF Trucks at Tip-ex 2018
DAF Trucks will later this week present its New LF and New CF models at Tip-ex 2018 in Harrogate. Both vehicles will be exhibited with 'Construction' specifications designed for the rigours of on- / off-road applications. A New LF 260 FA 18-tonner is kindly loaned by LC Vehicle Hire in Leeds while a New CF 450 FAD eight-wheeler – supplied by DAF Dealer, Evans Halshaw – comes with a steel muckaway Thompson tipper body.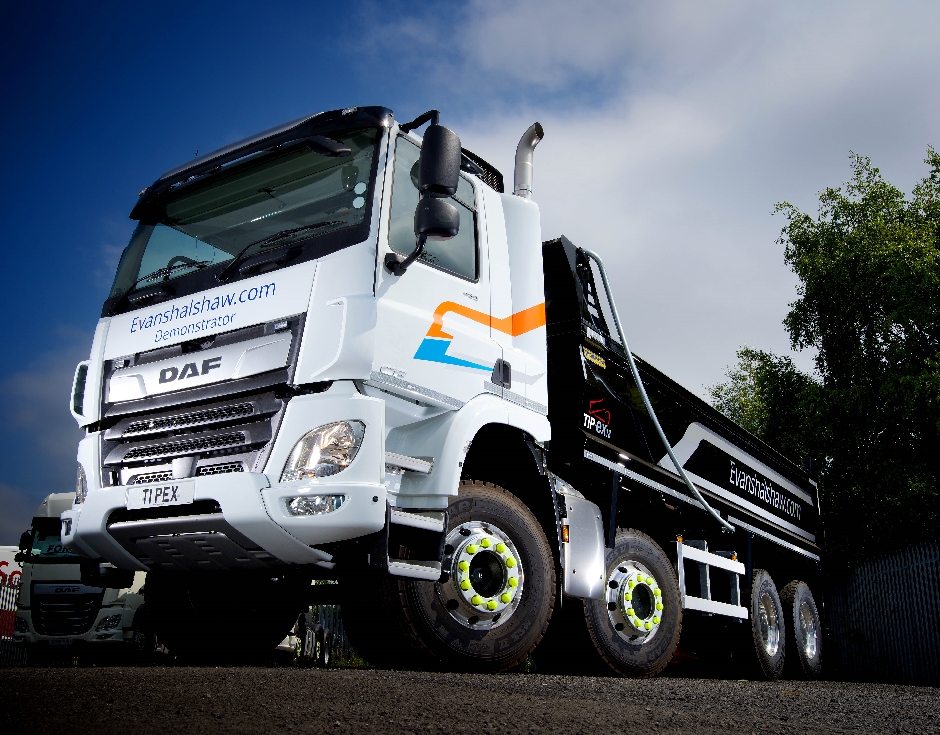 New CF 450 FAD
The New CF Construction (N3G variant) model from DAF Trucks offers a significant 250kg payload benefit over its CF predecessor. This weight saving is achieved predominantly with an SR1132T single-reduction tandem-axle fitted with disc brakes, a redesigned exhaust after-treatment system, aluminium air-tanks and a redesigned steering system.
Designed predominantly for off-road, muck-away work, the New CF Construction model is equipped with straight beam front axles to provide high ground clearance and approach angle. The 5.7m wheel-base show exhibit features a Day Cab, a PACCAR MX-11 engine with standard MX engine brake and standard 12-speed, automated TraXon gearbox with on / off road software.
Mounted on its chassis, Thompsons has fitted its Loadmaster Lite body complete with Auto-Loc 'R' Tailgate, two-tier cab shield, electric blue mesh sheeting system, PM Onboard 4 Point 1155 weighing system, side and rear under run protection and Binotto TFC 145 front-end tipping gear. Chassis and bodywork result in an impressive 12,560kg unladen weight.
Thompsons, along with a number of DAF Trucks' bodybuilder partners, describe the DAF 8x4 chassis as offering a clean, no-nonsense platform on which to fit a wide range of body and tipping-gear configurations.
New LF 260 FA
DAF Trucks' New LF 260 FA 'Construction' chassis is an 18-tonne GVW utility vehicle loaned courtesy of LC Vehicle Hire. Featuring an Econ permanently mounted, five cubic metre, twin-chamber hotbox, the truck is designed for road patching work. The 4.15m wheelbase Day Cab chassis is powered by a PACCAR PX-7 260bhp engine coupled with a six-speed manual gearbox.
New XF Low Deck Tractor
Although not normally used in the construction sector the New XF Super Space Cab low-deck tractor unit – used to pull the DAF Showtrekker trailer – will no doubt be a popular attraction. The truck features a specially commissioned artwork by air-brush artist Adam Haden, depicting DAF vehicles throughout the company's 90-year history.
Think Logistics at Tip-ex with DAF
Operators looking to recruit new blood into their business should plan to come to the DAF stand on the morning of Friday 1st June at 10.30am to hear how Think Logistics can help transport businesses reach out to schools and colleges. DAF sponsors Think Logistics and its excellent work in engaging with students, and to encourage them to consider a career in the logistics sector.
Press contacts:

Paul O'Malley, Torque Agency Group
M: pomalley@torqueagencygroup.com
Rutger Kerstiens
Corporate Communications Department, DAF Trucks N.V.