We use cookies for a variety of purposes, such as website functionality and helping target our marketing activities. Some cookies are essential, others help us improve your experience by providing insights into how the site is used. For more information, please visit our Cookie Notice.
DAF Trucks supplies 6x2 rigid in support of Transport Association and Transaid
DAF Trucks is donating a New CF 370 rear-steer 26-tonne 6x2 rigid for use by Transport Association (TA) members in their support of industry charity, Transaid. The initiative means any TA member may use the vehicle in regular service in return for donations to Transaid.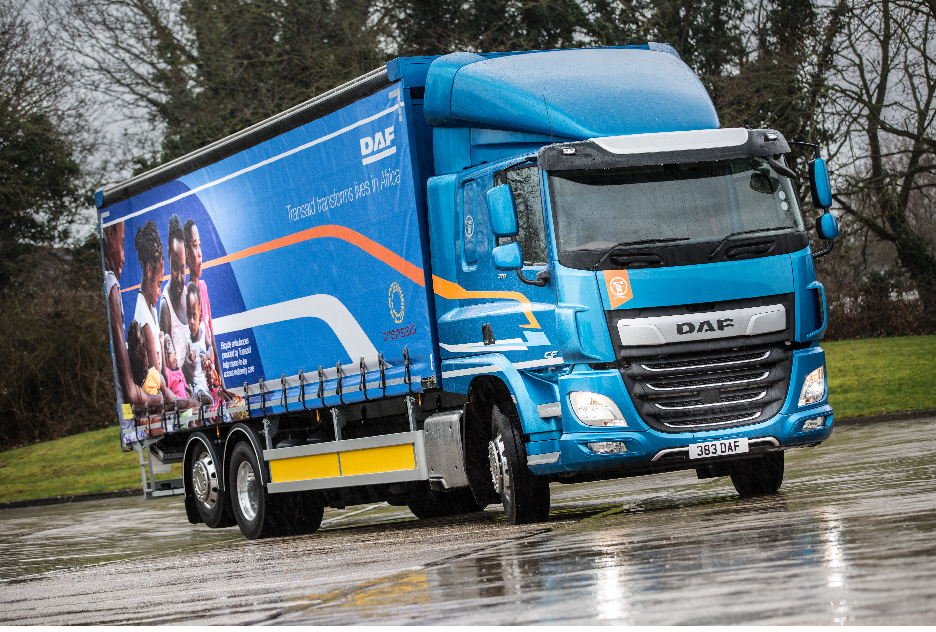 The Don-Bur bodied curtain-sider has been liveried by DAF Trucks to promote Transaid's work in access to healthcare; using bicycle ambulances to ensure pregnant mothers can reach medical care during childbirth, in countries with developing transport infrastructures.
A similar tripartite fundraising initiative in 2014 saw DAF Trucks loan three XF tractor units to the TA in support of Oxford-based charity, Helen & Douglas House. The arrangement proved a great success with donations totalling £17,500. Nigel Cook, Managing Director at Elddis Transport and current Chairman of the TA, is aiming to top that figure for Transaid.
"It's an extremely effective approach to fundraising," he said, "and our members have shown that they will get right behind the initiative. Together, we raised £17,500 in 2014 and our target is to top that in 2018. DAF Trucks has shown a clear commitment too," he said, "and I am enormously grateful for the loan of such a well-specc'd truck – a truck that is equipped to perform a wide range of tasks and one which will suit the needs of a great many of our members."
The New CF's 'FAN' 6x2 rear-steer configuration will appeal to a great many TA members, offering operational flexibility and high manoeuvrability for a wide range of applications.
"Transaid," added Cook, "continues to do great work in improving access to safe, available and sustainable transport to communities in Africa and beyond. A basic community-led emergency transport framework, with easy to maintain vehicles such as bicycle ambulances, can bring health and relative prosperity to communities otherwise cut-off. The Transport Association is very pleased to be providing support."
"We're very proud to be supporting the TA in its endeavour," said Robin Easton, Managing Director at DAF Trucks, "and we're very pleased to underline our support for Transaid – a partnership we've enjoyed with the charity for many years now. This is such an innovative approach to raising funds," he said, "and we hope the flexibility of the three-axle rear-steer New CF will maximise appeal to the widest range of operators, thus boosting donations."
Press contacts:

Paul O'Malley, Torque Agency Group
M: pomalley@torqueagencygroup.com
Rutger Kerstiens
Corporate Communications Department, DAF Trucks N.V.