We use cookies for a variety of purposes, such as website functionality and helping target our marketing activities. Some cookies are essential, others help us improve your experience by providing insights into how the site is used. For more information, please visit our Cookie Notice.
Leading livestock haulier refreshes fleet with DAF New XF tractors
Six New XF 530 FTR tractors with Super Space Cabs are first DAFs for RW Stewart.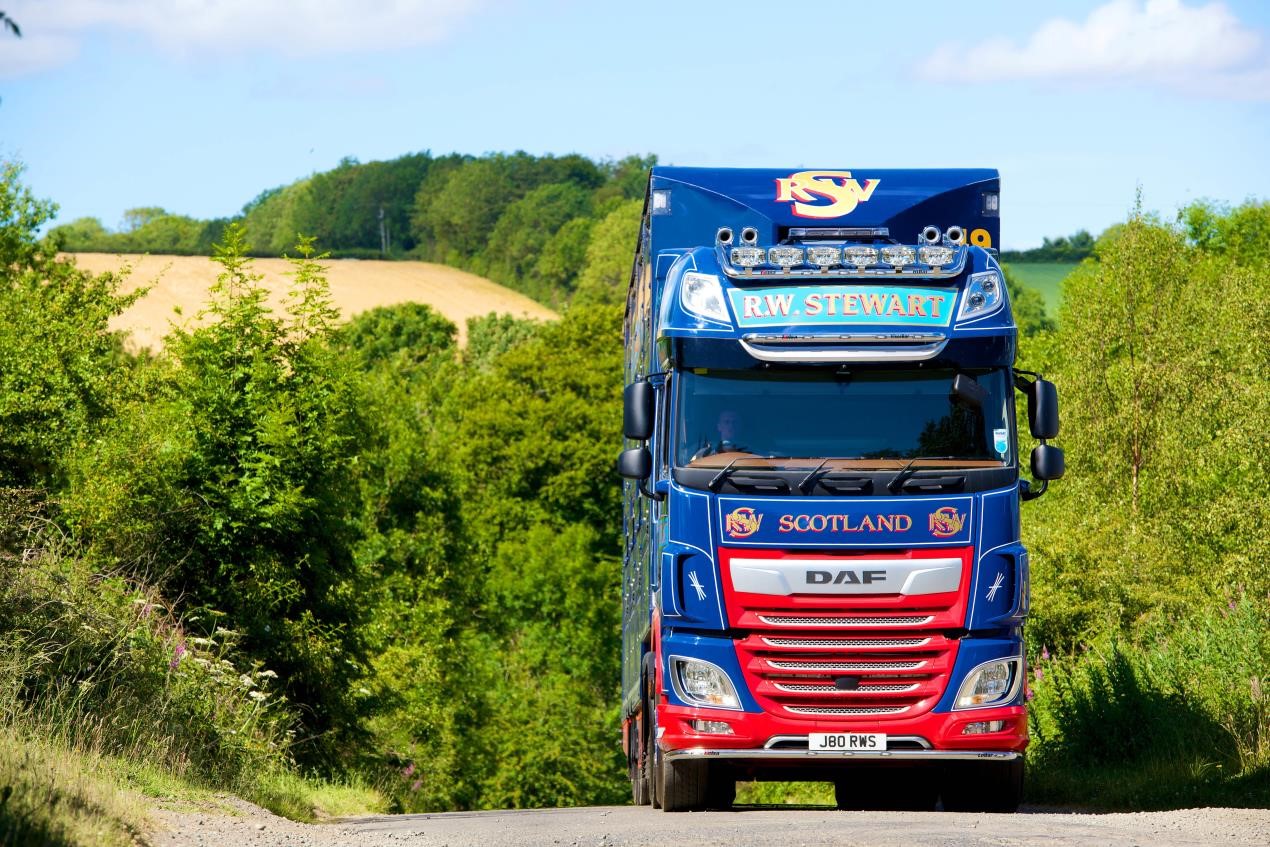 The family-owned firm of RW Stewart has taken six New XF 530 FTR tractor units in a planned fleet-refreshment programme. The trucks are the first ever DAFs to be taken on by the specialist livestock haulier, which is approaching its 100th year in business.

RW Stewart had all six of its New DAF XFs specified with the manufacturer's Super Space Cab, to give its drivers a commanding and comfortable place of work. Underneath the cab, power from the 12.9-litre PACCAR MX13 engine is handled through a 16-speed TraXon automated gearbox. A ZF Intarder is also fitted to aid safety and economy.

Based at Linlithgow, RW Stewart's main focus is the livestock work that has seen it grow to become one of Scotland's most successful specialist haulage operators. The Scottish operator runs a total fleet of 20 tractors, 20 livestock trailers and a tipping trailer.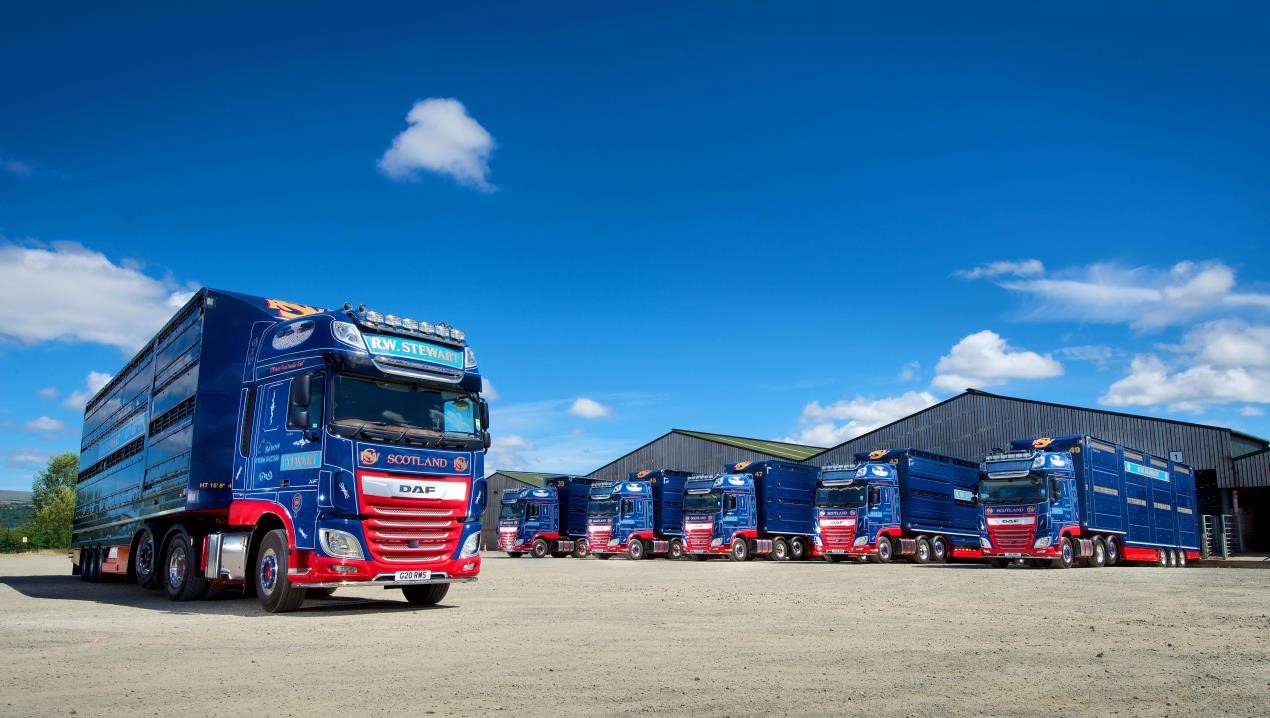 As with every modern transport operation, economy is a major consideration. Alan Stewart, RW Stewart's current managing director and a fourth-generation descendant of Robert Wilson Stewart the firm's founder, said, "We have come a very long way since our first lorry, bought in 1920 by my grandfather to run alongside the horses and carts, but one thing hasn't changed: the need to run an efficient operation with a firm grip on economy. We looked at making this change to our previously one-marque fleet, because we wanted to maximise that economy without loss of quality. The DAF New XF is a premium product," he said, "and there are growing reports of its impressive fuel performances. So, the fact it was possible to acquire trucks like this, at a price that made sense to us, made the decision far simpler."

The distinctive RW Stewart blue cabs with their red chassis are a familiar site across the UK, and the operator has had the New XFs equipped with leather seats, phone kits and microwaves, with Litefix bars, additional alloy fuel tanks and Alcoa wheels. The drivers had a part to play in the final selection process. "We have some very good stock drivers, and a few of them had had experience with DAFs in the past before joining us. They told us they loved the comfort and space of the DAF cabs, so we were happy to have had this input prior to making our choice.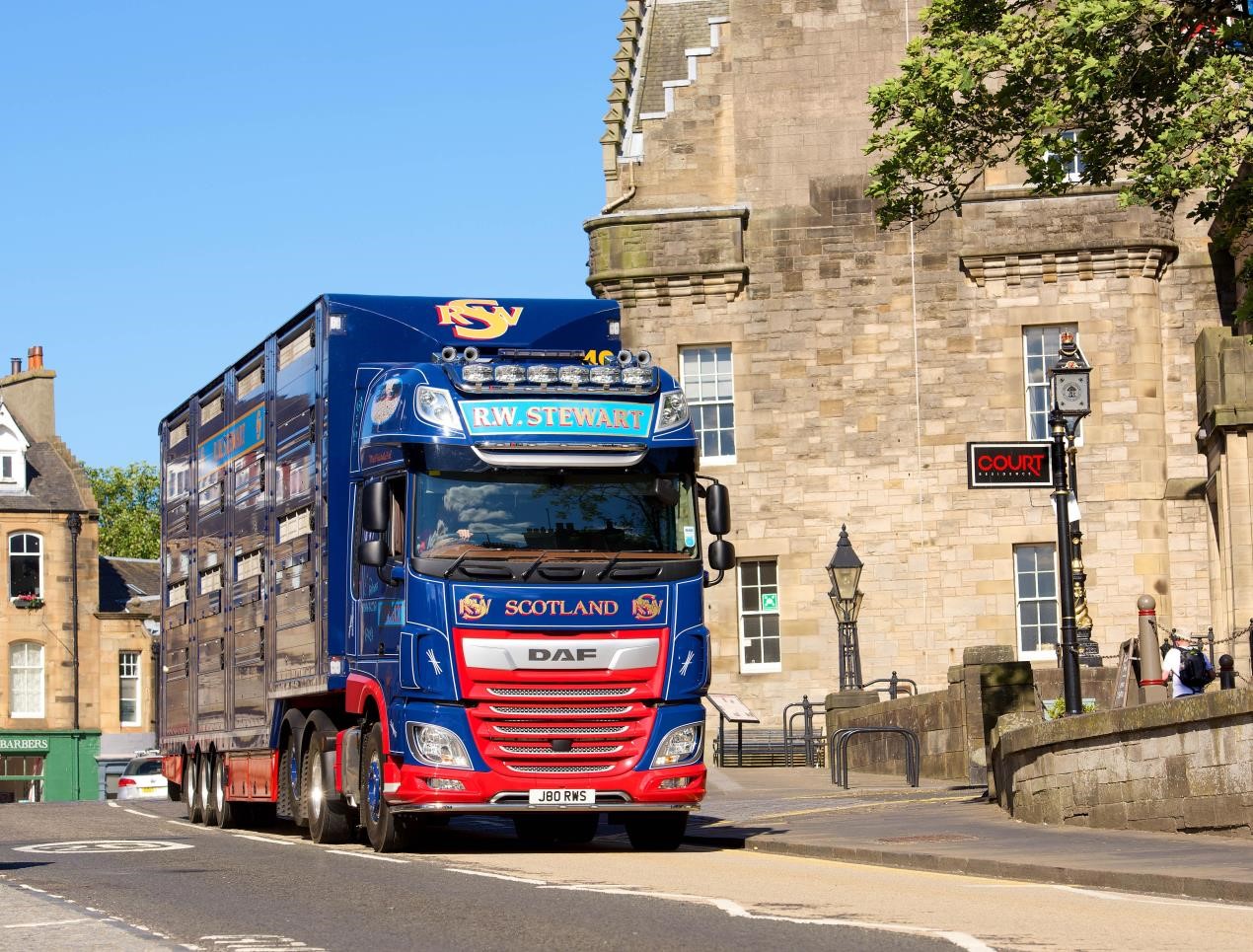 "Engine size and performance was another important and still-growing factor, because of fuel costs. Drivers can have a major impact on fuel and general vehicle economy, so the big 530 engines give them all the power they need for the job without having to labour for it."

Livestock haulage is a specialist job, and the RW Stewart operation works for very many local farmers as well as other customers far further afield. "Our drivers and fitters are all very careful about the condition of our trucks and trailers, and we make a point of checking everything very closely – far more than required by basic compliance standards. We don't ever want a vehicle stopped at the roadside with a full load of stock on board, when sensible checks could have prevented it. That's also why we investigated the DAFaid service back-up programme closely. It seems to have a good reputation for getting trucks going again if they suffer an unexpected roadside problem – and as I've said, with livestock that's a real consideration."

All the New XFs have been taken with a four-year R&M package through local dealer, Lothian DAF. However, any work on the vehicles is undertaken in RW Stewart's own workshops, with the dealer sending technicians in to handle it. "It makes a lot of sense for us," says Stewart, "as we have excellent facilities and the vehicles are always running back here. This way, they can be ready to go out again in the fastest possible time."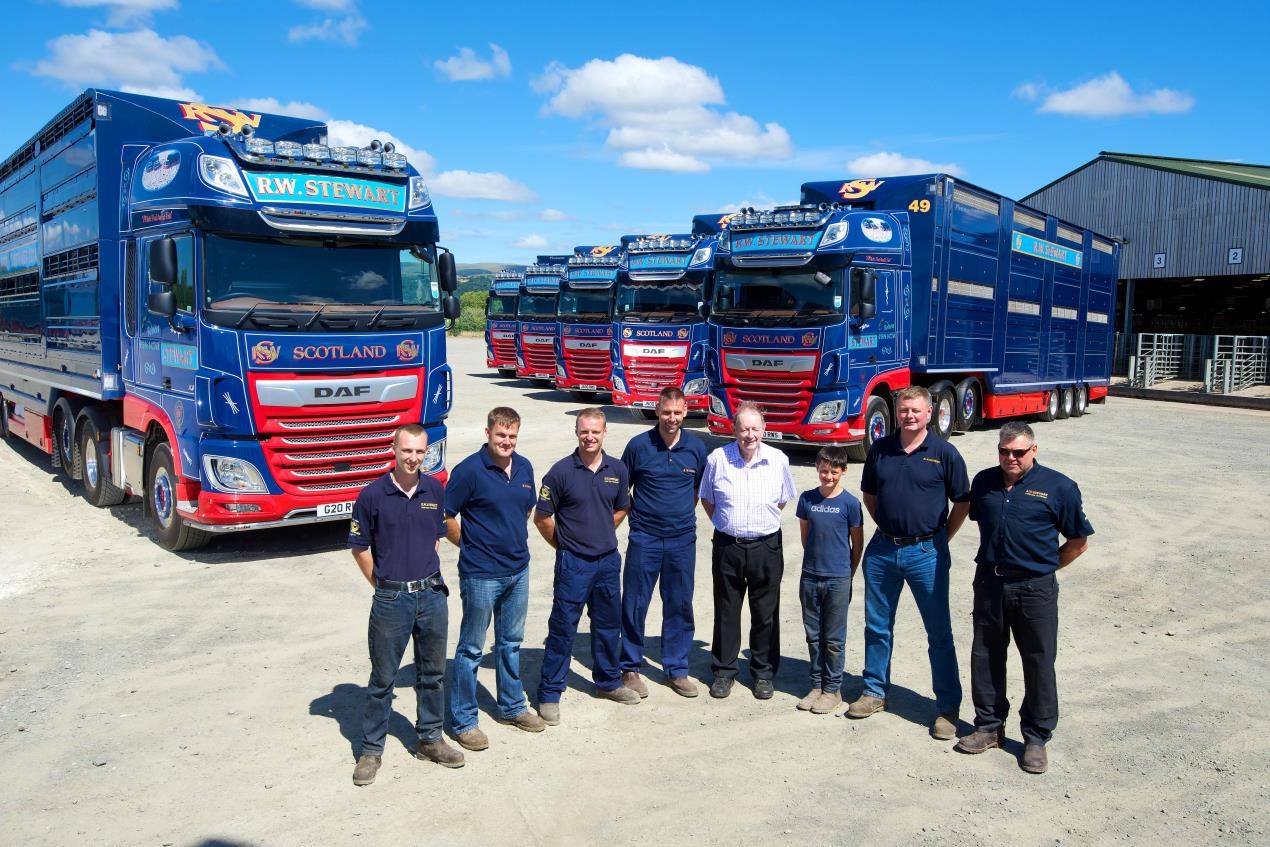 Press contacts:

Paul O'Malley, Torque Agency Group
M: pomalley@torqueagencygroup.com
Rutger Kerstiens
Corporate Communications Department, DAF Trucks N.V.