We use cookies for a variety of purposes, such as website functionality and helping target our marketing activities. Some cookies are essential, others help us improve your experience by providing insights into how the site is used. For more information, please visit our Cookie Notice.
DAF Trucks opens new UK Headquarters
DAF Trucks UK held an official opening ceremony this week to celebrate its recent move to a new head office facility in Haddenham. The £20 million investment in the new headquarters is described by Robin Easton, Managing Director of DAF Trucks, as "a demonstration of the commitment to further strengthen DAF's leading position in the UK market."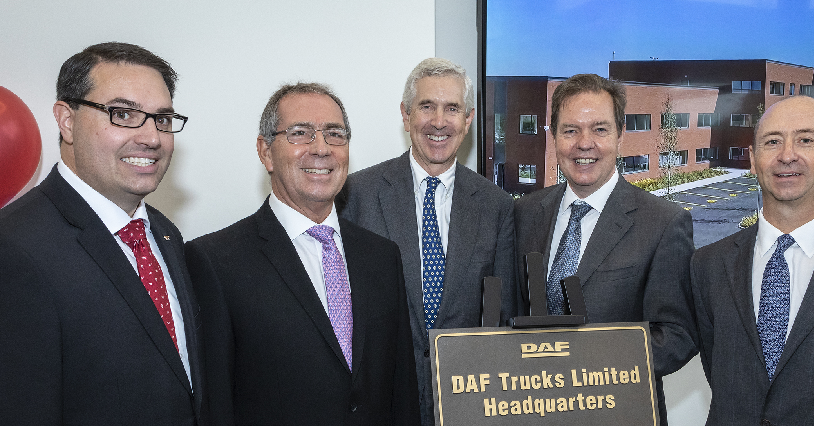 The new offices and training centre were officially opened by Mark Pigott, KBE, Executive Chairman of the Board of Directors of PACCAR Inc. The ceremony was attended by Simon Smits, Ambassador of the Kingdom of the Netherlands to the UK, along with staff from DAF Trucks, Leyland Trucks and PACCAR Financial. They were joined by local dignitaries from Aylesbury Vale District and Haddenham Parish Councils, as well as key representatives from the contractors who designed and built the state-of-the art facility.
The new 4.5-acre, three-story facility includes 50,000 sq.ft. of office space, a sophisticated auditorium and an ultra-modern four-bay workshop that offers world class training facilities for the UK DAF dealers and their employees.
The team at the new DAF Trucks UK headquarters supports the award-winning LF, CF and XF. From its new Haddenham location, DAF Trucks will enhance its industry-leading sales, marketing, after market support and vehicle financing for DAF's customers and the 136 DAF Dealers throughout the UK and Ireland.
"DAF has been the UK market leader for 23 consecutive years", said Robin Easton. "With this excellent facility, its dedicated staff and our tremendous truck manufacturing facility in Leyland, I am confident we will further expand this strong position in the United Kingdom."
Press contacts:

Paul O'Malley, Torque Agency Group
M: pomalley@torqueagencygroup.com
Rutger Kerstiens
Corporate Communications Department, DAF Trucks N.V.