We use cookies for a variety of purposes, such as website functionality and helping target our marketing activities. Some cookies are essential, others help us improve your experience by providing insights into how the site is used. For more information, please visit our Cookie Notice.
DAF leads the way in fully electric driving
The latest CF Electric is the third generation of DAF's fully electric truck, with an operating range that extends to 200 km*. Our three-axle rigid and two-axle tractor configurations are based on the award-winning CF. Their powerful e-motor, high-performance battery pack and fast charging time make them ideal for high-payload distribution in urban areas. And with zero emissions and low noise, the CF Electric meets the most demanding environmental regulations and business needs.
Proven e-technology
The intelligent powertrain of the DAF CF Electric is based on tried and tested e-technology; a field in which DAF is a leading global innovator. It's a proven approach that provides the perfect balance between power, performance and energy efficiency.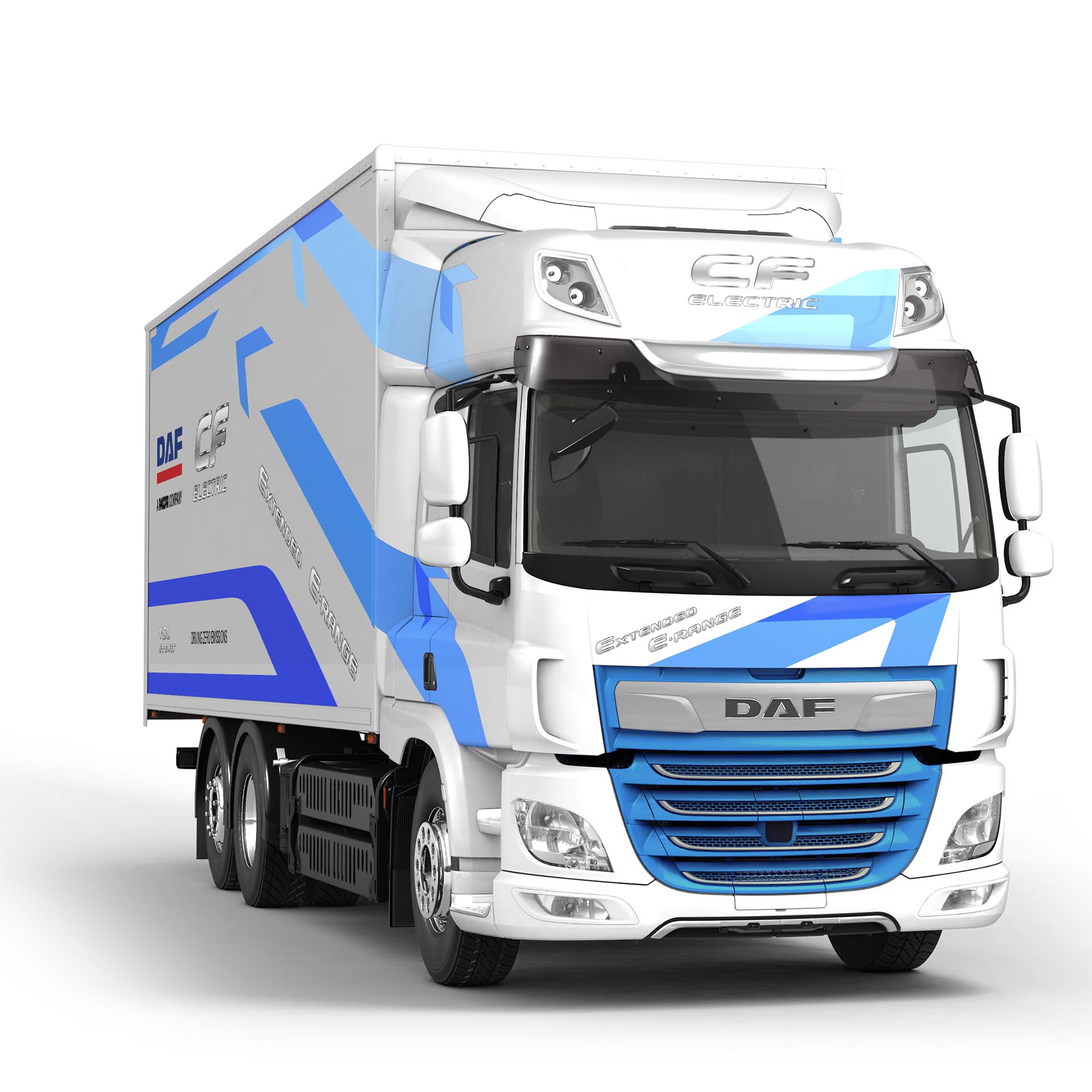 Power right from the start
The heart of the driveline is a 210 kW (240 kW peak) e-motor that delivers a continuous torque of 2,000 Nm with a peak of 3,600 Nm. This makes the motor ideal for high-payload distribution applications. As the motor is electric, the high torque is available from standstill – which makes for a great driving experience.
High-performance battery pack
The e-motor is powered by a 600 V battery pack designed to achieve the perfect balance between weight, volume, lifetime and charging speed. Incorporating the most robust batteries on the market, this temperature-conditioned battery pack ensures high performance irrespective of the external temperature. It has a total useable capacity of 315 kWh, giving the CF Electric an extended range of 200 km*. The CF Electric tractor unit has a gross combination weight of up to 37 tonnes. Applying the latest battery technology also results in a 700 kg weight saving, which directly benefits the payload.This makes the CF Electric perfect for city operation and shuttle services.
Fast charging time
The batteries can be charged with a range of off-board DC chargers of up to 250 kW / 400 A using a common CCS Combo2 plug. Charging time to full charge is around 75 minutes. This creates maximum efficiency and the possibility to integrate the charging process into daily transport planning and operations.
Braking to charging
When the accelerator pedal is released, regenerative braking by the motor helps to recharge the batteries. Using the steering column stalk, the braking performance can be increased in three steps. The result of this extra braking power is lower maintenance costs due to reduced wear on the service brakes.
Optimal energy efficiency
All auxiliaries, like the air compressor, steering pump and cooling units, have their own DC/AC inverter. This ensures that the electrics are fine tuned for optimal energy efficiency.
Expanding the Electric range
With this third generation of electric trucks, DAF introduces its three-axle configuration FAN with electric driveline. It uses the same technology as the tractor unit that has already been driven hundreds of thousands of kilometres by many customers. This new configuration can be used in multiple applications from waste collection to distribution, another perfect solution for zero-emission transport.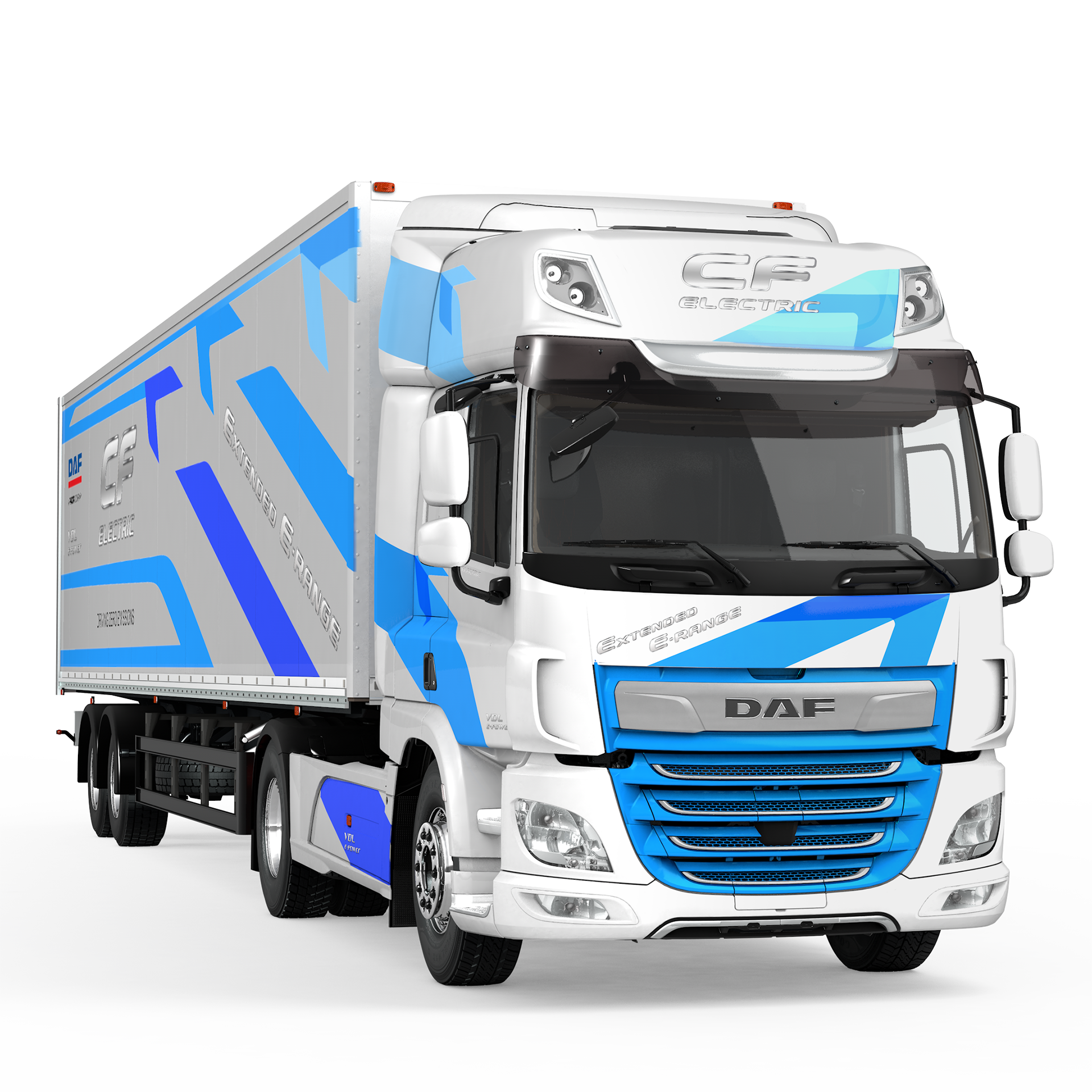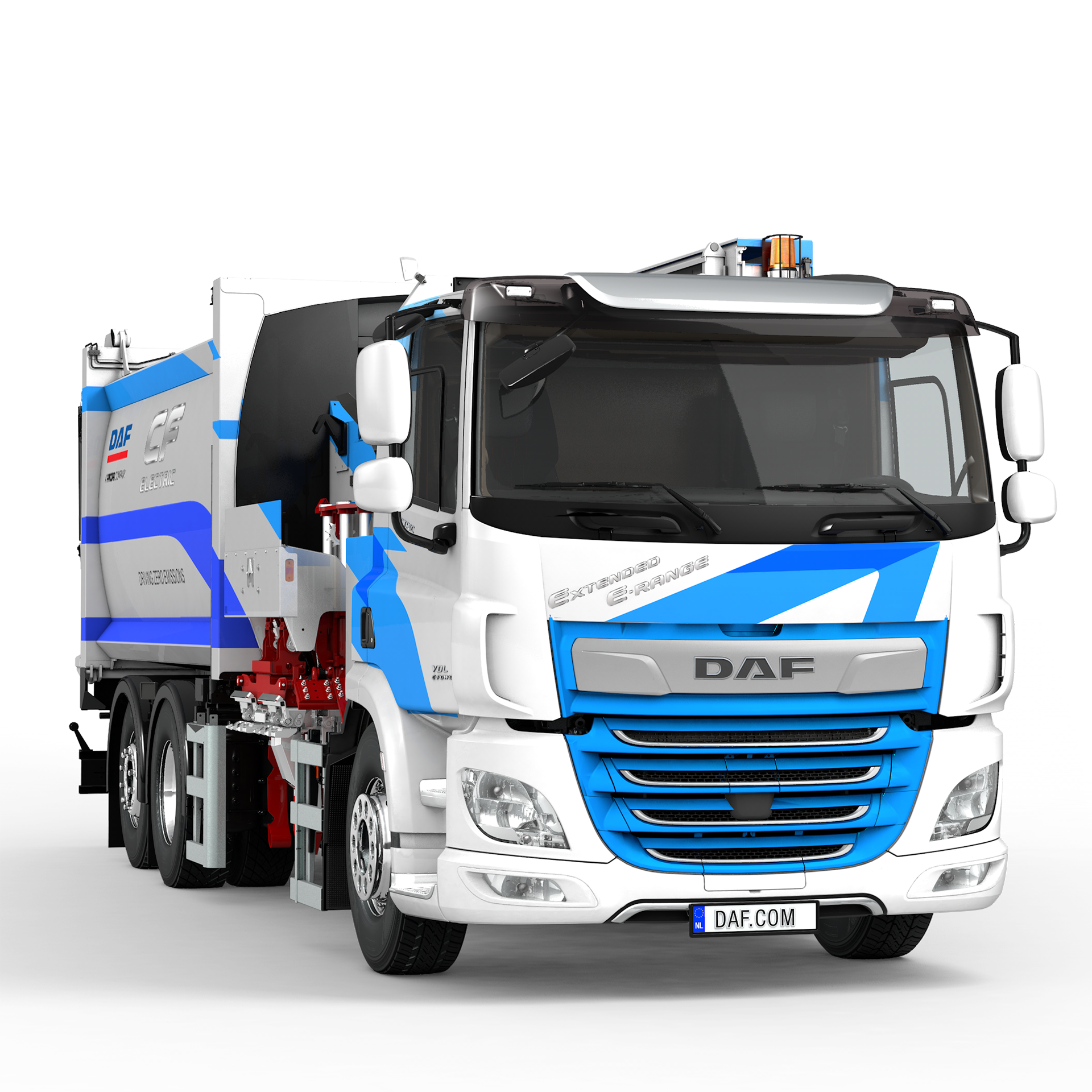 FT (4x2) tractor
Chassis

4x2




GCW

37 tonnes




Wheelbase

380

centimetres




Weight tractor

9,000 kg




Electric motor

210 kW

Torque

2000 Nm

Battery capacity

350 kWh (315 effective capacity)




Range fully charged vehicle

200-220 km*

Quick charge batteries

75 minutes (at 250kW)
* Depending on the application, driving circumstances and load.
FAN (6x2) rigid
| | |
| --- | --- |
| Chassis | 6x2, trailing axle |
| GVW | 28 tonnes (Design) |
| Wheelbase | 380/420/460/480 centimetres |
| Chassis Cab Weight | 10,200 kg |
| Electric motor | 210 kW |
| Torque | 2000 Nm |
| Battery capacity | 350 kWh (315 effective capacity) |
| Range fully charged vehicle | 200-220 km* |
| Quick charge batteries | 75 minutes (at 250kW) |
Partner in business
There is more to achieving zero-emission transport than purchasing an electric truck. To achieve a successful zero-emission transport solution, DAF has developed advanced route-analysis and simulation tools. Experienced DAF sales consultants use these tools to map a zero-emission transport task based on various DAF E-truck configurations and charging equipment specifications. They explore alternative technical solutions, provide clear insight into the implications of these solutions, and determine the optimal solution for a zero-emission transport assignment. Throughout all these steps we closely collaborate with our customers.

Electric truck service
An electric truck requires different servicing than traditional trucks. The DAF dealer has the most up-to-date knowledge along with specialists who are fully trained and certified to keep your trucks on the road.
Reducing carbon footprint
With its extended range of 200 km*, the DAF CF Electric reduces the carbon footprint of transportation, and helps companies meet their sustainability objectives. Additionally, the CF Electric's almost silent powertrain helps reduce noise pollution in city centres. With such a range of benefits, DAF electric trucks continue to lead the way towards a better environment.
Zero (tailpipe) emissions
With its fully electric driveline, the DAF CF Electric produces zero tailpipe CO2 and NOx emissions and emits no tailpipe particulate matter (PM). As a result, the CF Electric contributes to better local air quality. When charging the truck with electricity generated by solar energy, wind energy or hydroelectric power, the overall CO2 emissions are zero.
Latest battery technology
You don't see it. Nevertheless, the DAF CF Electric is equipped with one of the biggest innovations in the electric truck technology in recent years: the LFP battery. LFP stands for Lithium, Ferro (iron) and Phosphate, referring to the three main components of this power source.
DAF Trucks is the first major OEM to use this type of power unit in its trucks, after lengthy tests and extensive research, of course. LFP batteries have three enormous advantages over the existing cobalt and magnesium containing batteries: they are completely 'Cobalt Free', 'Cell to Pack' and extremely safe.
Cobalt Free
Cobalt is frequently considered an essential raw material for batteries. However, not only is the stock of cobalt finite, its mining industry is not regarded as sustainable. A good reason for DAF to look for an alternative that eliminates both disadvantages. And the LFP meets that requirement, making the CF Electric an even more green truck.
Cell to Pack
Furthermore, the battery is 'Cell to Pack'. This means that individual battery cells can be stacked and that no intermediate buffering modules are required. This increases the energy density per litre enormously. And that is reflected in the range of the new CF Electric. Although the size of the battery pack remaines almost the same, the range of the third generation CF Electric doubled compared to its predecessor; from over 100 to over 200 kilometres on one charge.
Highest safety
A final important advantage over other regular battery chemistries is the thermal and chemical stability of a LFP power source. The lithium, iron and phosphate composition not only improves battery resistance to overheating, it also eliminates the risk of a so-called thermal runaway – a chain reaction within a battery pack. As a result, by using LFP batteries the possibility of a spontaneous ignition is reduced to zero, further enhancing the safety for the CF Electric.
'An important step forward'
"With its increased range, the new CF Electric strengthens our position at the forefront of electric road transport. This truck has been developed in response to the rising demand for better air quality in our cities and lower CO2 emissions. 500 fully electric kilometres per day is something transport operators can really work with."

Ron Borsboom,
Executive Director DAF Product Development.