DAF respects your privacy. We use cookies for a variety of purposes, such as website functionality, improving your experience of our website, building integration with social media and helping target marketing activities within and beyond our website. By continuing your visit on our website, you are consenting to our use of cookies. However, if you want to customize your cookie preferences, click on 'Change settings' below. You can withdraw your consent at any time. For more information, please visit our Cookie Notice.
Optimized for best off-road performance
To optimally meet the specific requirements of operators in the construction sector, the DAF XDC and XFC for vocational and construction applications are available with single or double drive and are designed for the toughest work under harsh conditions. The New Generation XDC with 10.8 litre PACCAR MX-11 engine and XFC with 10.8 litre PACCAR MX-11 and 12.9 litre PACCAR MX-13 engine, offer high payloads thanks to low kerb weights. The sturdy trucks have a large approach angle and high ground clearance, and feature a unique exterior design with a robust bumper and grille and a steel radiator protection plate. The TraXon automated transmission is available with dedicated software settings to support excellent driving behavior, both on and off road. The XDC and XFC are available in 8x4, 6x4 and 4x2 axle configurations.
Wide range of tandems
For excellent traction under tough conditions, the XDC and XFC trucks are available with a choice of double-drive, low-maintenance tandems:
From a 19-tonne light weight tandem with single reduction (SR1132T), leaf spring suspension and disc or drum brakes to 21- and 26-tonne variants (SR1360T) with single reduction, disc brakes and air suspension
The 21- and 26-tonne tandem is also available with hub reduction (HR1670T) for heavy and off-road applications
Available with a wide range of rear axle ratio options from 3.46:1 to 7.21:1 to perfectly tune the specification to the individual task
Concrete Mixer
The New Generation DAF XDC/XFC Mixer combines a lightweight vehicle chassis with a robust cab structure to deliver a high payload and maximum uptime. Plus, optimised drivelines ensure the smoothest ride even on tough terrain.
• Superb traction in difficult terrain
• Low kerb weight for maximum payload
• High front approach angle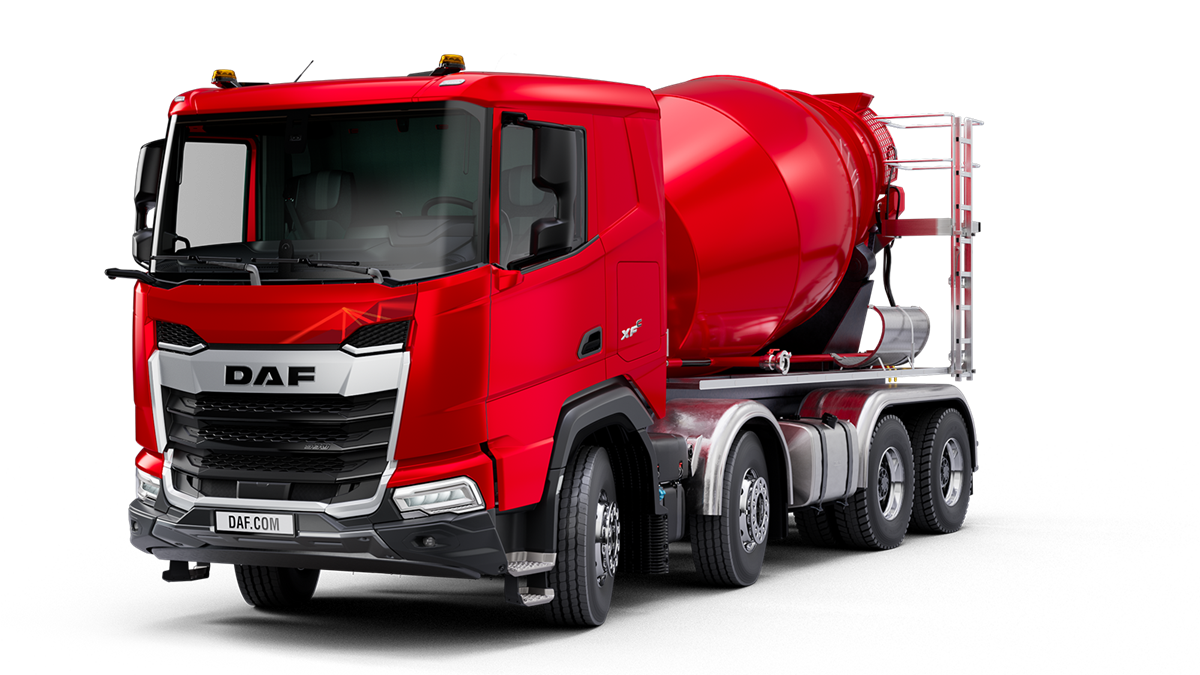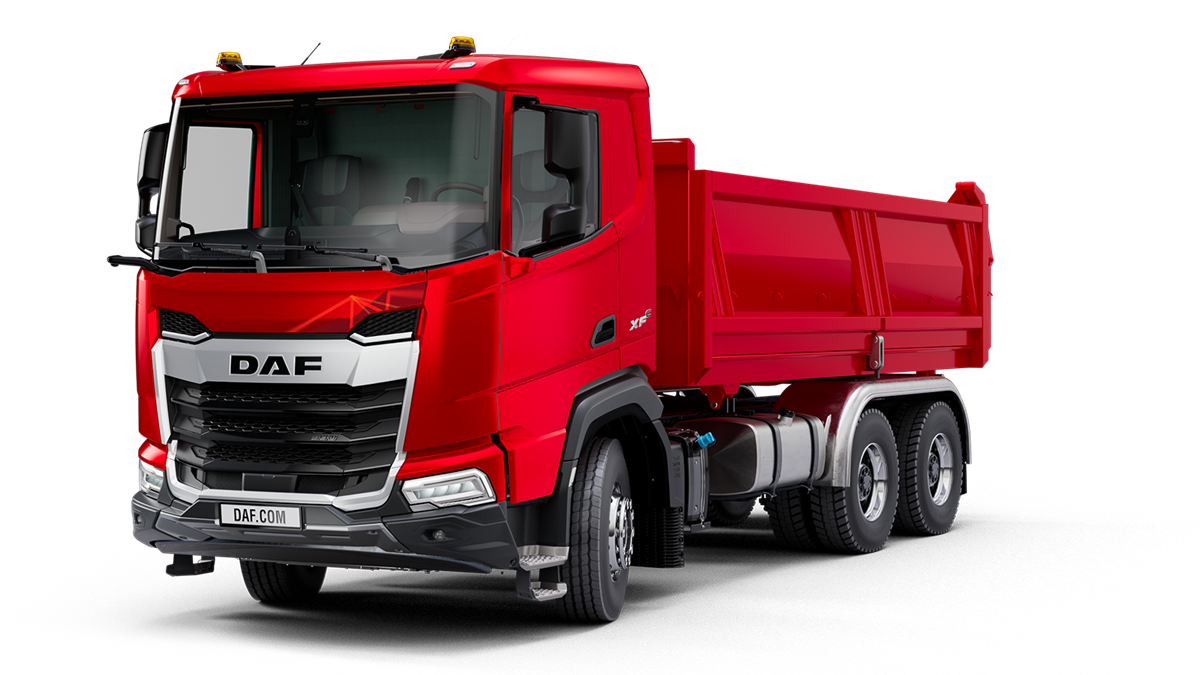 Tipper
With an extremely robust chassis and a powerful driveline, the New Generation DAF XDC/XFC is perfectly suitable for Tipper bodies, designed to meet the toughest of tasks across any terrain.
• Extremely robust
• Excellent off-road capabilities
• High maximum payload
Construction Styling
Designed specifically for off-road and construction applications, both the XDC and XFC feature a 3-piece robust steel bumper, radiator protection, integrated fog lights and a higher ground clearance. Plus, the rugged front styling further highlights the toughness of these vehicles. This practical approach to operating in tough conditions also extends to the interior, with highly durable vinyl surfaces and preparation for hard wired bodybuilder switches, maintaining the premium interior feel after body works are complete.
Ideal cross-over: XD and XF Extra Robust
Entirely new are the 'XD Extra Robust' and 'XF Extra Robust'. The series combines the robust cabs of the XDC and XFC with an on-road chassis. This is the perfect solution for operators in the construction and municipal segments who value the lowest vulnerability but do not need full off-road capabilities. The robust front execution with its prominent high-mounted bumper is always combined with a neatly integrated front under-run protection beam and is available on all XD and XF rigid and tractor configurations.
Hooklift
The New Generation DAF XD/XF with hooklift system features a robust 3-piece bumper and chassis. Powerful drivelines ensure optimal vehicle usability and uptime across any environment or situation.
• High payload capabilities
• Robust and stable chassis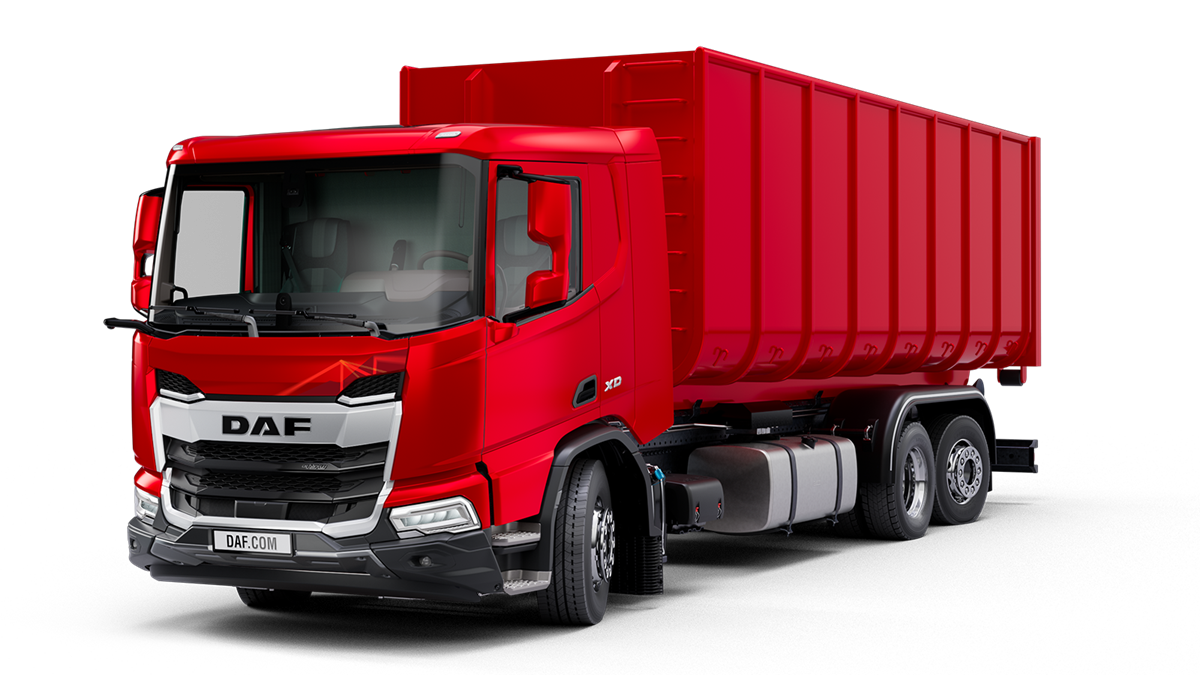 Flatbed & Crane
Ideal for delivering building materials to a tight location on a construction site, the New Generation DAF XD/XF Flatbed offers maximum manoeuvrability and a robust chassis for higher payloads. Built to be highly versatile, the crane can be positioned behind the cab, at the rear of the chassis or create your own tailor-made solution.
• Deliverable with 10T front axle
• Extremely small turning circle
• Robust 3-piece steel bumper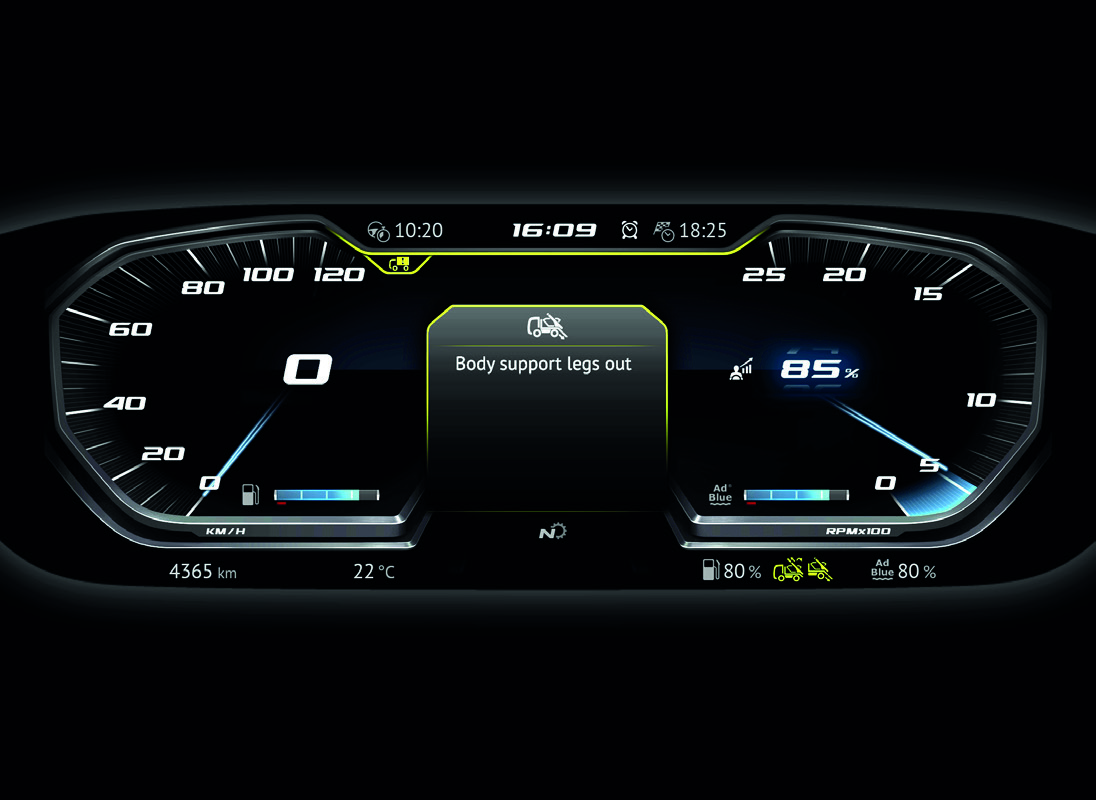 Plug & Play
With the introduction of the New Generation series, DAF has strengthened its collaboration with body manufacturers all over Europe. The result is a seamless process where your desired specification is just one click away. This not only ensures an easy fit between chassis and body, but it also enables software integration to simplify data sharing and communications between DAF dealer, body manufacturer and you as customer. Full interaction with the body via the dashboard controls and a wide range of informative symbols on our digital display – all add up to a simplified process and the guaranteed delivery of your perfect DAF.