We use cookies for a variety of purposes, such as website functionality and helping target our marketing activities. Some cookies are essential, others help us improve your experience by providing insights into how the site is used. For more information, please visit our Cookie Notice.
DAF Genuine Ultimate AGM for the highest performance
Maximum uptime
Overnight stays for drivers are becoming more frequent and longer. With the cab becoming more like a hotel, the truck needs a battery that meets high power demands resulting in maximum uptime. The DAF Genuine Ultimate AGM Battery is the solution.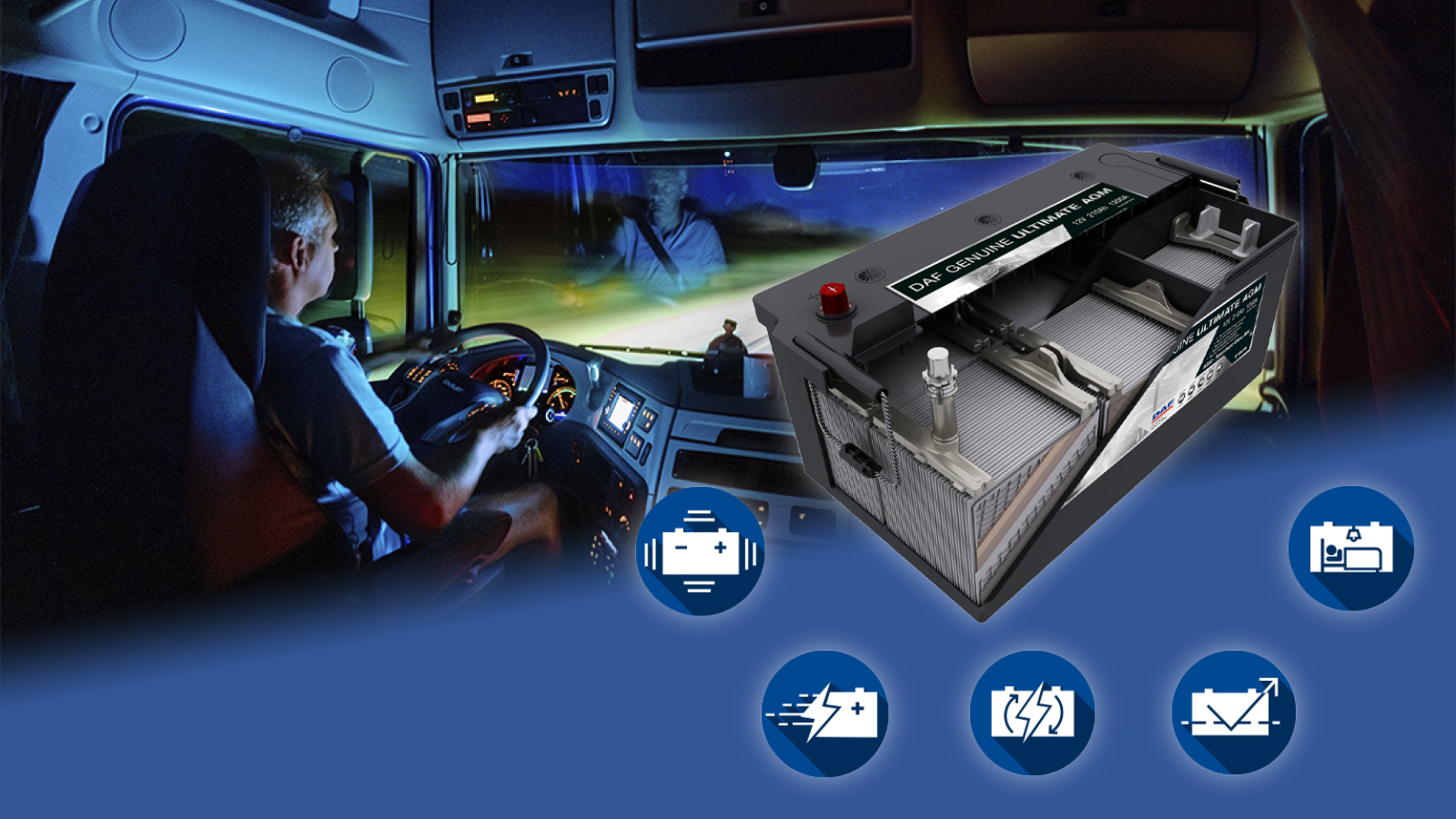 More power and longer life
6x longer lifetime vs. conventional batteries / 3x longer lifetime vs. EFB – AGM batteries contain more active lead, resulting in extra energy capacity and up to six times more cycle lives than conventional lead acid batteries
Best Depth of Discharge – AGM can be discharged up to 80% without damaging it because the DAF Genuine Ultimate AGM Battery isn't affected by acid stratification
Best Charge Acceptance – AGM batteries have lower internal resistance, which increases the charging capacity and engine cranking capability. As a result, they can be charged much faster than conventional batteries
Highest Vibration Resistance – Movement of the plates inside the battery is limited, which protects it against the toughest vibrations. This makes the DAF Genuine Ultimate AGM Battery ideal for end-of-frame installation
Hoteling Function – the DAF Genuine Ultimate AGM Battery is the right choice for trucks with heavy power consumers on board, especially when doing overnight stays night after night.
Choose the right battery
It's important to have the right battery for a truck's power consumption level. With the new DAF Genuine Ultimate AGM Battery, you can be sure you have enough power for multiple overnight stays.
Find your nearest DAF dealer