DAF respects your privacy. We use cookies for a variety of purposes, such as website functionality, improving your experience of our website, building integration with social media and helping target marketing activities within and beyond our website. By continuing your visit on our website, you are consenting to our use of cookies. However, if you want to customize your cookie preferences, click on 'Change settings' below. You can withdraw your consent at any time. For more information, please visit our Cookie Notice.
DAF FAQ 'Tridem' offers volume deliveries for G.Owen & Sons
Based at Newtown in mid-Wales, G.Owen & Sons, a successful family business for some 60 years, has taken delivery of a new DAF 8x2 bulk-blower. The DAF CF 440 FAQ 'Tridem' axle configuration has been acquired for distribution of animal feeds to farms across Wales and large parts of England.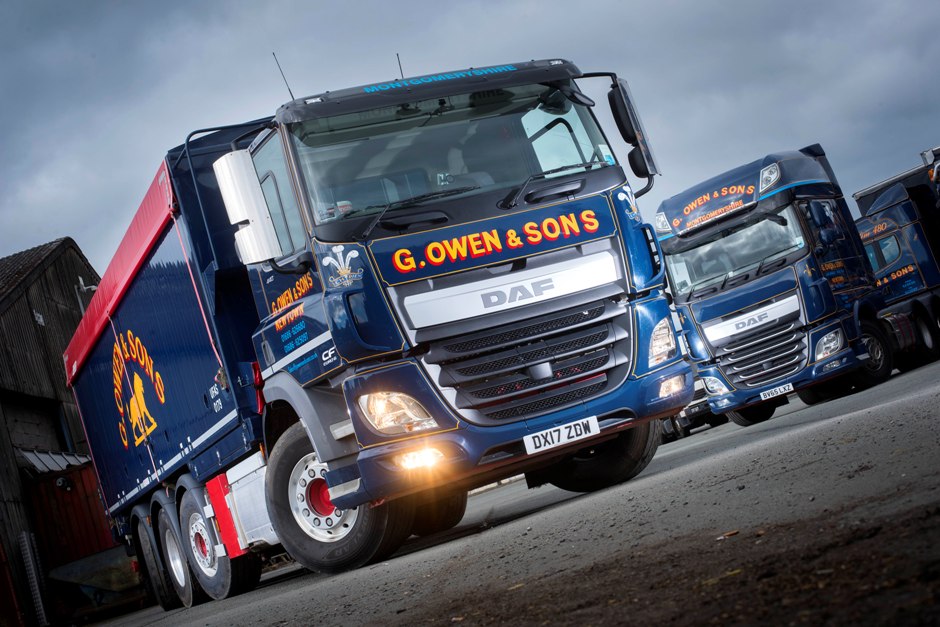 With bulk blower equipment, the new vehicle becomes the eighth DAF in the fleet, though the FAQ model's unusual 1+3 axle arrangement is a first for the business. Director, Dan Owen, said, "We wanted something that helped us make sense of the large volumes we have to deliver, often made up of smaller individual deliveries, into a variety of tight farmyards.

"Our local DAF dealer, Greenhous DAF in Shrewsbury, spent a lot of time talking to us and understanding our need. We had six-wheel bulkers which had been fine," he said, "but they only take up to 14.5-tonnes, with the option for up to four individual loads in four bins within the body. That's OK for more local drops, but when you cover huge and largely rural areas across Wales and a fair bit of nearby England, it starts to become uneconomic and inefficient."

Owen added, "This DAF CF 440 FAQ will carry up to 19-tonnes, split across five individual bins in the body, so we can carry more and make more economical drops from the one truck. All we needed was the steer capability to guarantee us good manoeuvrability in tight areas – and that has been delivered as well by DAF's FAQ axle configuration."

The DAF FAQ eight-wheeler has a single front steer axle and a rear Tridem set-up with lift-and-steer capability on second and fourth axles. "It's taken a bit of time for the drivers to get used to it," admitted Owen. "We needed to understand how to really work the axle configuration to get the best results and benefit from the traction capabilities they bring. It's still early days but we are certainly getting there now."

Another new DAF has also arrived recently, a tractor, to relieve pressure on the haulage fleet as business continues to grow for the highly professional team at G.Owen & Sons. An XF 510 Super Space cab with tipping gear now works alongside another DAF tractor in Owen colours. "We wanted to look at another DAF based on the performance and economy of our first one, and once the driver had been in it for a while he just wouldn't let us send it back! That was fine by us. The total operating costs stacked up really well, and we have a good relationship with Greenhous DAF: they give us tremendous support with the eight DAFs we now run."

Alongside its busy haulage operations, the UFAS-accredited company also runs a flourishing wholesale and retail business specializing in coal and animal feeds. It stores and blends bulk products which can be collected or dispatched in smaller bulk quantities, as well as bagging into various size packs before delivering both to retailers and direct to local customers.