We use cookies for a variety of purposes, such as website functionality and helping target our marketing activities. Some cookies are essential, others help us improve your experience by providing insights into how the site is used. For more information, please visit our Cookie Notice.
13 December 2017
Airdrie, Scotland
'New XF' 530 DAF is 'catch of the day' for AMG Transport
Specialist fresh fish transport operator, AMG Transport from Airdrie in Scotland, has taken delivery of a DAF New XF 530 FTG unit as an addition to its six-strong fleet.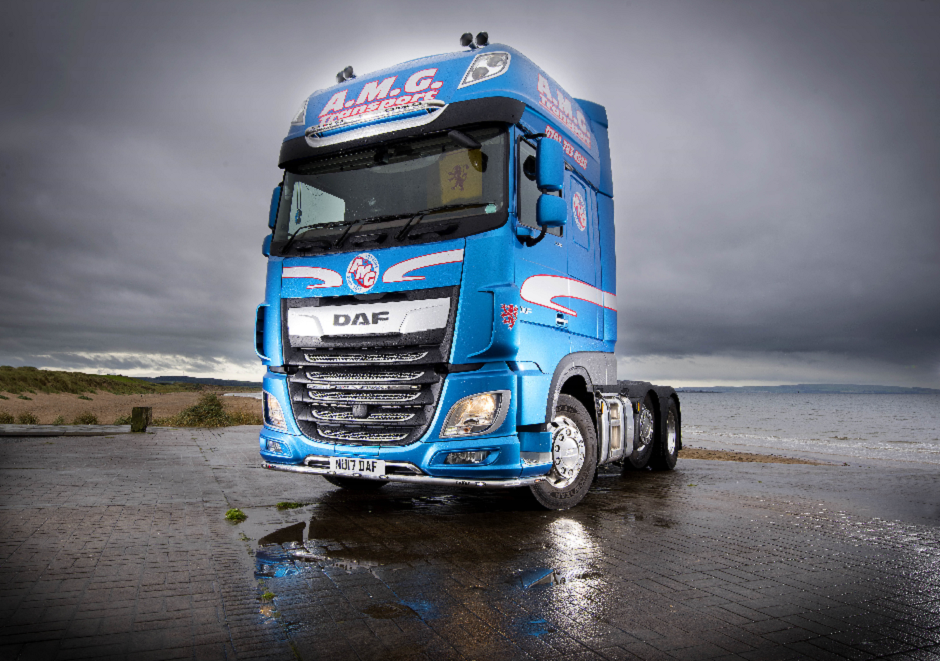 The vehicle, supplied through DAF dealer Imperial Commercials in Cumbernauld, entered service with an inaugural run from its base down to Billingsgate, driven by Andy and his namesake son, a service on which it will be one of two AMG vehicles on regular runs, five days a week. The operator also runs fish to Birmingham Market on the same frequency, as well as into Heathrow airport at least twice a week for the export markets.

Andy speaks enthusiastically about his New XF's fuel performance, saying, "It is always subject to weather and road conditions of course, but the underlying economy is already very good to be fair. We monitored a run down into Billingsgate and back last week, maxing out at 44 tonnes both ways. That's a real bonus in these difficult economic times!"

AMG is celebrating its 10th year of business this year and as part of marking the milestone, has opted for a special Jamaica Blue paint finish on the New XF, rather than its normal black. The DAF's Super Space Cab has also been specified with the luxurious 'Exclusive' leather trim package, and in addition to a fridge and microwave has a roof mounted air-conditioning pod to give the driver maximum comfort. All were fitted by the local dealer, Imperial Commercials in Cumbernauld.

The AMG fleet of six tractors is made up of all DAF units, all with Super Space Cabs. Owner Andy McGonnagle says, "I have driven and trialled all the major premium marques, but for me the DAF has the most comfortable cab and, in these days of driver shortages, that is important to me. I have a very good team here and I want to give them the best trucks for the job. They are all given their own vehicle to drive, no sharing, and they each take a pride in keeping it smart and cared for. It works for all of us."

Each of AMG's DAF units is fitted with telematics and a forward-facing camera. Andy recalls, "We had a bad problem with a vehicle involved in a collision that shut the M6 for a while, not too long ago. Thanks to the camera, we could show clearly that it was not our driver's fault. That's a big insurance saving as well as protecting our reputation."

The operator acquires its DAF tractors through PACCAR Financial, though always measures the market for alternatives, 'just in case there's a deal to be had'. Service and maintenance support is provided though the supplying dealer, the Cumbernauld branch of Imperial Commercials, and Andy McGonnagle is keen to say, "After fuel, on the road performance and driver comfort, local dealer support is very important for any smaller fleet operator. We get great service from Imperial Commercials and they add a real plus to our choice of DAF."

The AMG DAFs are coupled to the operators own fleet of refrigerated trailers, supplied by Schmitz and Gray & Adams.