We use cookies for a variety of purposes, such as website functionality and helping target our marketing activities. Some cookies are essential, others help us improve your experience by providing insights into how the site is used. For more information, please visit our Cookie Notice.
New DAF XF 'as good as it gets' for AAD Transport
Following the global launch of DAF's New CF and XF models at the CV Show earlier this year, one of the first customer deliveries has gone to AAD Transport in Forfar. The XF 530 FTG is a 6x2 mid-lift tractor unit with a new uprated 530bhp PACCAR MX13 engine and new TraXon 12-speed automated gearbox.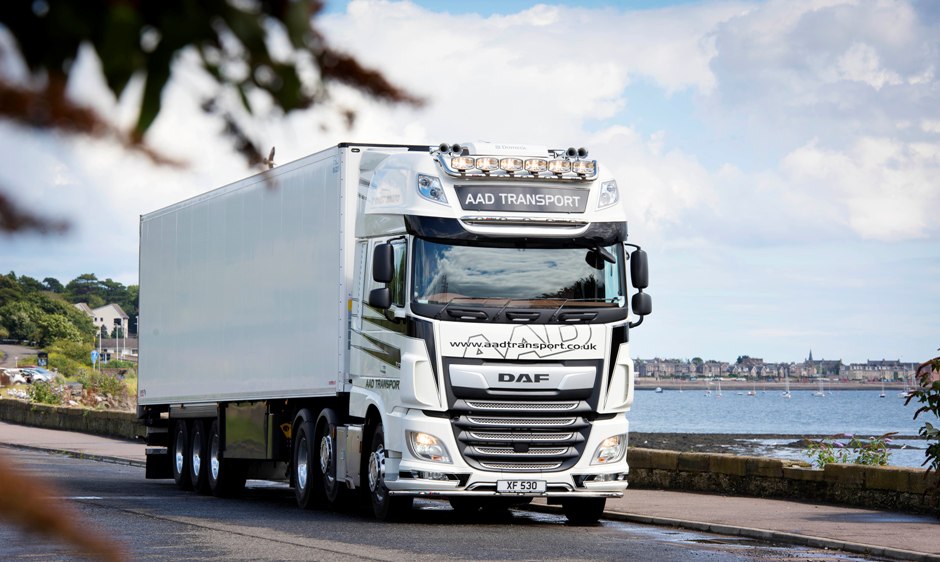 Local DAF Dealer, Norscot Truck & Van in Aberdeen, supplied the vehicle with a full two-year DAF MultiSupport Repair & Maintenance contract. It is the eighth DAF unit for the refrigerated transport specialist. The flagship unit comes with a Super Space Cab and is also fitted with Kelsa 'hi and lo' spotlights and illuminated headboard, and chassis mounted toolbox.

"We run a mixed fleet," said Alan Davie (Managing Director) at AAD Transport, "but I would say DAF's Super Space Cab is unrivalled for room and storage for the driver. Our drivers are the most important part of the job, so equipping them with the right tools is essential.

"The Euro-6 DAF XF is just about as good as it gets," he said, "and the New XF promises to be even better. That remains to be seen, of course, but the driveline upgrades have been carefully considered and the cab enhancements will please drivers. The combination really does have the potential to result in a cracking truck."

Also announced recently, 35 new DAF demonstrators are now in the hands of the DAF Dealer network and are being trialled by operators. The demonstrators are part of a much larger European fleet of over 200 new CF and XF demonstrators, painted in metallic Jamaica Blue and sporting their distinctive demonstrator livery, manufactured at DAF's two European production plants in Eindhoven and Leyland. Since the CV Show in April, DAF Trucks has received over 800 UK orders for its new CF and XF models.

The new DAF model line-up arrives in the UK as DAF Trucks further strengthens its position in the UK truck market above 6.0-tonnes GVW. Latest market share figures confirm DAF Trucks' dominant 30% share – more than twice that of its nearest competitor – meaning one-in-three new trucks in the UK is a DAF.

The New-model DAF CF and XF rigid and tractor line-up boasts up to 7% lower fuel consumption thanks to innovations and higher ratings to the PACCAR MX-11 and MX-13 engines, a new ZF TraXon gearbox, new high-efficiency rear axles with faster gear ratios, advanced powertrain software and new cab aerodynamic aids.

Further new developments include an enhanced MX Engine Brake and a new compact Exhaust After-treatment System (EAS) – all combining to reduce kerb-weight by a significant 130kg on the FTG 6x2 tractor model. The EAS is 40% smaller allowing extra chassis space to accommodate ancillary blowing and or tipping equipment. Maximum service intervals are also increased to 200,000km.

For the driver, new trim, a new dashboard layout and new temperature / climate controls further enhance already high levels of comfort, while an Exclusive Line specification provides the ultimate in luxury.