DAF respects your privacy. We use cookies for a variety of purposes, such as website functionality, improving your experience of our website, building integration with social media and helping target marketing activities within and beyond our website. By continuing your visit on our website, you are consenting to our use of cookies. However, if you want to customize your cookie preferences, click on 'Change settings' below. You can withdraw your consent at any time. For more information, please visit our Cookie Notice.
London Concrete adds DAF New CF 450 8x4s to fleet to deliver Euro-6 compliance
London Concrete has added another 11 DAF 8x4s to its operations to help it meet the forthcoming requirement for Euro-6 emissions compliance in London, significantly increasing the DAF share of the total fleet. The New CF 450 'FAD' 8x4 mixers are going into operation at a number of the pre-mixed concrete supplier's 12 state-of-the-art production plants across the capital.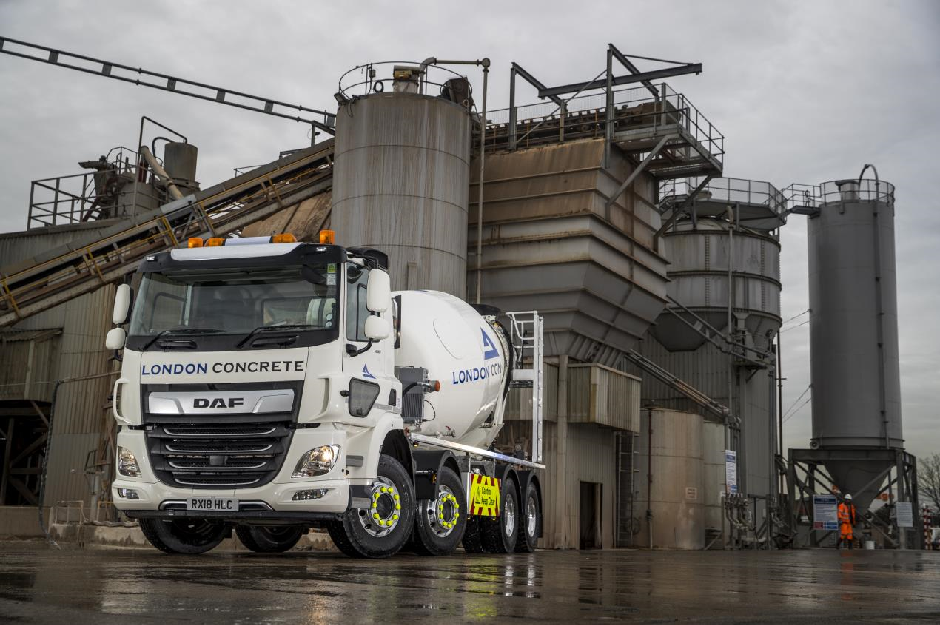 Head of Transport for London Concrete, Steve Carter, said, "All the major manufacturers call on us, and over the years we have tried a variety of chassis, but we keep coming back to DAF. The New CF, coupled with lightweight mixer-drum technology, is helping us regularly maximise our load capacities, and that's a real advantage for us in the demanding London and Home Counties construction scene.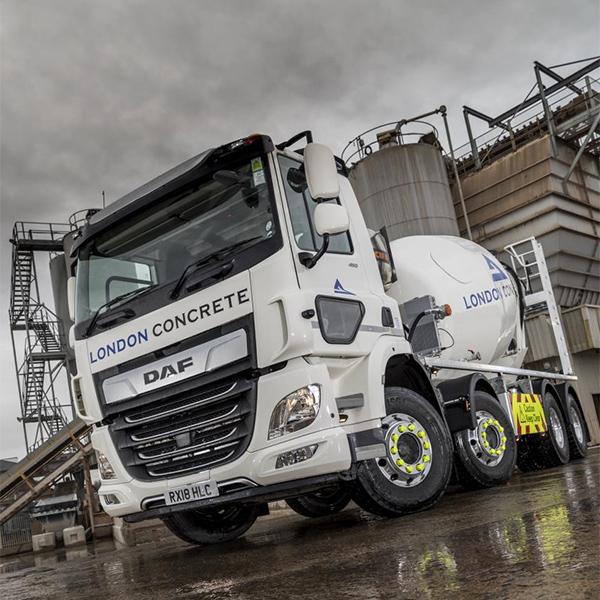 >
"We value our compliance standards above all else, and are FORS Silver and CLOCS compliant. We also run a full Urban Driver programme for all our drivers, and the New CF cab has great window size and the glass door panels are perfectly positioned to help drivers look out for vulnerable road users. What isn't always appreciated though is that we deal in a highly 'perishable' product, but now with the New CFs we can achieve the best of both worlds, full compliance, top payload and reliable performance."

A subsidiary of Aggregate Industries, itself part of LafargeHolcim, London Concrete has grown steadily over the years with the increase in major construction projects in and around the capital. London Concrete's Battersea plant is credited as being the largest in production volumes in the UK. The company has been involved in The London Eye, the Shard, Heathrow Terminal 5, Olympic stadia developments and others: it is currently a key supplier to the Battersea/Nine Elms regeneration project and Cross Rail.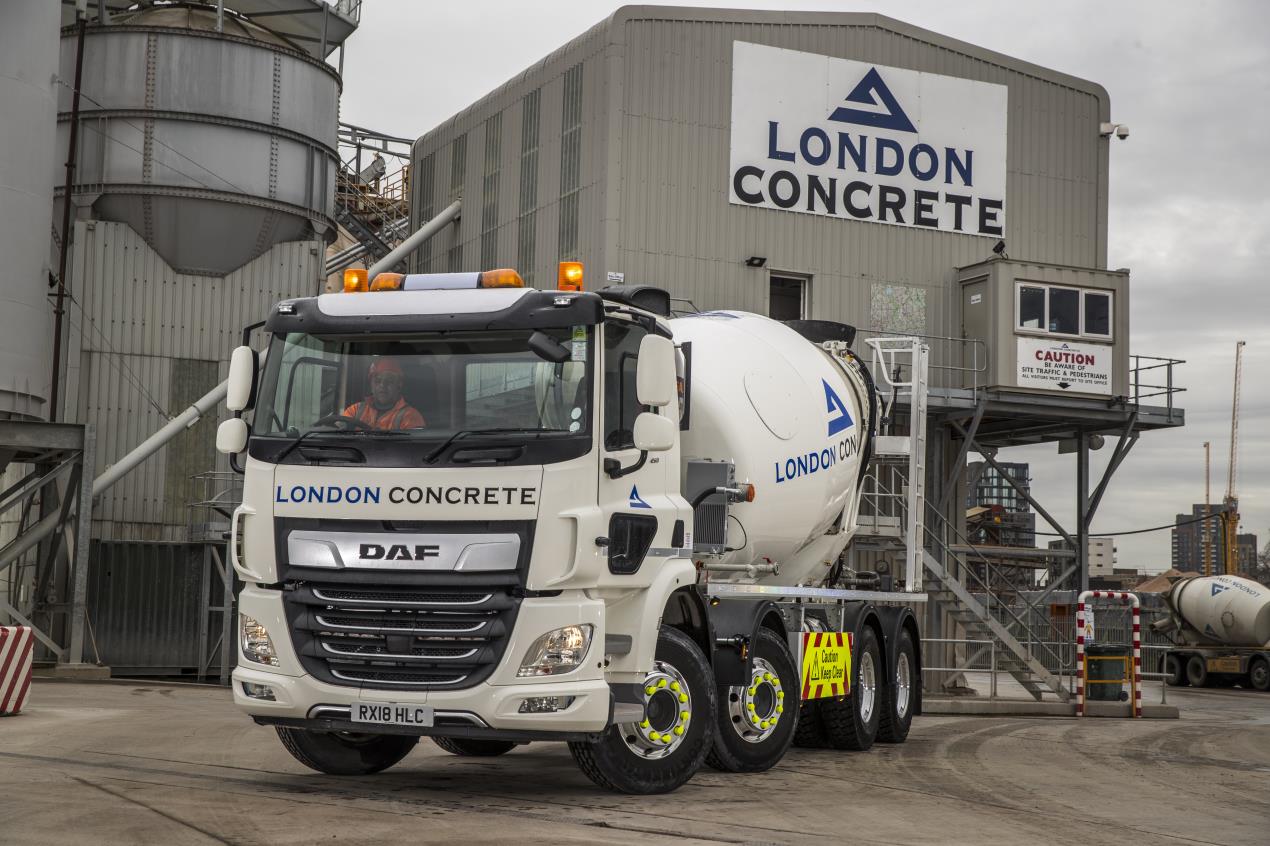 On the selection of horsepower for the new trucks, Steve Carter said, "London Concrete has plants spread across Greater London, with a couple right on the outskirts. So, we chose the new 450bhp models to cope with the hills around a few of our plants, where full loads can really impact performance and economy, then, for the rest of the time, we have power in hand. It might seem odd, but the 450 engine is great at coping with the inevitable congestion in Town, as it becomes a 'lazy' engine and very economical. Especially with the latest TraXon automated gearboxes. We used to spec 360 as our average horsepower, but the New DAFs offer us the best of both worlds – all the power we need, with good fuel and driver comfort under all conditions."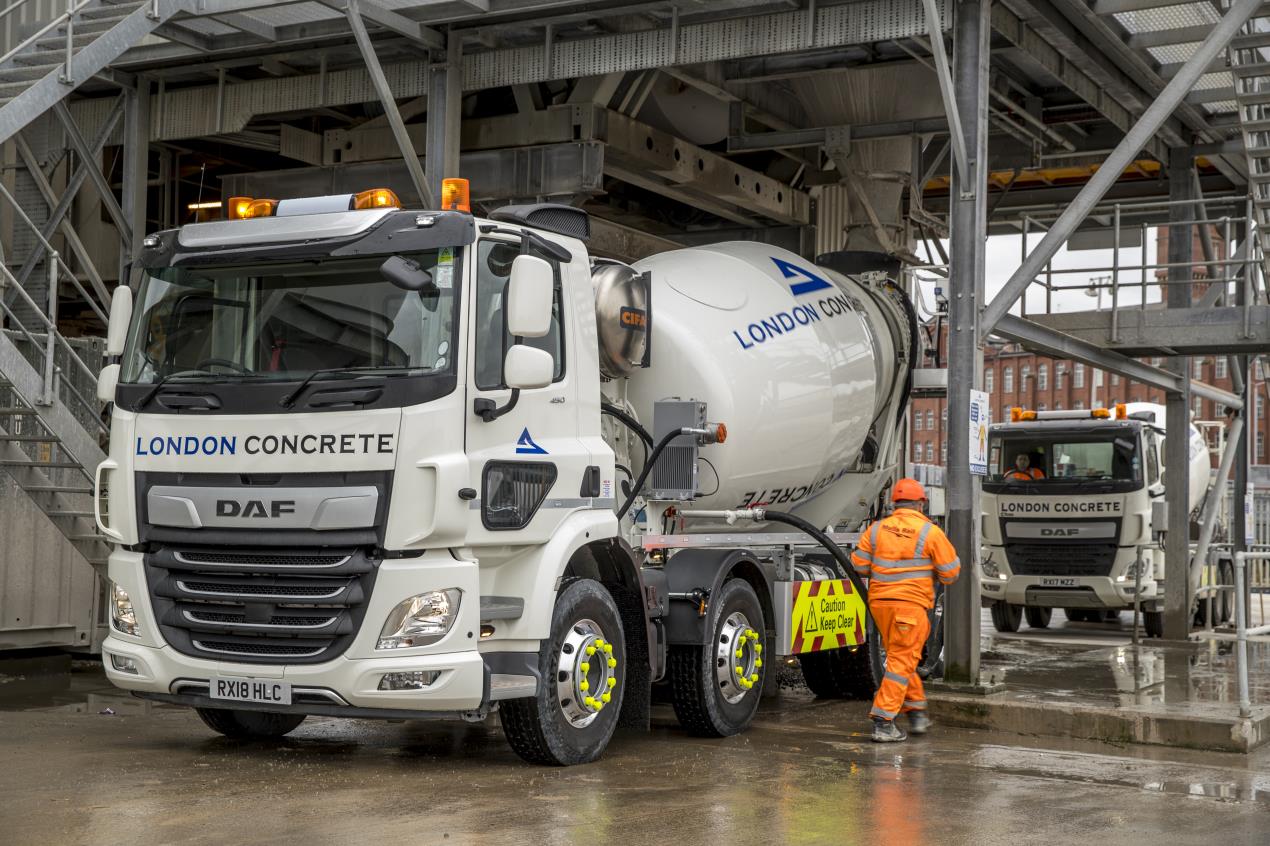 The New CF 8x4s are being fitted for London Concrete with the latest lightweight drum technology to assist with payload performance. The cabs are the standard DAF day cab, which Steve Carter says is ideal for the job. Other marques currently on the fleet, while he rates them in basic engineering terms, have 'heavy' cabs, he says, and back-up can be 'poor'. Drivers get a choice, but at the moment the choice is firmly in favour of DAF, with the cabs coming fully equipped with climate control. "Our drivers deserve the best we can afford to give them," says Steve Carter. "They have some tough conditions to cope with, so the more we can do to keep them comfortable and avoid unnecessary fatigue, the better able they are to do their job safely on sites and out on the road. The DAFs have a great turning circle as well, so all in all these trucks are right where they need to be in every respect."

London Concrete's DAF fleet maintenance is largely taken care of by supplying DAF dealer, HTC Heathrow, of whom Head of Operations & Transport Douglas Antingham says, "DAF back-up service is second to none, and the team at HTC looks after us very well indeed. We never seem to have to ask for favours, everything we need gets scheduled in as and when we need it and the quality is top-notch."