We use cookies for a variety of purposes, such as website functionality and helping target our marketing activities. Some cookies are essential, others help us improve your experience by providing insights into how the site is used. For more information, please visit our Cookie Notice.
Switch International has added four New DAF vehicles to its fleet at the operation's Andover base. A subsidiary of South Wales haulier, TWT Logistics Group, Switch runs a long-distance haulage business for customers along the M4 corridor, as well as a pallet network operation that includes regular Hazchem work, in the South Coast region.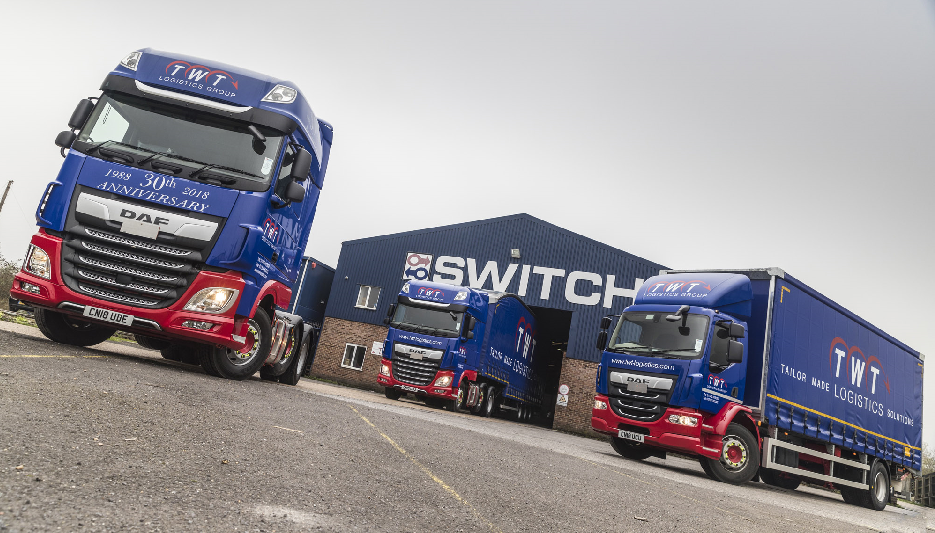 TWT owner, Trevor Taylor, bought the Switch operation almost 13 years ago and, along with the TWT fleet at his head office in South Wales, invests regularly in building and modernising both fleets. The latest order for DAFs takes the manufacturer's presence in the 80-strong fleets to around 50%.

Three of the four DAFs are New XF 480 FTG tractor units with Super Space Cabs. Trevor Taylor explains, "We go for the larger cabs, and then add things like fridges, Bluetooth phone connections, full-width catwalks and other comfort and safety items, to make our drivers' lives as pleasant and safe as possible. Drivers are an important part in any transport business, and we try to 'reward' ours with the best we can afford. The DAF Super Space Cab is a great cab by any standard, and adding a few extras like this makes them very special indeed."

Alongside New XF tractors, Switch International has also taken delivery of a New LF 260 18-tonne rigid with rear-air suspension. The New LF chassis has been fitted with a Montracon curtain-sided body built to ENXL rating, with an all-bolted galvanised steel underframe, post-less design for unhindered side-access loading, and a Dhollandia DH-RM.20 tuckaway tail-lift. It is believed to be the first customer delivery of the new Montracon body in the UK.

The New DAFs have been supplied though DAF Dealer, Watts Truck & Van in Cardiff, though the operator handles all service and maintenance needs in its own modern nine-bay workshop in South Wales This allows TWT Logistics/Switch International fleet additions to be acquired without R&M packages. Says Trevor Taylor, "We want the best deals on overall acquisition costs of any vehicle, which is partly why we handle our own maintenance in-house. The other bonus of having the workshop is the flexibility it gives us and the ability to ensure compliance. Watts Truck & Van then focus on our parts supply and any Warranty requirements.

"We're a family company and handle our business in a straight-forward and honest way," he says, "When people sell us a lorry, we simply want them to stand behind us in the event of any manufacturing issues. That's all. We have had some in the past who seemed to find that quite difficult, but the relationship with Watts Truck & Van and DAF has been very good over the years, which is why we keep coming back to them."

TWT is currently celebrating its 30th Anniversary, having started with just a single vehicle. Today, alongside its 80 trucks, the business runs 120 trailers and has some 125 drivers on the books to cover day / night haulage and its demanding, and still-growing, national and local contracts and pallet activity. Trevor Taylor, however, is one more operator happy to join the long and distinguished list who bemoan the low rates structure across transport generally, and pallets in particular.

He says, "Pallet companies need to take a hard look at the business, especially for those of us in more rural areas. In most rural areas, and especially those where 'territory' is lost to coastal intrusion, while there is a lot of traffic inbound from their hubs, there is far less going out. It's fine for them, the hubs stay busy and make them money, but for members in the sort of areas I describe," he says, "it is difficult to look positively into the future of pallet work unless operators address this issue."
Press contacts:

Paul O'Malley, Torque Agency Group
M: pomalley@torqueagencygroup.com
Rutger Kerstiens
Corporate Communications Department, DAF Trucks N.V.