We use cookies for a variety of purposes, such as website functionality and helping target our marketing activities. Some cookies are essential, others help us improve your experience by providing insights into how the site is used. For more information, please visit our Cookie Notice.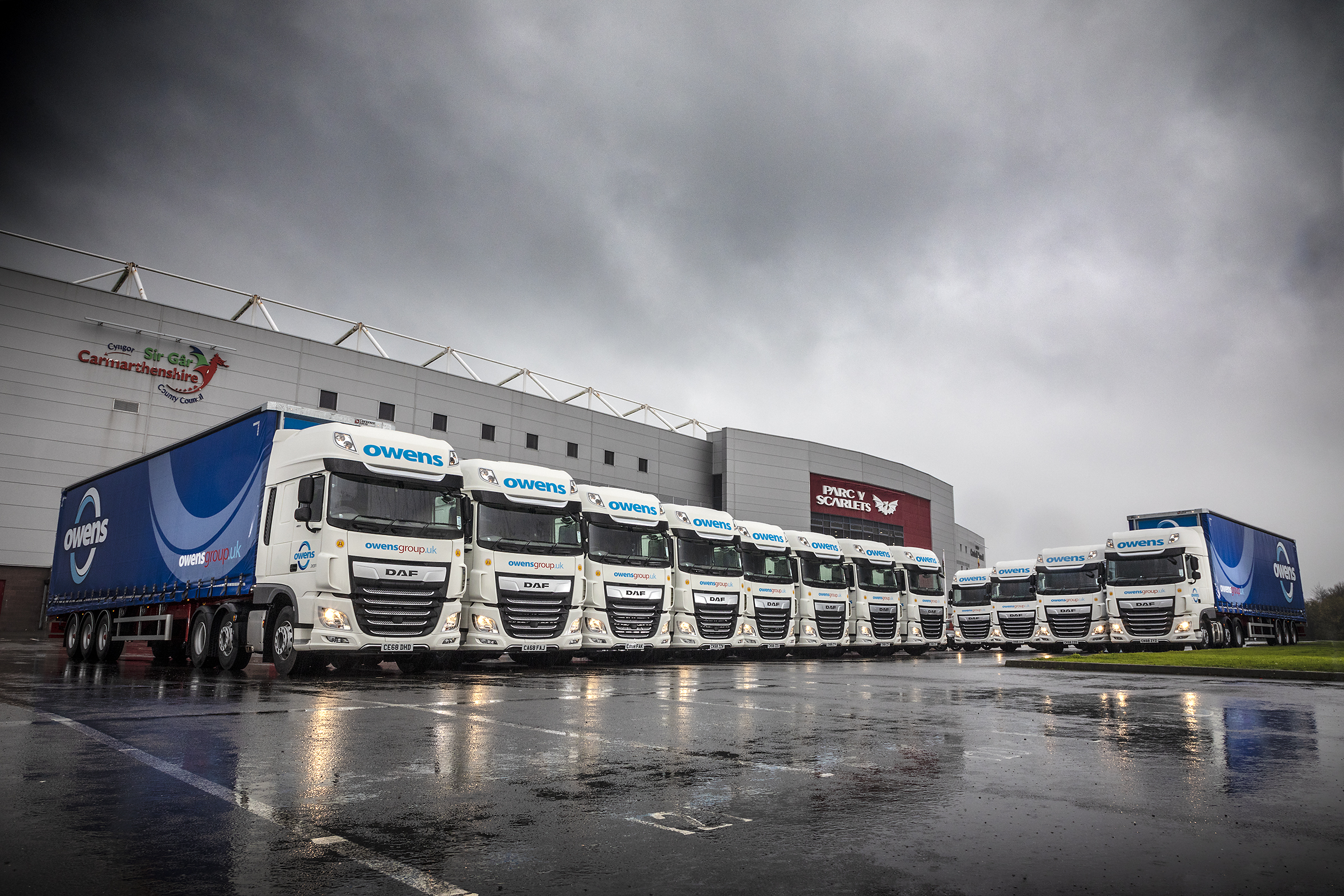 Owens returns to DAF for fleet replacement and growth
10.0mpg in trials, driver retention and maximum uptime 'strong influencers' in deal
36 new XF 480s to add to the fleet
10.0mpg in trials, driver retention and maximum uptime 'strong influencers' in deal
Welsh logistics operator also completes successful DAF CF rear-steer trials
"We are replacing some of the fleet and also continuing to grow the fleet as part of our commitment to being 100% Euro VI. After trials on a number of different marques the latest DAF XF was a clear winner." Eurof Owen
High profile Welsh fleet operator, Owens Group in Llanelli, has added 36 new DAF XF 480 six-wheel mid-lift tractors to its fleet, signalling a return to the market-leading DAF marque after a ten-year absence. Fuel returns of circa 10.0mpg, driver retention and maximum uptime were 'strong influencers' in helping to secure the order.
The new 'FTG' axle-configuration units, supplied by DAF Dealer Watts Truck & Van in Swansea, consolidate the Owens fleet to just under 400 tractor units and 80 rigids. Specifically, the new DAF XF's will operate out of Owens' locations throughout Wales and the West Midlands. The new trucks will also be based at Owens' newest location in Carrington, Manchester, following its acquisition of BTS Haulage in July, thus fulfilling a strategic geographical opportunity for the company helping it to continue to deliver excellent service levels to its loyal customer base.
Owens has also undertaken a successful trial with a DAF CF 370 rear-steer 26-tonne 6x2 rigid, which DAF Trucks has loaned to the Transport Association (TA) in its support of industry charity, Transaid. The initiative means any TA member may use the vehicle in regular service in return for donations to Transaid. The New CF's 'FAN' 6x2 rear-steer configuration will appeal to a great many TA members, offering operational flexibility and high manoeuvrability for a wide range of applications.
Including its van fleet, Owens is Wales's largest independent logistics companies with over 1,100 vehicles and trailers supporting its Logistics, Pallet Distribution, Bulk Haulage and Express & Home Delivery fleets.
"We've been operating trucks from various marques over the last decade," says Commercial Director, Eurof Owen, "We are replacing some of the fleet and also continuing to grow the fleet as part of our commitment to being 100% Euro VI. After trials on a number of different marques the latest DAF XF was a clear winner. The 480bhp engine and Super Space Cab combination really appealed to our drivers and their expert opinion features strongly in the ultimate buying decision. Encouragingly," he says, "our DAFs on trial returned just under 10.0mpg, and that's excellent for our operations where we operate up to 44-tonnes GCW and with specialist Tall Boy 4.6-metre (3.1-metre internal height) curtain-sided trailers. Our Drivers and fuel economy were strong influencers for us. We're delighted to bring DAF back into the fleet."
The company also identifies DAF Trucks' roadside assistance service, DAFaid, as a key benefit to overall operations. "We've been impressed with the commitment shown by Watts Truck & Van in Swansea," adds Eurof Owen, "and that's backed-up by the already solid reputation of DAFaid. We've had experience of DAFaid support previously and it remains the benchmark vehicle support and recovery service in the industry. We're looking forward to forming a strategic long-term partnership with the DAF brand once again."