We use cookies for a variety of purposes, such as website functionality and helping target our marketing activities. Some cookies are essential, others help us improve your experience by providing insights into how the site is used. For more information, please visit our Cookie Notice.
Turners (Soham) Ltd. takes delivery of 800th DAF 'FTP' 6x2 mid-lift tractor

East Anglian haulier the world's largest FTP customer

Latest DAF XF joins 1800-strong fleet

"Our continuous investment in DAF products shows our allegiance to the brand and our commitment to keep our fleet in premium condition." Tim King, Turners (Soham)
DAF delivers 800th three-axle tractor to Turners
Cambridgeshire-based haulage firm Turners (Soham) Ltd. has taken delivery of its 800th lightweight 'FTP' 6x2 mid-lift tractor from DAF Trucks. The latest XF 450 FTP meets the requirements of the highly flexible, fast growing East of England-based business specialising in temperature control, tanker operations, storage, warehousing and container distribution.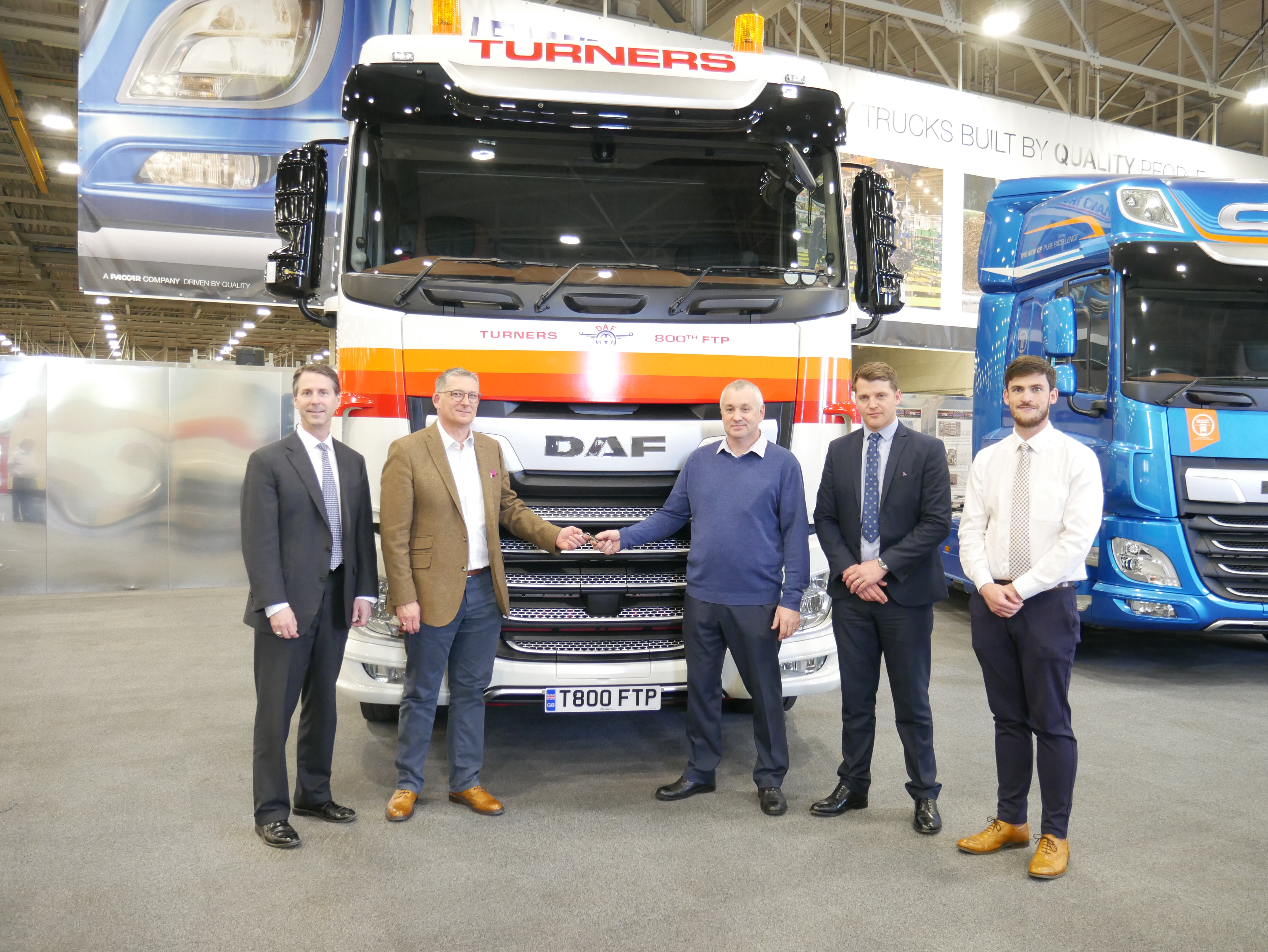 Turners, the UK's largest privately-owned logistics company, is also the world's largest operator of DAF Trucks' FTP 6x2 mid-lift tractor unit. Delivery number 800, registered as 'T800 FTP', was delivered by Cambridgeshire and Suffolk based family-owned DAF Dealer Chassis Cab. The truck joins Turners' 1800 plus strong fleet.
Tim King, Group Fleet Engineer of Turners (Soham), said, "Turners is a name now synonymous with transport and logistics. Our nationwide operations cover the movement of containers, chilled and refrigerated product distribution and tankers carrying liquids and bulk materials. We cover all product sectors including food, building materials and fuels and we are highly committed to evolving the quality services we offer.
"Our continuous investment in DAF products shows our allegiance to the brand and our commitment to keep our fleet in premium condition. The 450bhp FTP tractor is a top-performer; probably the best lightweight truck ever. They are the optimal truck for weight sensitive work and we are proud to be one of the top buyers worldwide."
Founded in 1930, Turners (Soham) Ltd. is today one of the largest independently-owned transport and distribution businesses in the UK. It specialises in bulk tanker and temperature-controlled work and runs trucks from 32 locations in the UK. Over 80 years on and the company is a UK leader in supply chain solutions.
With 3,500 full time employees, it also has six subsidiary companies: PPL, Pro-Fresh Solutions, Browns, Lewis Tankers, Macintyre Transport and Goldstar. The company's turnover in 2018 was in excess of £400m.
Scott Cocks, Regional Sales Manager at DAF Trucks, handed over the latest DAF XF to Turners in partnership with Robert Baxter, Managing Director of Chassis Cab Cambridge along with newly appointed Managing Director of the Leyland Assembly Plant (LAP) Brennan Gourdie. Scott said, "Turners is well recognised within the industry as a professional, family-run haulage business – its growth over the years has been exceptional and DAF Trucks is delighted to play such a key role in the company's development.
"It was less than 11 months ago that Turners took delivery of their 700th FTP which means they are well on their way to the 1,000 mark! Turners and Chassis Cab are both family run business, and both are highly respected in the East of England. It is satisfying to know that DAF Trucks and Chassis Cab are supplying products and services to allow Turners to maximise their uptime in the most efficient way".