We use cookies for a variety of purposes, such as website functionality and helping target our marketing activities. Some cookies are essential, others help us improve your experience by providing insights into how the site is used. For more information, please visit our Cookie Notice.
New Complete hub kit underlines why it pays to stay DAF genuine
DAF Genuine Parts feature a quality guarantee and UK-wide warranty
When you need to replace a part on your truck, you have a decision to make! You either buy a genuine part direct from your DAF Dealer, or a generic part from an alternative parts supplier.
Cost is a big factor, but how that cost is calculated is all important when deciding which part to buy.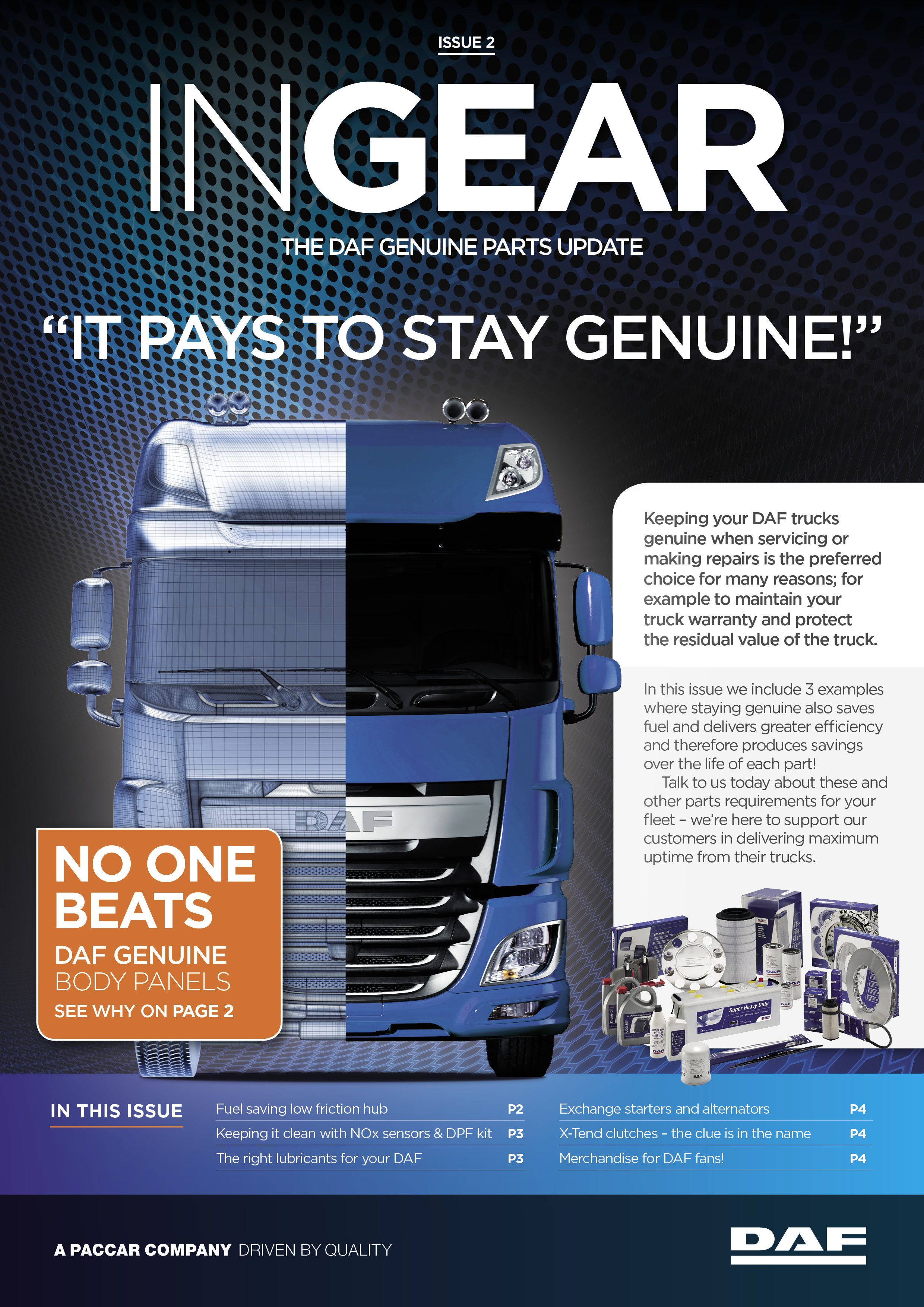 A short-term view might not take into consideration some very important facts, and therefore could end up costing you more than would first appear!
We all know that maximising up time is crucial for profitability – as well as maintaining a first-class reputation in the haulage business. The best way to guarantee your fleet stays on the road and earning is to choose parts specifically designed for your trucks.
Using a DAF complete hub replacement kit, for example, provides certainty that all the parts you need are supplied in one package – and that each will fit perfectly. The hub kit assembly for the DAF XF and CF ranges includes hub, brake disc, ABS ring, wheel bolts and associated fittings – all now available under a single part number to simplify the ordering process too.
As with all DAF Genuine Parts, each hub kit is 100% tailored to your truck, thoroughly tested for safety and durability, and produced using the highest quality components to ensure optimum performance and excellent fuel efficiency – issues that are directly related to profitability over the long term.
As DAF Genuine parts all carry a full DAF Warranty, you can rest assured that should anything not live up to our exacting standards, you are fully covered. This includes DAFaid and labour when parts are fitted at a DAF dealer.
As market leaders, DAF have the largest dealer network across the UK, all with comprehensive stock levels and supported by daily deliveries from our UK parts distribution centre which boasts high first-time-pick rates ensuring you get the parts you need quickly, reducing downtime to an absolute minimum.
"Quite simply, it pays to go genuine." Glen Crompton, Parts Marketing Manager
"Where our customers demand superior replacement parts, DAF Genuine Parts provide the peace-of-mind of a quality guarantee. Over the longer term, DAF Genuine Parts offer improved durability and reliability to deliver maximum uptime."

"Our new complete wheel end hub kit for the CF and XF contains all the essential parts necessary for an effective and reliable hub replacement," adds Crompton, "now catalogued under a single part number. The assembly comprises only new DAF Genuine Parts, ensuring optimum fit and performance. Of course, DAF Genuine Parts benefit from a full DAF warranty and available throughout our 136-strong UK DAF Dealer network."

More DAF Genuine parts are featured in the latest Issue of DAF InGear. The periodic publication is available from DAF dealer parts departments and highlights the benefits and potential savings available through reduced ongoing maintenance and operating costs, together with protected residual values, by keeping your fleet DAF genuine.

Find your nearest DAF dealer