We use cookies for a variety of purposes, such as website functionality and helping target our marketing activities. Some cookies are essential, others help us improve your experience by providing insights into how the site is used. For more information, please visit our Cookie Notice.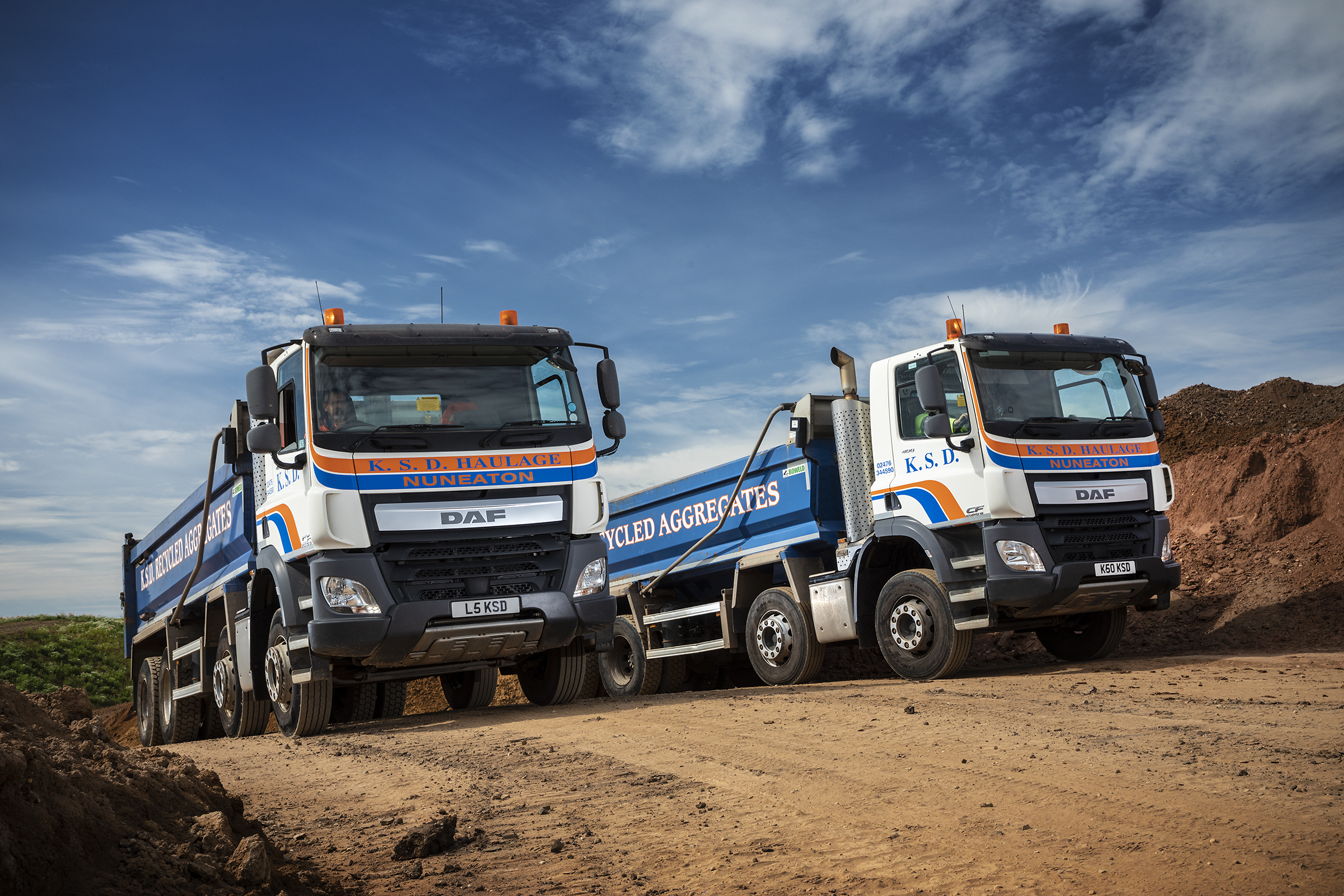 KSD returns to DAF for ten more tippers
Additional ten DAF CF 410 FAD 8x4 tippers to join Midlands aggregates fleet

Edbro tipping gear on all and mix of Boweld and Marshall bodies

Operator specialises in recycling and supply of aggregate across Midlands

Drivers 'very enthusiastic' and fuel reported as 'very good'

Operator rates DAF Driver Performance Assistant highly
High-profile Nuneaton haulage, muck-away, recycling and aggregates operator, KSD, has committed to a further tranche of ten DAF CF 410 FAD 8x4 tippers following the successful performance of ten early Euro-6 models just under two years ago. With a small but growing concrete business now adding vehicle numbers, the KSD fleet currently totals 55 trucks, with the majority multi-wheel rigids.
KSD has a long history with DAF products, though has also placed significant orders over the years with other makes. "They are excellent trucks," says fleet boss, Glenn Waterfield, "and we can't say we haven't tried other marques back in the day, but we just keep coming back to DAF." This is hardly surprising, as the operator has been getting great performance from his DAFs over the years, often running them for over 12 years. While waiting for the new vehicles to arrive, the operator put 15 DAF tippers bought in 2006 up for sale and sold 14 straight away.
Part of the secret their longevity, apart from the quality build, has been KSD's well-staffed and equipped in-house maintenance team at Nuneaton, where the operator employs three full-time technicians, a tyre-fitter and two apprentices. This set-up is coupled with the back-up service from local DAF dealer, Ford & Slater in Leicester. "We've known Ford & Slater for many years, in fact I worked for them myself a long, long time ago, so we have a very solid relationship and get all the back-up help we need, as and when we need it. Our own technicians are very good, but they rely on the dealer for parts and advice, and we often see the parts van in here three or four times a day when we're really busy."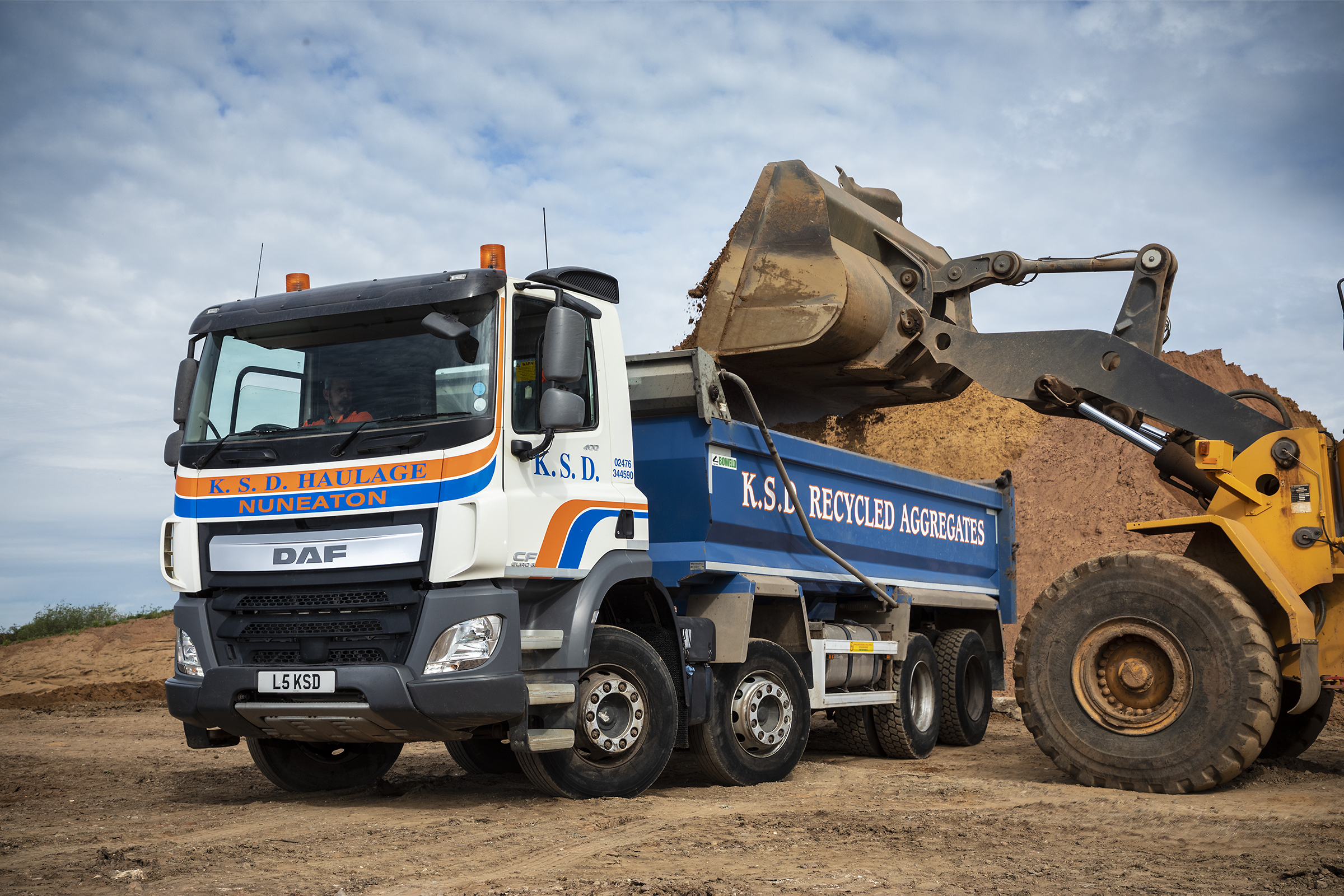 The twin-steer DAF CF 410 FADs are all fitted with Glenn's preferred Edbro tipping gear, with half the new arrivals being bodied by Boweld with their Steel Taperlite HD bodies, and the others by Marshalls who have fitted their Hardox steel bodies. The trucks come with DAF Warranty Plus, which includes two-year vehicle warranty and a third year of driveline cover. A key part of the decision to renew and consolidate the fleet, apart from maintenance economy, has been the unpredictability of the construction market in recent years, as well as the drive by major metropolitan conurbations to implement Low Emissions Zones. "We run a lot through Birmingham and the surrounding areas, and Birmingham is committed to a Clean Air programme of some sort, so we thought we get ahead of the curve on that. Also, you have to assume that with the growth in such things, and Brexit seemingly on the horizon again, prices could start to rise as people scramble for more new trucks."

The company's drivers are, says Glenn Waterfield, "Very enthusiastic and it shows in the very good fuel and overall performance we get so consistently. We believe we are giving them the best trucks for the job, but after that those things are all down to the drivers using the capabilities of those trucks to the very best advantage."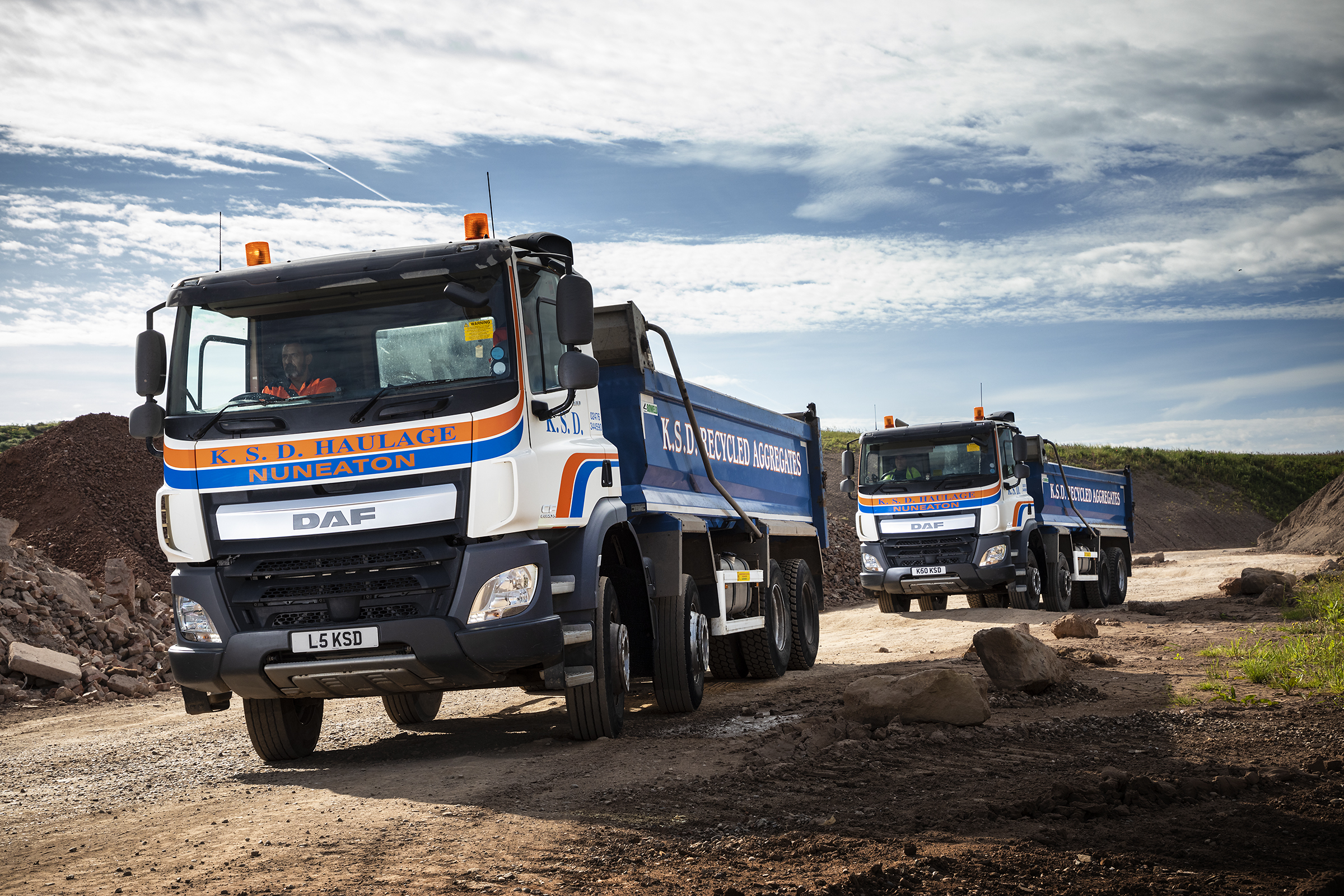 The operator is particularly keen on DAF's Driver Performance Assistant (DPA). This encourages and scores efficient and economical driver activity on the driver's dashboard display, in such areas as free vehicle roll (Anticipation) and the use of service brakes or retarders (Brake saving) during a trip, with overall scores calculated and displayed as percentages. It also offers advice on gear-shifting, speed control systems will contribute to a higher fuel efficiency. The actual use of Cruise Control, Predictive Cruise Control and Eco mode is monitored against the road and traffic conditions, and coaching messages are generated where appropriate. "It's a real bonus that DAF has built in here," says Glenn Waterfield, "because it shows drivers any areas of weakness and offers a total performance score in real-time, without anyone else having to 'lecture' them. They're a good bunch and they now take personal pride in trying to raise their overall scores.

For high-resolution versions of these images, please click here.