We use cookies for a variety of purposes, such as website functionality and helping target our marketing activities. Some cookies are essential, others help us improve your experience by providing insights into how the site is used. For more information, please visit our Cookie Notice.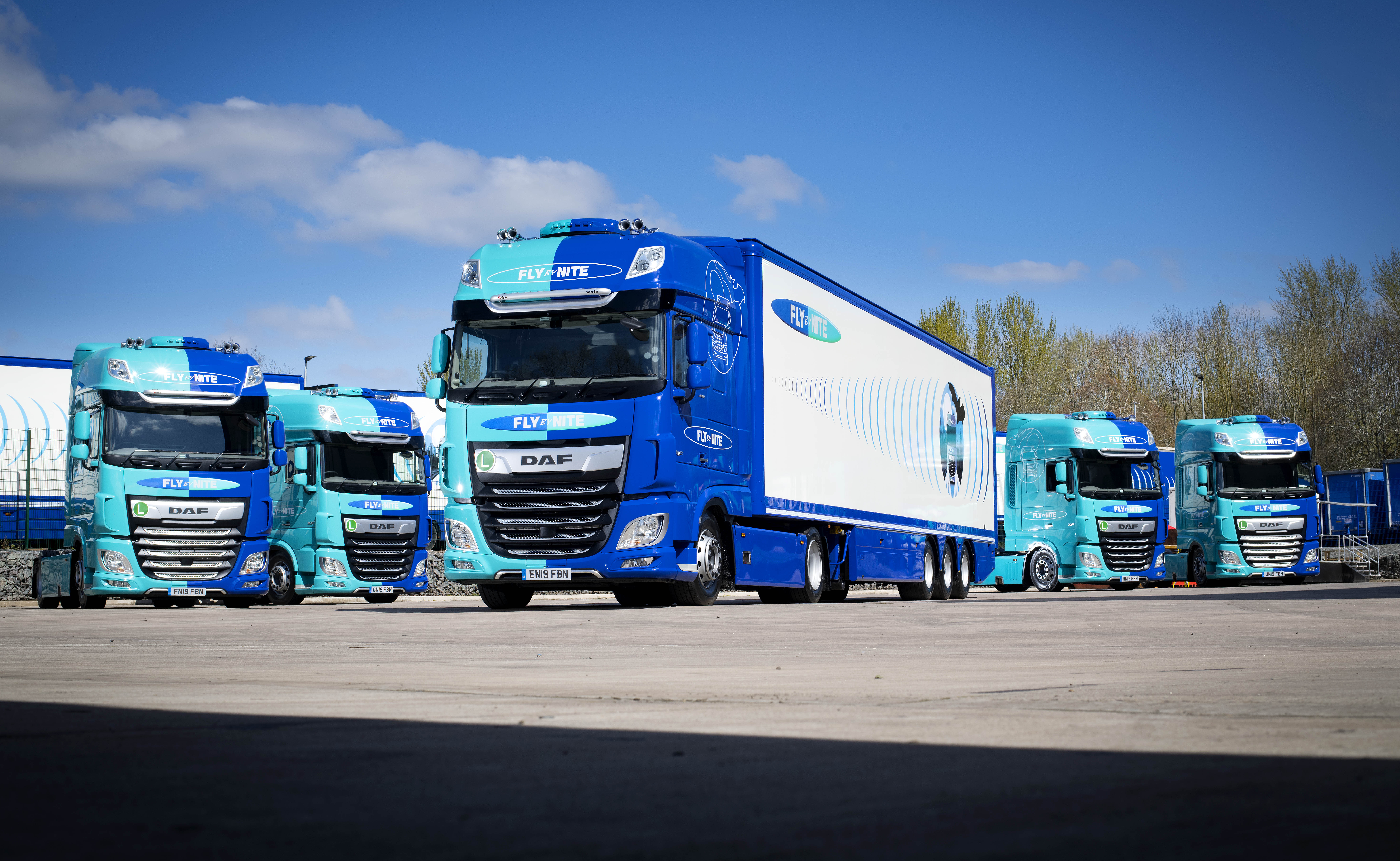 Fly By Nite, the international transport and logistics haulier for the entertainment and events industry, has added another five DAF XF 480 FT low-deck tractor units to its high-profile fleet. The 4x2 trucks, all fleet additions, join around 160 tractors and rigids, of which over 75% are now DAF, based at the Fly By Nite centre of operations in Redditch. The centre is also home to a fleet of 150 flat-floor Megacube box and curtain-side trailers.
Richard Brown has been in the sector for some 25 years, the last 15 of them as Transport Manager with Fly By Nite. He said, "This business is all about reliability. We can't phone up a major star's production manager and say, 'We're terribly sorry, we're running a day or two late'. It's a business where failure simply isn't an option – so we don't fail!
"It's why we focus on premium brands of truck, and of those we have opted heavily in favour of DAF. They are just very good products, and, if we should need support, DAF back-up across Europe is great. Then, the roominess and comfort of the Super Space Cabs make them a great favourite with our drivers, and our drivers are important to us, a vital part of making sure the show always goes on. So, because they can be gone for weeks at a time, we give them the best cabs and all the best in-cab equipment we can."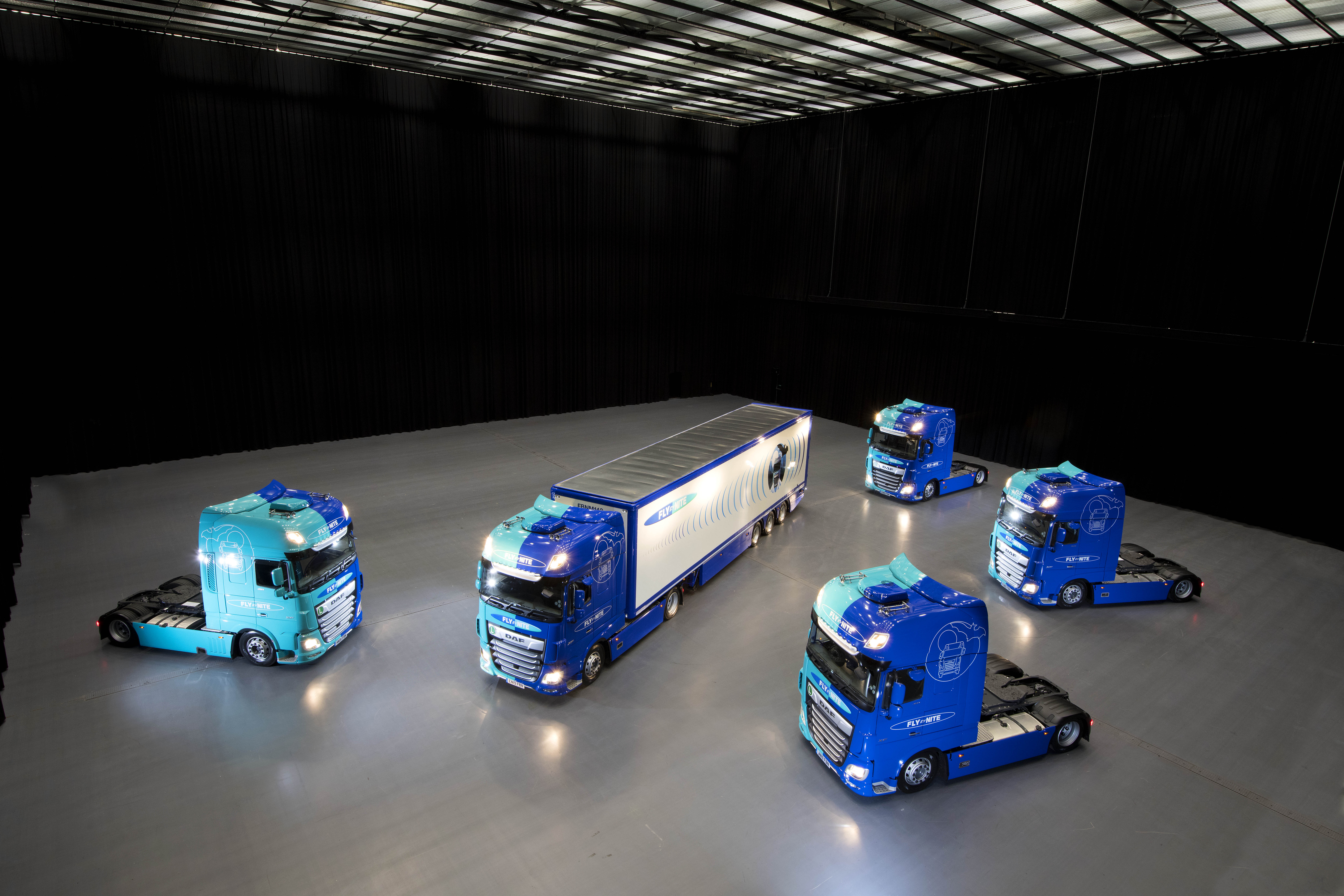 Outside, the new DAFs have also been fitted with forward and near-side cameras, as well as audible turning warnings. Though very little of the operator's work is London-centred, the specification comfortably fits the proposed Safe System Permit requirements. Richard Brown again, "It just makes sense to us. The work we do is very specialised, so being equipped to high standards on the safety front comes into its own every time. Especially when we're operating in and around large crowds of people who might not be paying the greatest attention to their own safety."
Those special conditions are also the reason Fly By Nite has favoured manual gearboxes on the majority of its DAFs over the years. Conditions getting on and off festival and other sites can be so difficult that "automated boxes could possibly be a hindrance", says Richard Brown. He adds, "We've run very successfully like this for years, though we are experimenting with a couple of 530 DAF XFs on hire, and the drivers are very happy with latest TraXon automated box in those, so we might just change our minds going forward. We'll see."
Despite the often arduous type of work, fuel economy shows a comforting return of close to 10mpg for Richard Brown and the team. They monitor it with a telematics package that also looks at vehicle and driver performance. This has also proved a great favourite among their customer's production managers, who often log-in to see just where the trucks, loaded with their precious stage-sets, lighting and other equipment, are on their journey. As Richard says however, while he is very happy with the economy of the DAF products, it is their reliability that makes them a favourite.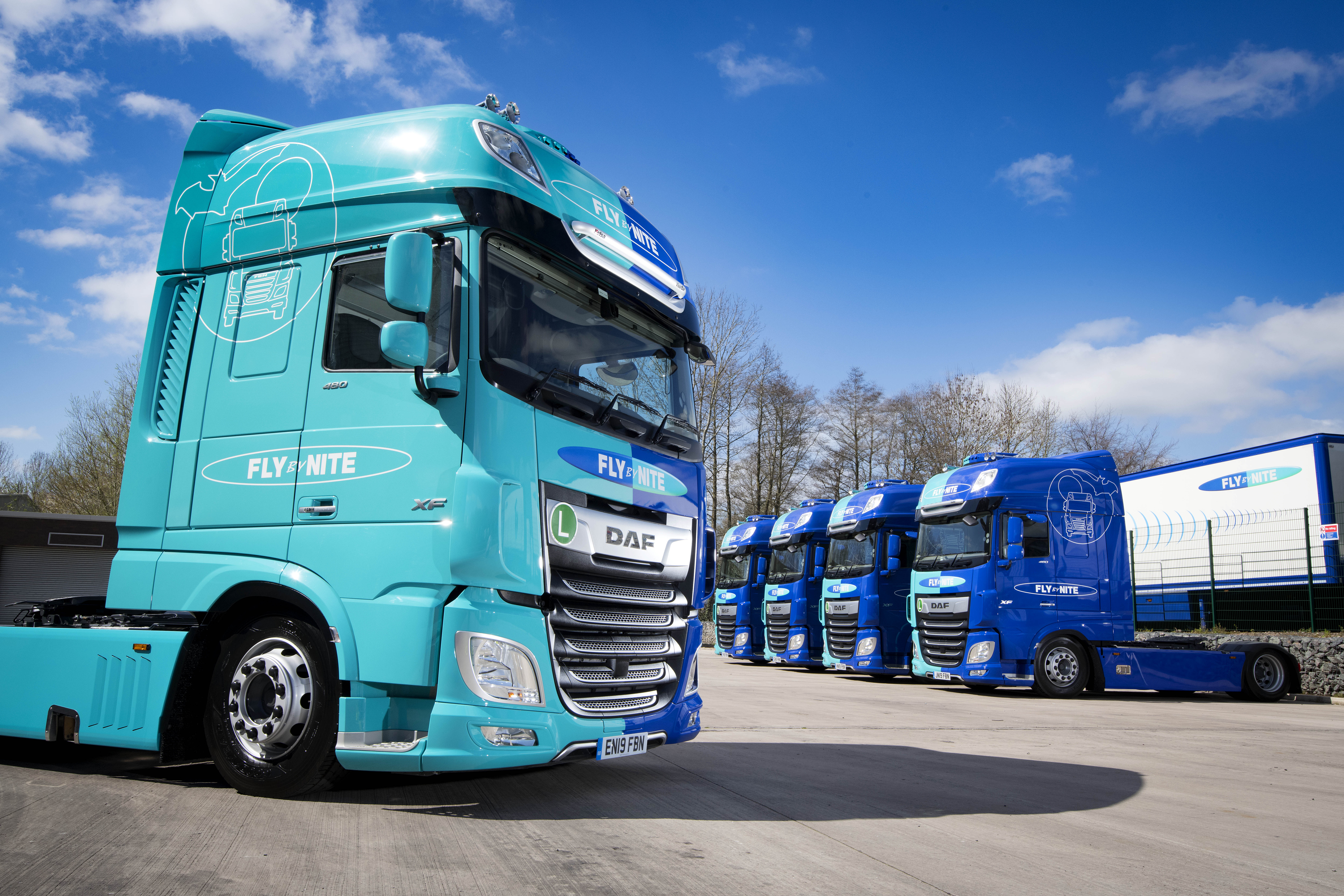 The operator has its own workshops and body-shop at Redditch, so doesn't buy extended R&M packages, undertaking all routine servicing, maintenance and repair itself, with full support from local supplying DAF dealer, Imperial Commercials at Halesowen. Unlike normal haulage operations however, the individual trucks do not cover huge distances in a year, 100,000kms being among the highest. It means, with their own scrupulous maintenance regimes, Fly By Nite sees up to eight years as a regular first-life period for its trucks, before selling them on through dealers. "We even have a couple of '09 plate DAFs still going strong," says Richard Brown. "We trust them to perform, so we'll undoubtedly hang on to them until next year now. Our reputation across the industry means business keeps expanding, so despite these new trucks coming on to swell the fleet, we want to be sure we have all the trucks we are likely to need."
That can be quite a number too, with recent tours for major recording artists requiring as many as 40 trucks each. To ensure smooth delivery of that type of project, the operator has an eight-acre site in the West Midlands with state-of-the-art, temperature-controlled warehouse facilities of around 45,000sq.ft., specifically for storage of stage sets and props. It has also invested in a stadium-size rehearsal venue, where stage-sets, sound and lighting can be set up for rehearsals for even the most major artists: ensuring that when Fly By Nite does take the show on the road, it is going to be a touring success. Hardly surprising then, that the business routinely wins back-to-back awards from the entertainment and events sector for is highly-polished performances on the road.