We use cookies for a variety of purposes, such as website functionality and helping target our marketing activities. Some cookies are essential, others help us improve your experience by providing insights into how the site is used. For more information, please visit our Cookie Notice.
Payload advantages of 'flexible' 26-tonner cuts down journeys and fuel

Lifting / steering tag-axle delivers outstanding manoeuvrability for builders' merchant fleet

Traxon 12-speed automated gearbox is "best on market – nothing compares"

Drivers enjoying 'spacious and comfortable cabs' in 'very reliable' trucks
CRS builds up DAF fleet fast
High-profile builders' merchant, CRS, has added a further four DAF CF 370 FAN rigids to its fast-growing fleet of the market leader's trucks. The three-axle vehicles feature a steer, drive and lifting rear-steer tag-axle configuration, delivering what the operator's Transport Manager, Paul Gibbard, describes as "outstanding manoeuvrability and payload".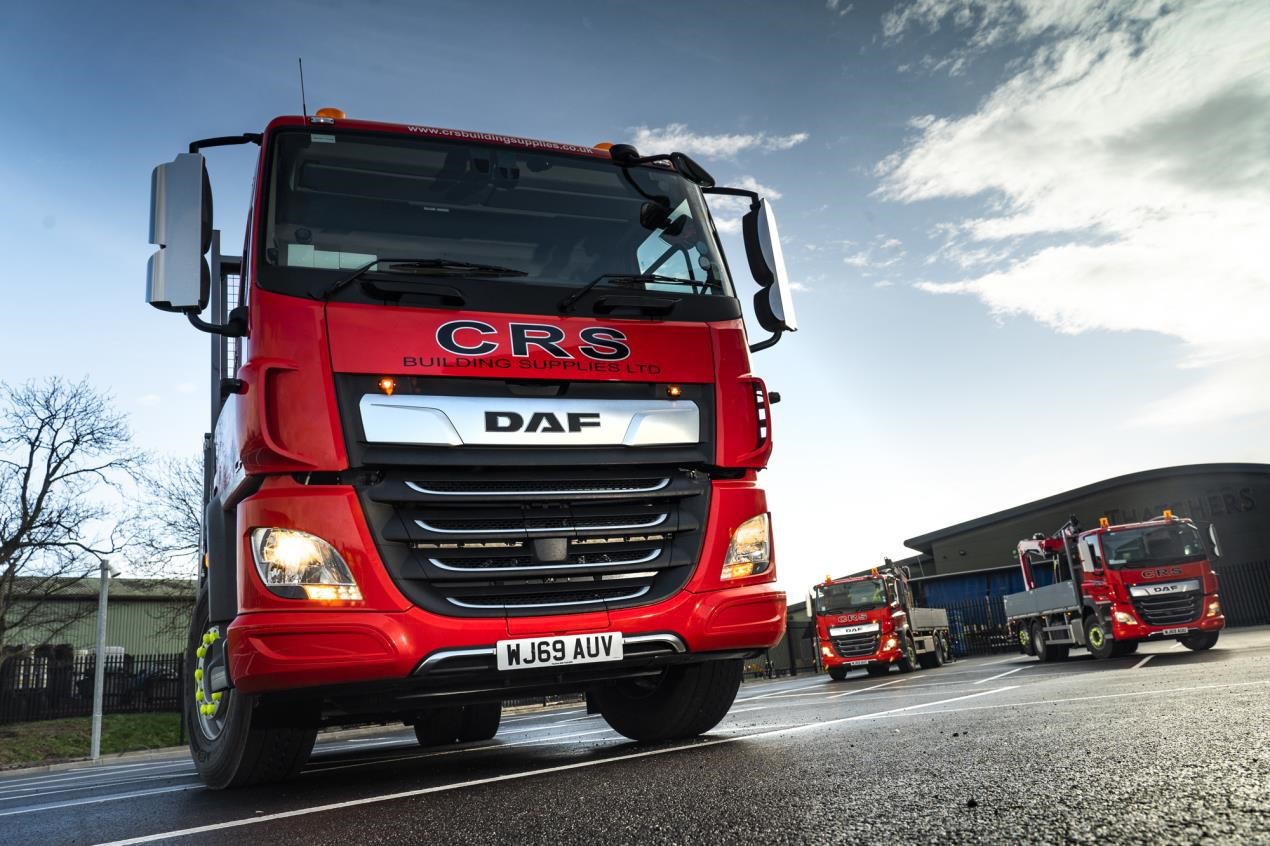 Gibbard had looked closely at DAF 18-tonne models already on the fleet but decided the weight and body length options of the 26-tonner offered greater operational flexibility. The operator says, "We have spec'd the 26-tonne trucks to have the same overall chassis-lengths as the 18-tonners, but with our 6.1m internal body-length we can get greater payload. For instance, on our 18-tonners we get five packs of blocks, the 26-tonners take nine, no problem. They run comfortably with 13-tonnes on board and that gives us greater options on delivery schedules: we can make more drops per run, saving time and, just as important, saving significantly on fuel. With the drive axle relatively close to the steer, and with the steered tag axle," he said, "we find drivers are able to make speedier and more accurate drops in even the tightest of sites. Plus, they love the spacious, comfortable cabs and the fact these DAFs are so very reliable."
The new trucks are equipped with bespoke dropside bodies and carry the latest Palfinger BM26 cranes, all fitted by Palfinger UK. CRS has had sensored crane slipper pads fitted to the rear of each vehicle to give drivers maximum safety and flexibility on the varying delivery conditions they meet. "Safety is very important to us: for our drivers, customers and other road users," says Gibbard. "We take no prisoners. It starts with ensuring complete compliance, and our local dealer, Kingdon Wessex DAF, looks after us very well on service, maintenance and inspections. Then, apart from the additional crane stability pads, we add such things as recording camera units all-round, repeat-indicator side markers, Fresnel lenses on near-sides, lifting rear mud flaps to aid reversing safety in tight sites, cage sensors …. the list goes on and on. And we brief our drivers fully on every aspect. It's important not just to us, but to our customers such as Thatchers Cider, who have very kindly allowed us to photograph the latest DAFs at their new facility in Winscombe, where we have undertaken much of the planned materials-supply work."
The DAF CFs are all equipped with Traxon 12-speed automated gearboxes, which Gibbard had trialled off-road in an 8x4 tipper at a DAF Ride & Drive day. "I have to say I thought it was simply the very best box on the market, nothing else I have tried compares." He added, "I know I sound like a big DAF fan, and I suppose I am fast becoming that, but having been a driver myself in the past, run my own relief driver business and been a compliance auditor for a national builders' merchant, I can talk with some experience. The thing is, these DAFs are like a big Swiss Army knife, they just have everything you need!"
CRS, which only started in business in 2005, now operates a fleet of 40 trucks out of 12 branches across the South West. One of the two founding directors, Chris Waelchli, said, "Let's be honest, to start with you run anything so long as it's safe. Then, when you can afford it, you try and do better. So the growth of the fleet and the quality and newness of its vehicles is simply a reflection of how well the business has done.
"Now though, with a busy fleet, it is all about back-up. You can pay as much as you want for trucks, but without good back-up you have nothing, and right now we are very happy with DAF products and DAF back-up. As Paul has said, compliance and safety are everything, and it's nice to be in a position where drivers also understand and respect that. The other bonus with a modern fleet, of course, is that we are automatically more environmentally supportive and able to fit in with such things as Bath and Bristol's drive toward their Clean Air Zones."
The new DAFs are all on five-year packages from PACCAR Financial, with which the firm describes itself as 'very happy', and all are on seven-year R&M contracts. "We've virtually doubled the fleet in the last 20 months," concludes Gibbard, "so getting the package right was important – and getting it all through the same source makes life much simpler."
Press contacts:

Paul O'Malley, Torque Agency Group
M: pomalley@torqueagencygroup.com
Rutger Kerstiens
Corporate Communications Department, DAF Trucks N.V.