We use cookies for a variety of purposes, such as website functionality and helping target our marketing activities. Some cookies are essential, others help us improve your experience by providing insights into how the site is used. For more information, please visit our Cookie Notice.
Another free cuppa for drivers; courtesy of DAF Trucks
Additional Truckstops announced as drivers welcome courtesy beverages
Following its pledge to 'put the kettle on' for truck drivers, DAF Trucks is once again to offer a free cuppa for truck drivers at Truckstops across the UK. The gesture is a further show of gratitude to drivers, coming as the coronavirus outbreak continues and lockdown restrictions are extended across the UK.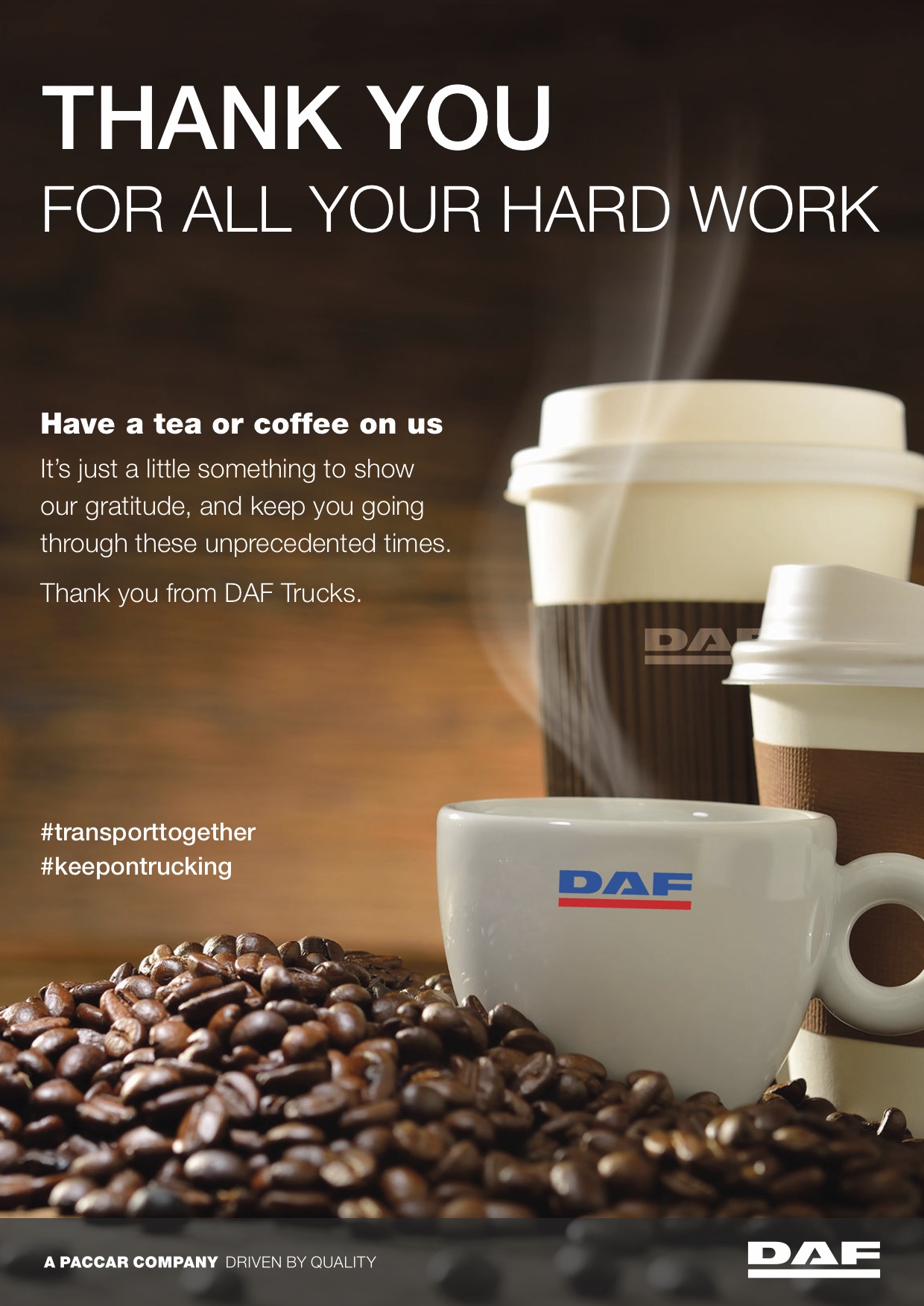 The offer is being promoted through DAF Trucks' Social Media channels, flyers and digital advertising at participating locations. A hugely positive response from drivers and other Truckstops has encouraged DAF Trucks to offer its support once more. Again, drivers of any and all truck types will be able to claim a free hot drink.
Drivers visiting the following additional Truckstops from Thursday 7th May can simply ask for a free cuppa courtesy of DAF Trucks: Avon Lodge Truckstop in Avonmouth, Junction 29 Trucktop in Chesterfield and Lymm Truckwash. These locations follow the already participating Truckstops at New Hollies in Cannock and Holyhead, Chippenham Pitstop, Route 74 Truckstop in Lesmahagow, and Ashford Truckstop.
The offer from DAF Trucks, and the inclusion of more Truckstop locations, will coincide with the early-May bank holiday weekend when the country recognises the VE Day 75 – the 75th anniversary of VE Day – and when many drivers will, once again, be working away from their families.
"VE Day 75 will be a time when we remember the sacrifices made by so many men and women at an extraordinary time in our history," said DAF Trucks Marketing Manager, Phil Moon, "serving as a poignant reminder of the efforts made by a great many truck drivers today as they continue to keep the country functioning in today's unprecedented time. We are pleased to be able to show our gratitude, however humbly, and as a reminder that we, and everyone in the truck industry, is right behind the driving community."
Press contacts:

Paul O'Malley, Torque Agency Group
M: pomalley@torqueagencygroup.com
Rutger Kerstiens
Corporate Communications Department, DAF Trucks N.V.