We use cookies for a variety of purposes, such as website functionality and helping target our marketing activities. Some cookies are essential, others help us improve your experience by providing insights into how the site is used. For more information, please visit our Cookie Notice.
Eight Solomon-bodied DAF LFs supplied on fast-track delivery for NHS

Bespoke dual-temperature vehicles on COVID-19 frontline blood plasma trials

Huge DAF Dealer and third-party effort brings about accelerated completion

"Extremely impressed with the response from MOTUS and DAF, and all the companies involved in this true team effort." John Lowden, NHS Blood and Transplant
DAF delivers LF rigids for NHS blood plasma trials
Eight Solomon-bodied DAF LFs supplied on fast-track delivery for NHS
DAF Trucks, local dealer MOTUS Commercials, Solomon Commercials and a number of strategic third-party suppliers have combined to fast-track a delivery of eight DAF LF 180 rigids for NHS Blood and Transplant (NHSBT) as it embarks upon crucial COVID-19 convalescent plasma trials.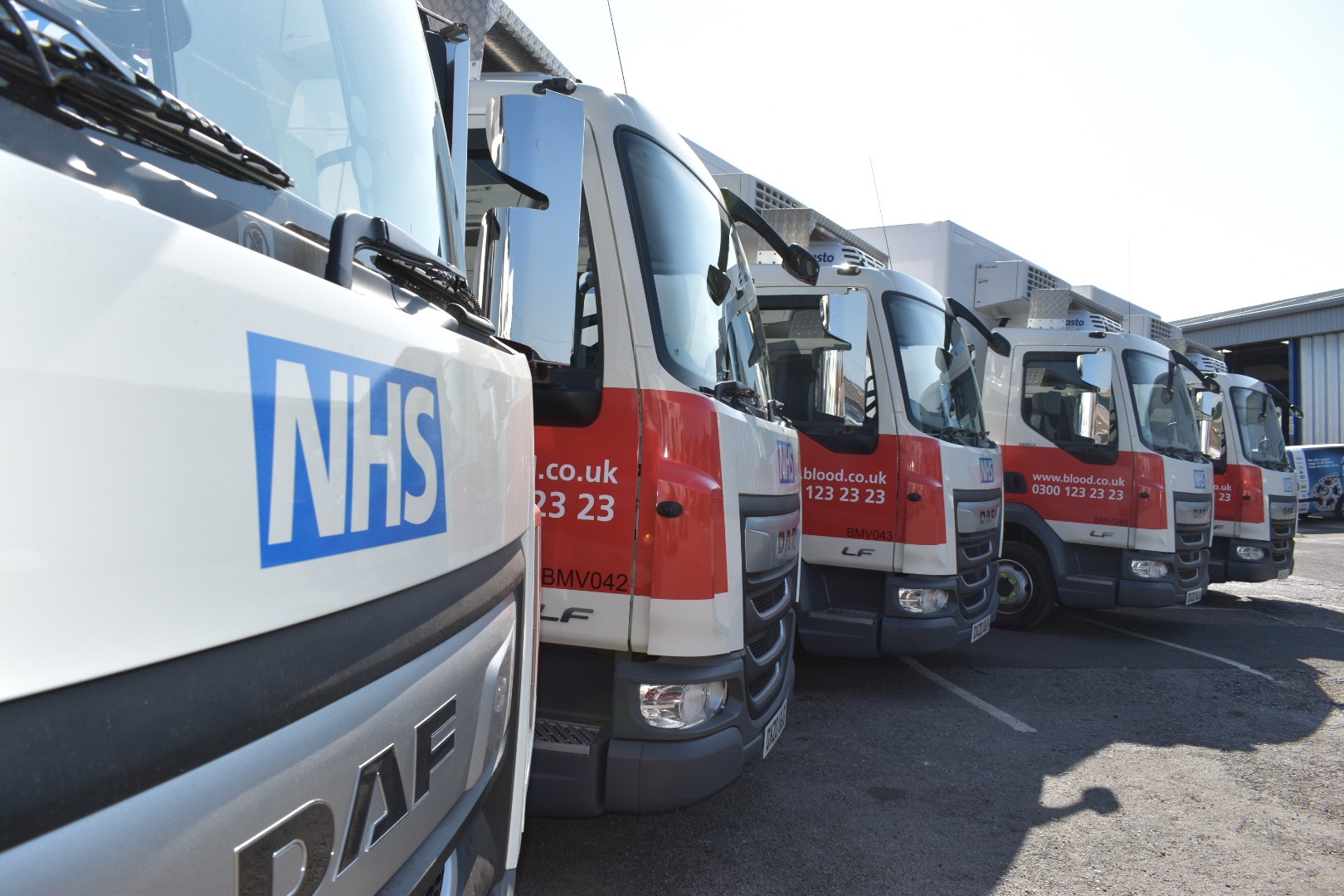 The trucks, originally destined to carry out essential product movements of blood and blood products, were reassigned for more urgent, frontline duty following the outbreak of the coronavirus epidemic in the UK. With a number of third-party suppliers involved, including Fleet Trak, Thermo King, Webasto and sign-writers, AST, and with many facing staff shortages due to sickness and furloughing – a collective, complex effort has resulted in a remarkable two-week turn-around.
John Lowden, National Fleet Engineering Manager at NHSBT, said, "Extremely impressed with the response from MOTUS and DAF, and all the companies involved in this true team effort. We've seen the transport industry rise to the challenge of the coronavirus outbreak over recent weeks and, here at NHBT, we've experienced British skill and ingenuity at its very best, and right at the moment when it's needed most."
NHSBT now runs over 90 DAFs after standardising its 7.5-tonne rigid fleet specification 17-years ago, and selecting DAF as the preferred marque based on cab ergonomics, Parts availability and an extensive dealer network. "We really needed a single 7.5 tonne platform rather than a mix of makes and models," said Lowden, "and, naturally, reliability has always remained priority number one for us. We review our transport operation periodically," he said, "and DAF always emerges as our preferred choice. We have very few issues and we get first-class support from MOTUS."
Jim Locket, Truck Sales Coordinator at Motus Commercials Stoke, oversaw the project from start to finish. He added, "I received an email from NHSBT just two weeks ago requesting these vehicles as soon as possible, due to the commencement of blood plasma trials. We then made this order a top priority, organising the essential ancillary equipment and sign-writers and ensuring they carry out their work as quickly and efficiently as possible.
"I'm really pleased to have delivered the eight complete DAF LF trucks to NHSBT in such a short space of time, making the long hours worthwhile to know that we're helping such an important cause. I'm proud of all involved at our Stoke dealership, as well as our external suppliers too."
Press contacts:

Paul O'Malley, Torque Agency Group
M: pomalley@torqueagencygroup.com
Rutger Kerstiens
Corporate Communications Department, DAF Trucks N.V.