We use cookies for a variety of purposes, such as website functionality and helping target our marketing activities. Some cookies are essential, others help us improve your experience by providing insights into how the site is used. For more information, please visit our Cookie Notice.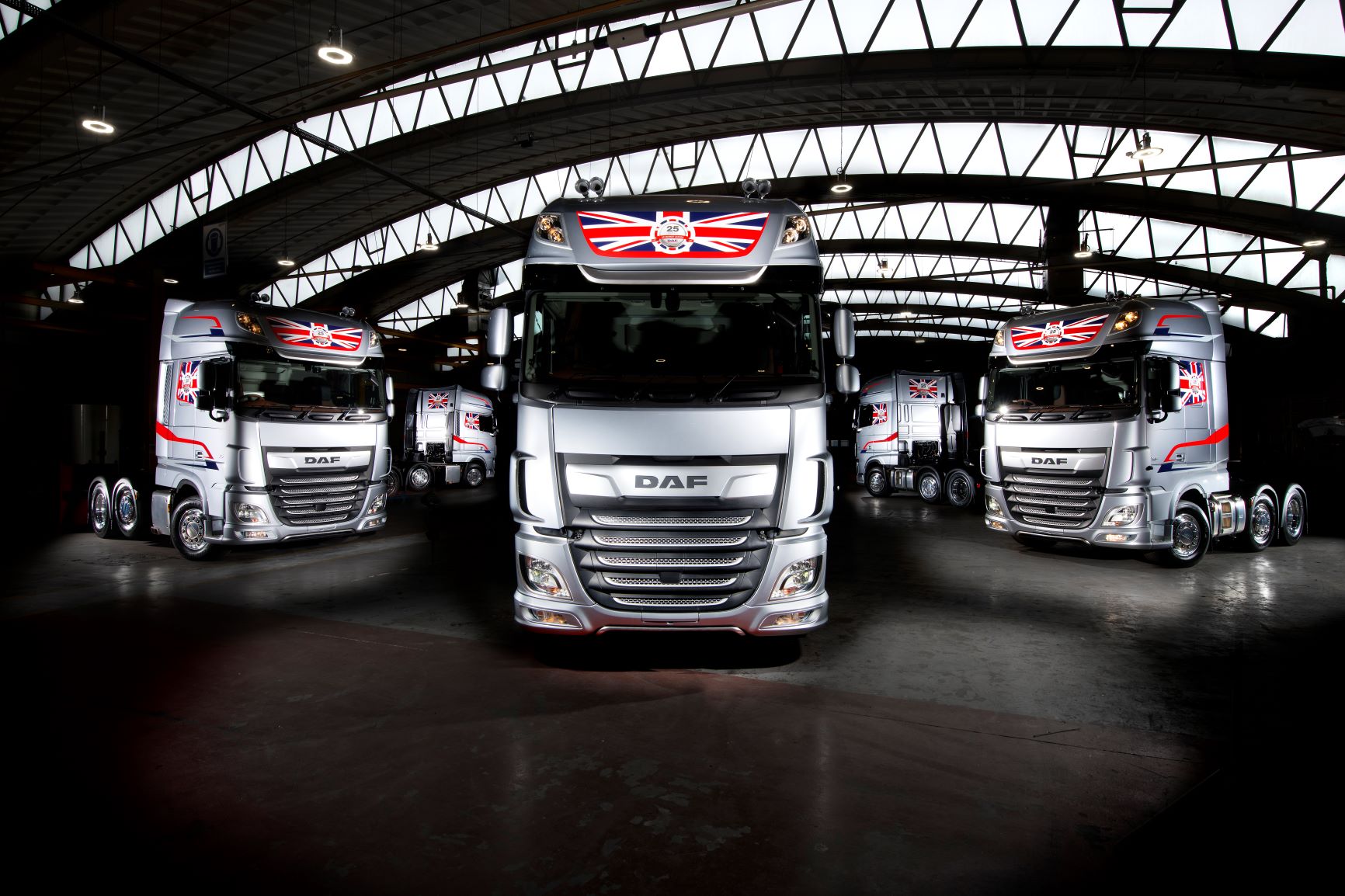 Its back to business as new DAF Dealer demo fleet hits the road
32 DAF XF Super Space Cab 6x2 tractors ready to go at DAF sales locations
32 DAF XF Super Space Cab 6x2 tractors ready to go at DAF sales locations

'Pure Excellence' XFs in special livery to mark '25 Years Market Leader' milestone

Mix of 480bhp and 530bhp units ready for customer evaluations

"We genuinely believe that it's back to business for DAF and the wider transport industry generally," DAF Trucks Sales Director, Russell Patmore.
DAF Trucks has said "it's back to business" as the company embarks upon its '25 Years UK Market Leader' dealer demonstration programme. A total of 32 specially-liveried 'Pure Excellence' DAF XF FTG 6x2 tractors with range-topping luxury Super Space Cabs are now at DAF Dealer sales locations right across the UK ready to hit the road from 1st July.
Special 'liquid metal silver' paint and '25 Years UK Market Leader' livery deliver a striking on-road presence, at the same time acknowledging the British-built DAF brand's outstanding milestone of a quarter of a century as market leader.
Like many in the transport industry, DAF Trucks continues to play a crucial role during the coronavirus health emergency. Throughout the crisis, all 130 DAF Dealers across the UK have remained fully operational to support DAF – and non-DAF – operators as they perform their essential transport function. The company is confident that the timing of its 25 Years UK Market Leader dealer demo programme will help reinvigorate new truck sales and help stimulate the economy as the UK begins its recovery process.
All the new XF trucks feature DAF's 'FTG' 6x2 twin-steer axle configuration – the company's best-selling tractor unit in the UK – and a mix of 480bhp and 530bhp engine ratings. The fleet is decked in striking new 'pure metal silver' livery to celebrate DAF Trucks' notable 25 years as market leader, which also features dealer-specific decals.
The tractor units are specified with a whole host of premium comfort and safety features including DAF factory-fitted camera and sensors to enhance the safety of vulnerable road users and to comply with the forthcoming London Direct Vision Standard Safety Permit scheme. Operators are being urged to contact their local dealer at their earliest convenience to secure an early date for demonstration.
"We genuinely believe that it's back to business for DAF and the wider transport industry generally," said DAF Trucks Sales Director Russell Patmore, "We're confident the time is right to kick-start new truck sales. We have our new demo fleet now in place throughout the DAF Dealer network and we've really pushed the boat out on spec and, of course, our special new liquid metal silver livery. We're very proud of our 25 successive years as UK market leader," he said, "and we're going to celebrate the fact out on the road with our demo fleet!"
Press contacts:

Paul O'Malley, Torque Agency Group
M: pomalley@torqueagencygroup.com
Rutger Kerstiens
Corporate Communications Department, DAF Trucks N.V.