DAF respects your privacy. We use cookies for a variety of purposes, such as website functionality, improving your experience of our website, building integration with social media and helping target marketing activities within and beyond our website. By continuing your visit on our website, you are consenting to our use of cookies. However, if you want to customize your cookie preferences, click on 'Change settings' below. You can withdraw your consent at any time. For more information, please visit our Cookie Notice.
New DAF CF 340 FAN in 'Green D+ HVO' livery as New Era Fuels pushes green message

Green D+ HVO offers 'drop-in' alternative to diesel with 90% reduction in CO2 well-to-wheel

26-tonne thee-axle rear-steer DAF CF delivers outstanding manoeuvrability

"…we need a solid, reliable workhorse with a good range of safety features – and the DAF CF ticks all the boxes," Brett Jacobs, Transport Operations Manager
DAF CF 6x2 rear-steer dawns for New Era Fuels
New DAF CF 340 FAN in 'Green D+ HVO' livery as New Era Fuels pushes green message
South-east fuel distribution specialist, New Era Fuels in Harlow, has taken delivery of its latest DAF CF tanker, as the company ramps-up its 'go-green' message with the supply of Green D+ HVO (enhanced Hydro-treated Vegetable Oil) – the markedly cleaner and renewable alternative to diesel – to its domestic and commercial customers.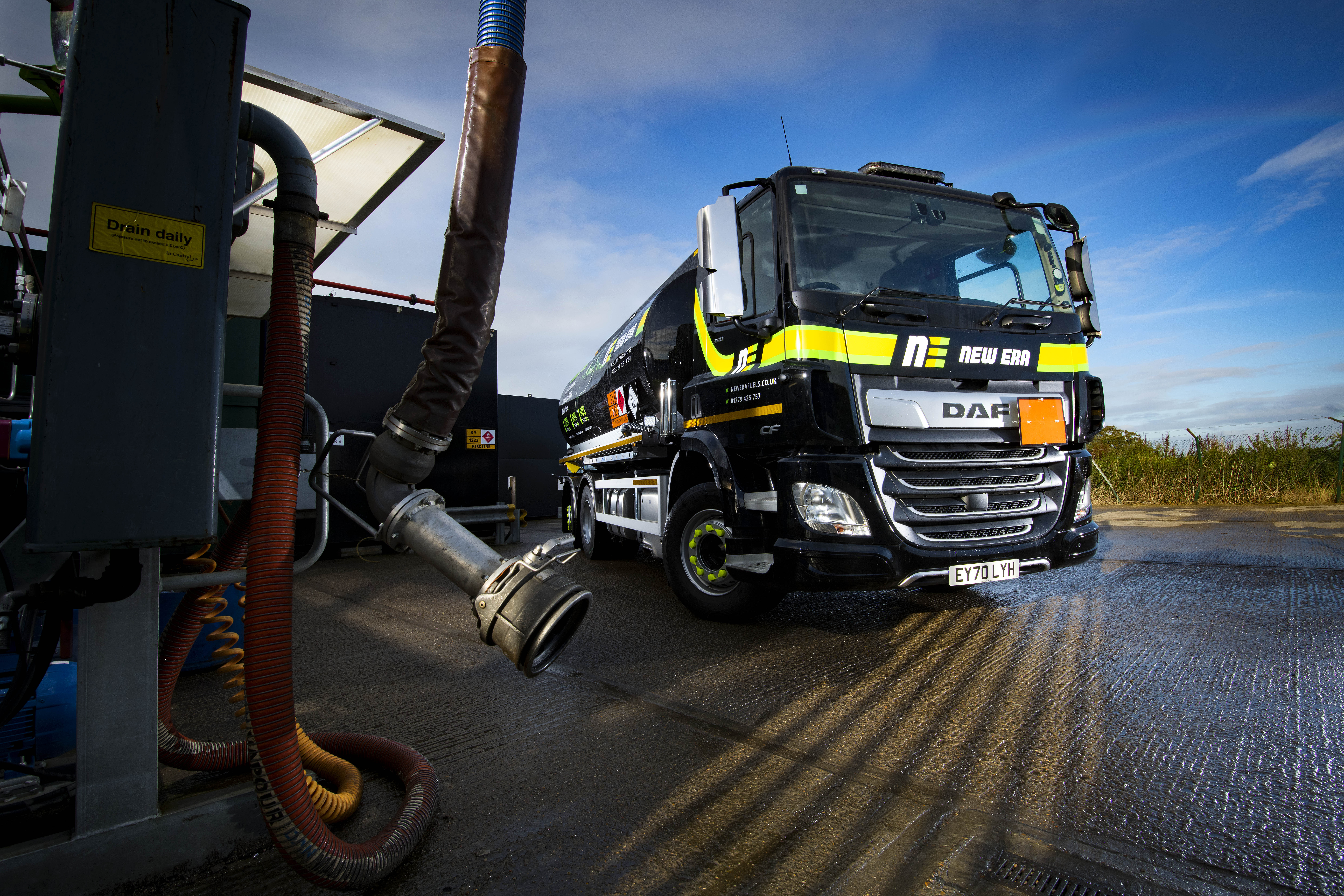 The new arrival on the fleet is liveried in 'Green D+ HVO' brand decals to promote the impressive environmental credentials of Green D+ HVO, including a 90% well-to-wheel reduction in CO2, an 86% reduction in particulate matter and a 30% reduction in NOX emissions. DAF Trucks is also a vocal proponent of HVO as a simple 'drop-in' alternative to diesel, which is helping significantly with the decarbonisation of road transport. DAF's full range of LF, CF and XF trucks are compatible with HVO, with no requirement for vehicle modifications nor invalidation of vehicle warranties.
The latest six-wheel 26-tonne DAF CF 340 FAN rear-steer axle configuration features DAF's Electro-Hydraulic Steering (EHS) system on the rearmost axle to boost manoeuvrability on deliveries to New Era customers where access is compromised. 20,000-litre capacity tank bodywork is supplied by Spanish tanker specialist, COBO, with metering equipment courtesy of Alpeco. A further six DAF CF 340s are in-build and scheduled for delivery in early 2021.
All vehicles are being supplied, serviced and maintained by the local DAF Dealer in Lea Valley, Harris DAF. The latest rear-steer CF rigid joins existing DAF vehicles in the New Era Fuels fleet, including 12, 18 and 26-tonners. With a number of customers in and around London, New Era Fuels' DAF fleet is fitted with Safe System equipment as required by the Direct Vision Standard which comes into force on 1st March, 2021. New Era Fuels is also a member of FORS, the Fleet Operator Recognition Scheme, having now attained Gold accreditation – the highest level of membership.
"The DAF marque has always been an integral part of our operation," said Transport Operations Manager, Brett Jacobs, "For ADR-spec operations, we need a solid, reliable workhorse with a good range of safety features – and the DAF CF ticks all the boxes. The DAF total cost of operation is very competitive too, and the service support from Harris DAF means our fleet is running at optimum uptime.
New Era CEO, Reg Geggus, added, "We are delighted that DAF Trucks is sharing a platform with us and making a determined effort to promote HVO.
"As a direct alternative to diesel," he said, "it makes for a compelling case for truck operators who wish to make a serious reduction to their carbon footprint. We are 100% behind the drive for the UK to go green, and a wholesale switch to Green D+ HVO would deliver an immediate and significant impact."
He added, "I urge the government to provide greater incentives for the use of Green D+ HVO and to support industries in their efforts to protect the environment and to address climate change."
William Tebbit, CEO of Green Bio Fuels added, "Green Biofuels is delighted to be working with New Era Fuels as our National Distribution Partner, delivering the leading clean, low emission, greenhouse-gas saving fuel Green D+ HVO. We also congratulate DAF for being proactive in making a difference to air quality right now."
Press contacts:

Paul O'Malley, Torque Agency Group
M: pomalley@torqueagencygroup.com
Rutger Kerstiens
Corporate Communications Department, DAF Trucks N.V.