We use cookies for a variety of purposes, such as website functionality and helping target our marketing activities. Some cookies are essential, others help us improve your experience by providing insights into how the site is used. For more information, please visit our Cookie Notice.
DAF Trucks releases promo-video ahead of Commercial Motor Show

100 daily visitors to DAF Trucks' stand to receive commemorative '25-Years' pin-badge

Built-in-Britain brand celebrates 25 consecutive years of UK market leadership

"We're genuinely excited at the prospect of reconnecting with operators next week," DAF Trucks Marketing Manager, Phil Moon
DAF Trucks gears-up for Commercial Motor Show
DAF Trucks releases promo-video ahead of Commercial Motor Show
DAF Trucks is putting the finishing touches to its preparations for next week's 'virtual' Commercial Motor Show with the release of a special promotional video and details of a daily prize giveaway to commemorate the company's fantastic 25th year of unbroken market leadership in the UK.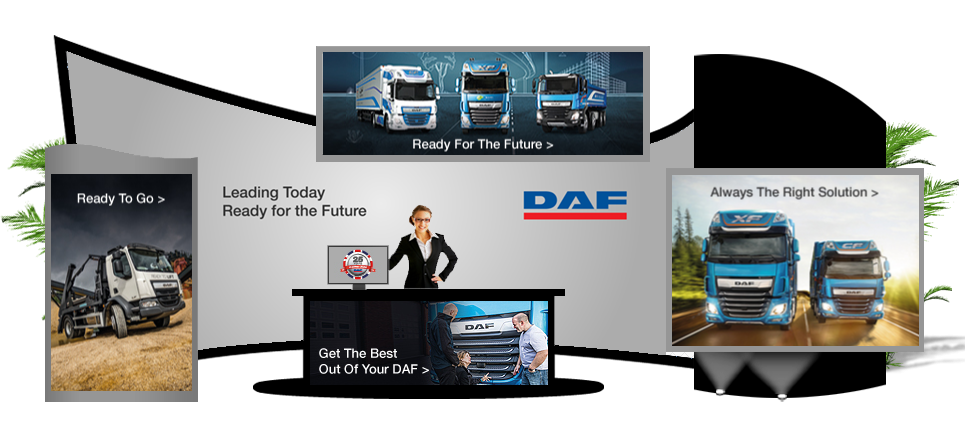 The special video – now available on the DAF Trucks UK YouTube channel – describes the company's significant presence at the Commercial Motor Show, including its Ready-to-Go pre-bodied stock vehicle programme, the DAF Configurator vehicle ordering system, DAF's 'Ready for the Future' vision for drivetrain technologies, and the comprehensive DAF Driver Training programme including flexible driver training vouchers; all to be delivered live and interactively courtesy of DAF Trucks experts at the show.
Visitors to the DAF stand will also be invited to click on the '25 Years UK Market Leader' emblem on the stand and, after filling-in contact details, 100 individuals will be selected at random every day to receive an exclusive commemorative die-cast DAF Trucks 25 Year Market Leadership pin-badge.
The TRP all-makes truck and trailer parts programme – delivered through DAF Trucks – also has a dedicated stand and will be giving away 100's of prizes from its high-quality clothing and accessories ranges.
"We're genuinely excited at the prospect of reconnecting with operators next week," said DAF Trucks Marketing Manager, Phil Moon. "We have so much to share, both in terms of product development and our aftersales services. It's been a long time since last the industry came together," he said, "and we're delighted that Commercial Motor has taken the initiative to stage what we know will be a thoroughly engaging event."
Press contacts:

Paul O'Malley, Torque Agency Group
M: pomalley@torqueagencygroup.com
Rutger Kerstiens
Corporate Communications Department, DAF Trucks N.V.