We use cookies for a variety of purposes, such as website functionality and helping target our marketing activities. Some cookies are essential, others help us improve your experience by providing insights into how the site is used. For more information, please visit our Cookie Notice.
Bridgend TV and film support company orders substantial DAF fleet

DAF vehicles provide full on-location support for Peaky Blinders and The Crown

'Absolutely impeccable' dealer service and DAF Driver Training key to DAF-only fleet

"We've moved towards a single truck supplier, simply because DAF delivers the best all-round package," Transport manager, James McDonald
And, action! DAF Trucks keeps the cameras rolling for Facilities by ADF
Bridgend TV and film support company orders substantial DAF fleet
Specialist support-vehicle provider to the TV and film industry, Facilities by ADF, is expanding its exclusively DAF fleet with an additional 25 trucks to deliver on-location support for shows including The Crown, War of the Worlds, Peaky Blinders and the Marvel film franchise.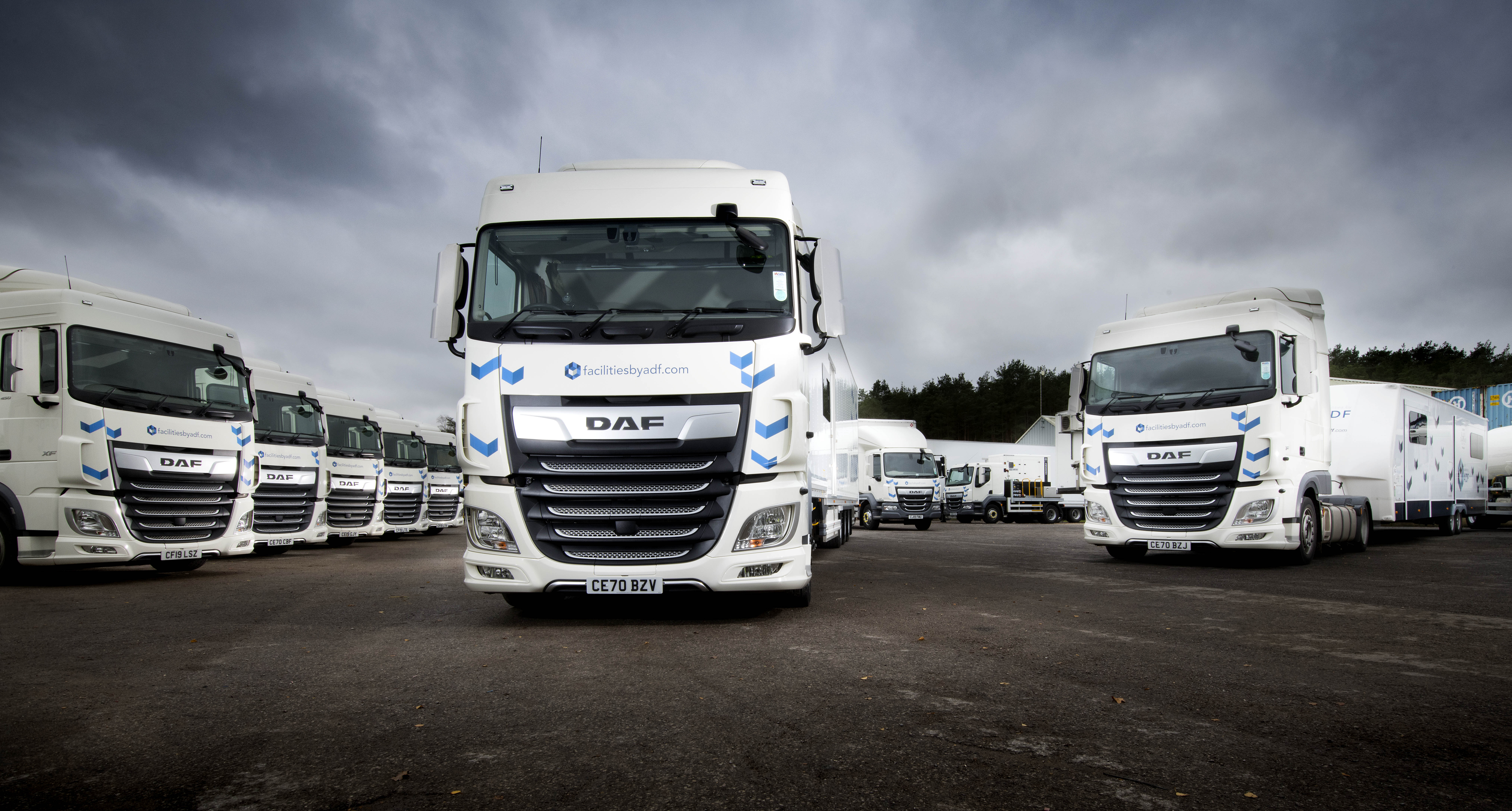 The company, based in Bridgend, has confirmed DAF Trucks as its preferred vehicle supplier after committing to these additional vehicles in the first quarter of 2021. The trucks are being fitted with a wide range of body types and equipment to provide a full logistics support package for major production companies such as Sky and Netflix.
The order comes after 78 previous acquisitions representing a wide DAF range – from lightweight LF box-vans to maximum weight XF Low-Deck tractors – have entered service with the Bridgend- and Bordon-based operator over the last three years.
Central to its decision to pursue a one-marque acquisition policy with the market-leading DAF brand, has been 'absolutely impeccable' service support from local DAF Dealer, Watts Truck & Van; also the DAF Driver Training programme which delivers on-site driving instruction to the customer's two lead-drivers to maximise vehicle efficiency and performance. The lead-drivers then pass on their knowledge to the rest of the driver pool. Watts Truck & Van has also provided workshop training to enable its customer to carry-out repair and maintenance at its HQ and workshops in Bridgend and also its operating centre in Bordon, Hampshire.
Watts has also been praised for its proactive management of bodybuilders and other third-party suppliers, as well as guidance on, and fitment of, Safe System equipment requirements for Direct Vision Standard compliance.
Facilities by ADF undertook a thorough evaluation of all major manufacturers for its latest intake of trucks before drawing up a shortlist of three suppliers. DAF Trucks was selected on its ability and willingness to provide exacting chassis specifications and to hit stringent lead-times. Vehicles have been funded on Hire Purchase agreements through PACCAR Financial, DAF Trucks' own in-house finance company, which Facilities by ADF described as offering significant value for money.
Models include XF 450 FT Low-Deck tractor units and 16-tonne box-bodied LFs with 210, 230 and 260hp engine ratings, all spec'd with a huge array of body-types and equipment to provide a complete mobile filming set for TV production companies. Bodywork includes tankers, luxury artiste trailers, production offices, 'honeywagons' (WCs), generator carriers, costume and make-up caravans.
"We've moved towards a single truck supplier, simply because DAF delivers the best all-round package," said Transport Manager, James McDonald, "we use a single supplier for our trailers, a single supplier for our caravan equipment, so we're delighted now to have a single source for our trucks. Moreover, the level of service and support from Watts Truck & Van has been absolutely impeccable. It's not simply about supplying trucks," he said, "Watts gives us a bespoke aftersales package – driver and workshop training, vehicle lead-time coordination and attention to detail. We're really very impressed."