DAF respects your privacy. We use cookies for a variety of purposes, such as website functionality, improving your experience of our website, building integration with social media and helping target marketing activities within and beyond our website. By continuing your visit on our website, you are consenting to our use of cookies. However, if you want to customize your cookie preferences, click on 'Change settings' below. You can withdraw your consent at any time. For more information, please visit our Cookie Notice.
Merry Christmas to drivers! DAF Trucks brews-up for drivers again
DAF Trucks is 'putting the kettle on' for truck drivers again as a reminder of the crucial role that transport – and particularly drivers – play in our society.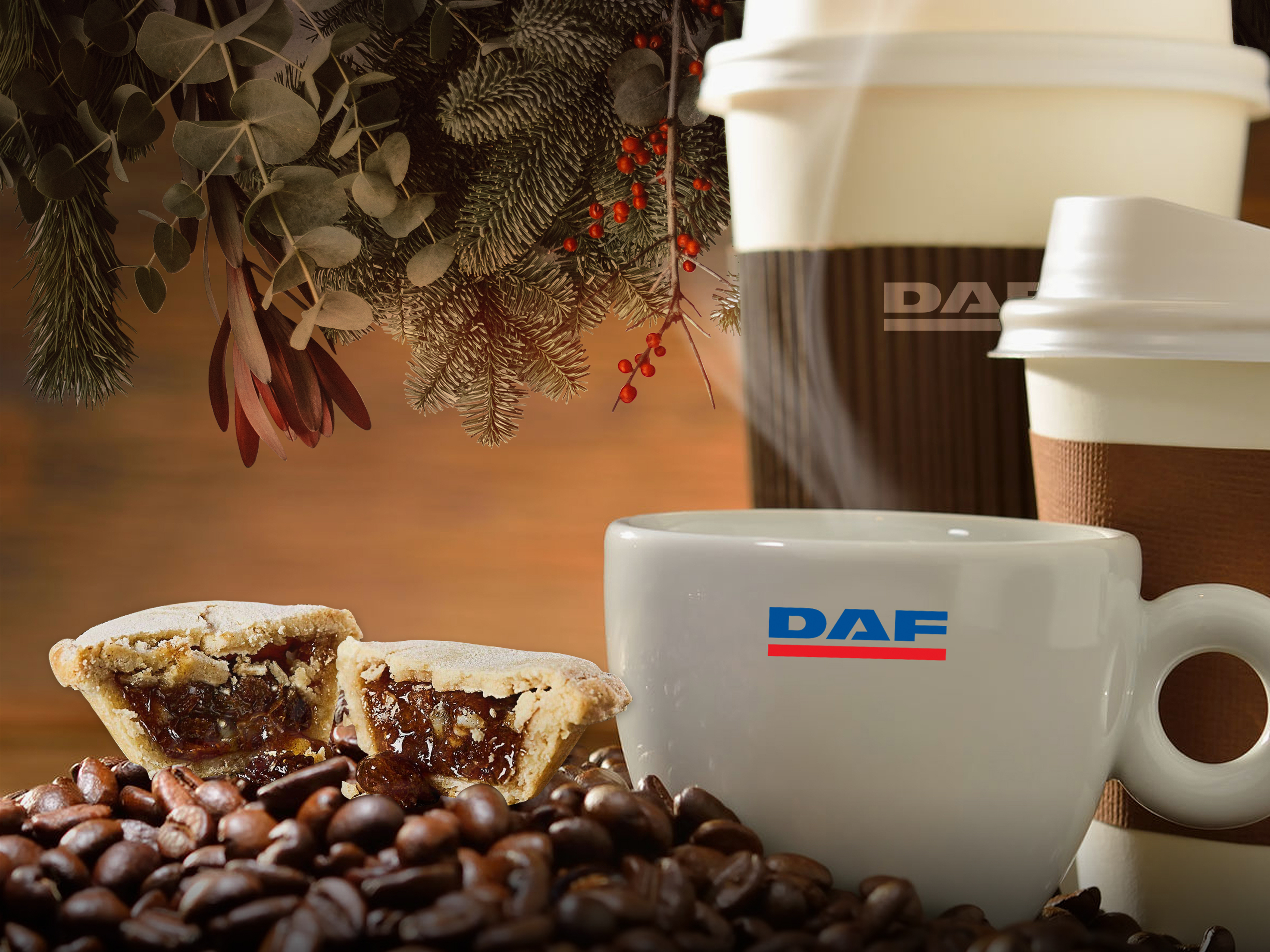 The initiative, the third time DAF Trucks has run the promotion, is particularly pertinent this Christmas season as the UK once again faces a period of uncertainty surrounding the COVID-19 pandemic and when the job of truck drivers is brought into sharp focus.
At the same time, the DAF Trucks Christmas Choir – a collective of employees from DAF Trucks, the DAF Dealer Network and DAF drivers – has released 'Trucking Home for Christmas'; a cover version of the Christmas pop classic by Chris Rea. The heart-warming song is in support of The Drivers Fund – a not-for-profit organisation supporting drivers and their families who are facing financial difficulties – and is already attracting a fantastic response on DAF Trucks'
YouTube channel
.
In partnership with some the UK's best-known Truckstops, DAF is again offering a free cuppa – plus a mince pie – for truck drivers in the run-up to Christmas. Again, drivers of any and all truck types will be able to claim a free hot drink. The festive free cuppa offer is being promoted through DAF Trucks' Social Media channels, flyers and digital advertising at participating locations. A hugely positive response from drivers and Truckstops during previous free cuppa giveaways has encouraged DAF Trucks to offer its support once more.
From now until 24th December, drivers visiting the following eight Truckstops may simply ask for a free cuppa and a mince pie courtesy of DAF Trucks:
-
Avon Lodge Truckstop
in Avonmouth
-
Lymm Truckwash
-
Ashford International Truckstop
-
Ulceby Truckstop
in Immingham
-
Lockerbie Lorry Park

-
Junction 29 Truckstop
in Chesterfield
-
Roadking
in Cannock (Certas Energy)
-
Chippenham Pitstop
"It's been another tough 12-months for the transport sector," said DAF Trucks' Marketing Manager, Phil Moon, "the driver shortage impacted directly on fuel distribution earlier this year with the public witnessing first-hand the vital role drivers deliver. This is a chance for DAF Trucks to say thank-you to the many thousands of drivers who continue to go above and beyond – especially at Christmas time.
"The DAF Christmas Choir has been fantastic fun," he added, "and I'm genuinely impressed with the dedication of the choir members – they can really sing! We hope 'Trucking Home for Christmas' will raise much-needed money for The Drivers Fund, and to provide vital support at this festive time of year."