DAF respects your privacy. We use cookies for a variety of purposes, such as website functionality, improving your experience of our website, building integration with social media and helping target marketing activities within and beyond our website. By continuing your visit on our website, you are consenting to our use of cookies. However, if you want to customize your cookie preferences, click on 'Change settings' below. You can withdraw your consent at any time. For more information, please visit our Cookie Notice.
Hanson Cement Driver, Colin Court, wins through after weekend of challenges

15 finalists fought for DAF UK Driver Challenge to become 'best-of-the-best' driver

Mix of theory, practical tests and driving challenges

Special 'Ian Joyce Award' following untimely death of popular DAF Driver Trainer
Colin Court wins DAF UK Driver Challenge '22
Colin Court is the winner of the 2022 edition of the DAF UK Driver Challenge. After successfully completing a series of tough theory, practical tests and driving challenges, Colin, a Driver at Hanson Cement, faced stiff competition from 14 other highly-skilled driving professionals over the weekend event (18th / 19th June).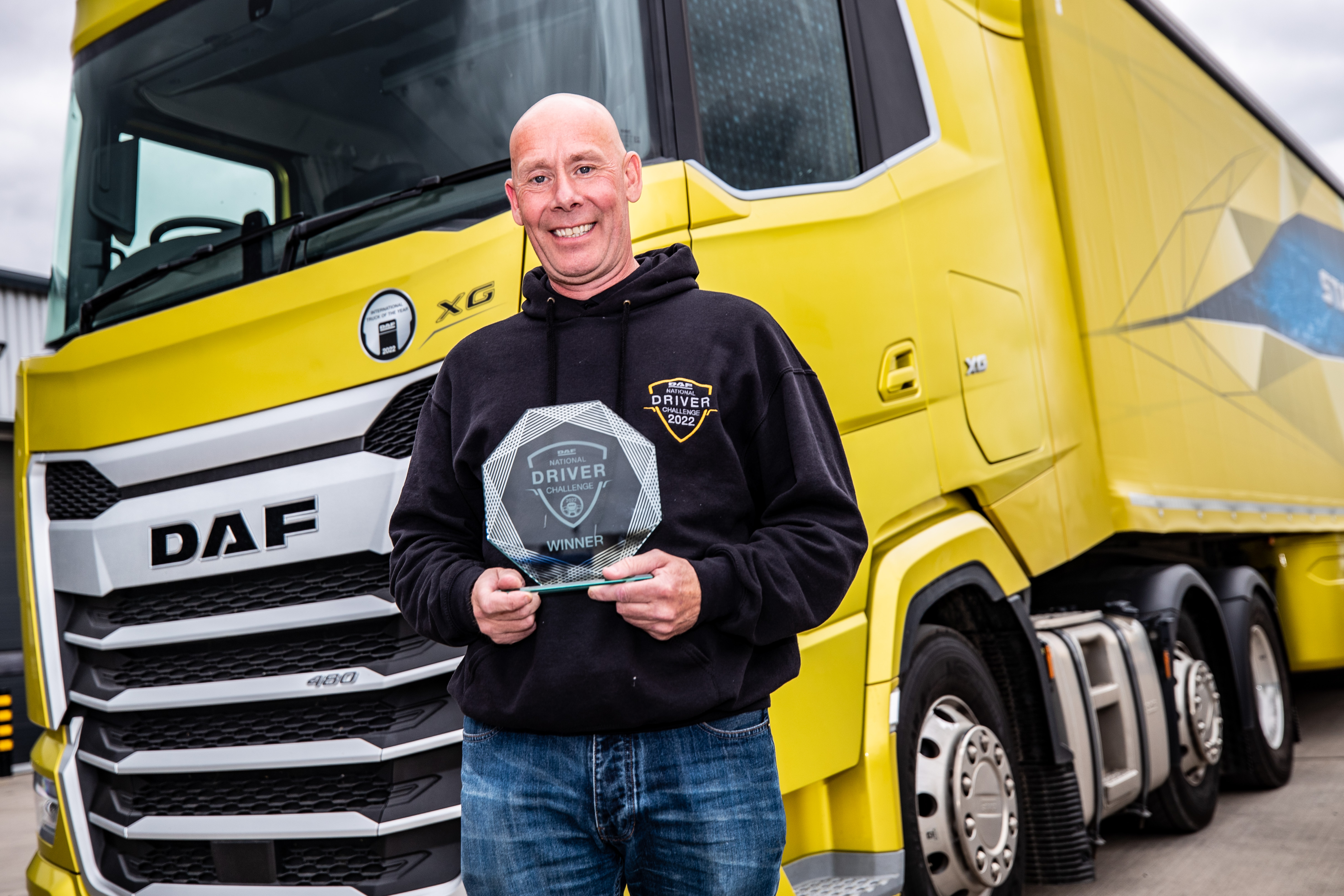 The DAF UK Driver Challenge is the culmination of a country-wide search to find the very best commercial vehicle driver from the UK and Ireland. Following an initial online registration process – including assessments, on-road knowledge awareness and an understanding of the CV industry – selected drivers were invited to a series of Regional Qualifiers around the UK and Ireland with 15 drivers competing at the final event in Gloucestershire.
To ensure a level playing field, and that the final contenders were a true reflection of the nation's very best drivers, the DAF Driver Challenge was again open to drivers of any vehicle marque.
Colin Court, as well as being crowned the overall winner, also won two tests outright and was a top five competitor in seven of eight challenges, ably demonstrating his all-round knowledge and skill behind the wheel. Challenges included a 'commentary drive' of a New Generation DAF XG, manoeuvring tests with rigid and articulated vehicles, a theory examination, load restraint, pre-use checks, city driving in a DAF LF Electric, plus an exciting off-road quarry driving test in a DAF CF FAW 'tridem' 8x4 tipper.
Runners-up included, in second position, Ryan Pennington who drives for Thomas Boers Ltd. and in third place, Richard Scott, who plies his trade behind the wheel for Home Bargains.
Ian Joyce Award (Jennifer Lock, Allen & Lock)
The Ian Joyce Award has been introduced to the DAF UK Driver Challenge in memory of the late Mr Joyce – a dedicated and extremely popular member of the DAF Dealer Driver Trainer team. Ian was one of the first DAF Dealer Driver Trainers and a judge at previous DAF UK Driver Challenge events. The winner of the Ian Joyce Award was Jennifer Lock, owner / driver and CPC trainer at her family-run company in Cornwall, Allen & Lock. Jennifer demonstrated outstanding levels of professionalism, kindness and consideration; qualities that epitomised Ian Joyce. In a poignant moment, Jennifer was presented the award by Ian Joyce's son, Stephen Joyce.
"Ian was an extremely popular and well-respected member of the DAF Dealer Driver Training team," said DAF Demonstration Manager, Mandy Wannerton, "he was a true gentleman, always kind, helpful and generous with his time. We miss him very much and the award in his name is a fitting tribute to his memory.
"Our congratulations to Colin Court, and to all the finalists. We all enjoyed a thrilling, and sometimes tense, weekend which really tested the competitors to the limit."