DAF respects your privacy. We use cookies for a variety of purposes, such as website functionality, improving your experience of our website, building integration with social media and helping target marketing activities within and beyond our website. By continuing your visit on our website, you are consenting to our use of cookies. However, if you want to customize your cookie preferences, click on 'Change settings' below. You can withdraw your consent at any time. For more information, please visit our Cookie Notice.

DAF 'right behind' Government's EV funding programme
DAF announced as key stakeholder in three of four funded consortia

Recent BETT project affirms DAF's credentials for 'back-to-base' EV operations

DAF's latest XD Electric and XF Electric offer solution for longer-distance ops

"…we're confident the funding programme will highlight the benefits of DAF's developments with our New Generation products." Adam Bennett, DAF Trucks
DAF Trucks has said it is 'right behind' the recent announcement of funding from the UK Government and Innovate UK for the Zero Emission HGV and Infrastructure Demonstrator programme.
DAF XD Electric and XF Electric tractor units will form part of a 370-vehicle fleet comprised primarily of battery electric, plus some hydrogen-fuelled, trucks, rolled-out through four consortia made up of numerous stakeholders, each with responsibility to demonstrate higher weight / longer-distance zero emission operations and associated infrastructure.
The three consortia into which DAF Trucks will deliver XD and XF Electric models are headed-up by Gridserve, Project Zero Emission North and Voltempo. Major operators involved in the programme include Maritime Transport, Marks & Spencer, Menzies, Royal Mail and Eddie Stobart.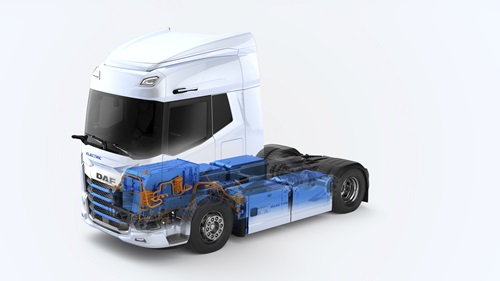 DAF XD Electric and XF Electric models are available with battery capacity up to 525 KWh
DAF – the solution for 'back-to-base' and longer distance applications
The funding programme follows the conclusion of the recent Battery Electric Truck Trial (BETT) where 20 DAF LF Electric vehicles were in service with a range of public bodies including the National Health Service (NHS) and Local Authorities – the results from which are being used in an interactive website to inform operators' buying decisions and to help stimulate the adoption of electric trucks. The positive outcome of the trial affirms DAF Trucks' credentials as a manufacturer of electric trucks – with its LF and New Generation XB models – ideally suited to back-to-base operations. The market-leader's larger XD Electric and XF Electric trucks are the ideal choice for longer distance operations, where publicly accessible charging infrastructure becomes integral to the efficacy of EVs.
LFP batteries – cleaner and more efficient
DAF's battery electric trucks boast significant benefits for operators, including the use of the more sustainable LFP (lithium iron phosphate) battery chemistry. Compared to the main alternative, NMC (nickel manganese cobalt), LFP batteries retain their capacity (state-of-health) for longer and, therefore, deliver a longer lifespan and can be charged at a more consistent level to full capacity, reducing any downtime for charging. DAF's highest rated 525kWh battery capacity delivers an impressive 480kWh of usable energy, offering a range on a single charge of up to 500km.

The DAF XD Electric offers exceptional safety, enhanced by superb direct vision for the driver.
New Generation DAF cab design – space optimisation
By locating one of the battery packs beneath the cab, weight distribution is optimised across the axles of the DAF Electric 4x2 tractor unit models, crucial for operators looking to take full advantage of the extra two-tonnes allowed for zero emission five-axle artics, meaning they can now operate at 42-tonnes GCW in the UK.

The XD Electric and XF Electric share the same cab qualities as their conventionally fuelled stablemates including exceptional levels of efficiency, comfort and safety. For operators with a focus on safety, especially those intending to operate in and around London, that means the XD Electric will no doubt be a popular choice with the potential to be specified with an up-to five-star DVS rating.

Describing the company's product offering for the funding programme, DAF Trucks' EV & Sustainability Manager, Adam Bennett, said, "We're right behind the Government's initiative. Our XD Electric and XF Electric trucks are the ideal solution for heavier, longer-distance operations and we're confident the funding programme will highlight the benefits of DAF's developments with our New Generation products. The New Generation DAF cab designs are bristling with active and passive safety systems to offer operators - a no-compromise specification."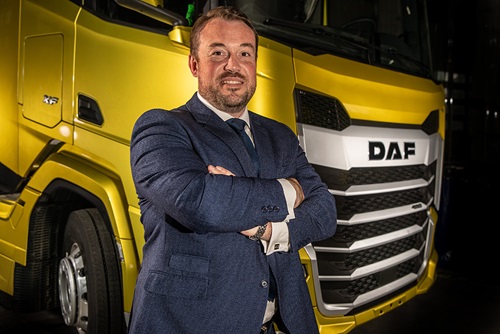 Adam Bennett, EV & Sustainability Manager, DAF Trucks Ltd.