We use cookies for a variety of purposes, such as website functionality and helping target our marketing activities. Some cookies are essential, others help us improve your experience by providing insights into how the site is used. For more information, please visit our Cookie Notice.
DAF Trucks - 90 Years of Innovative Transport Solutions
1928 - 2018
On 1 April 1928, Dutch engineer Hub van Doorne started a small construction workshop in the city of Eindhoven, the Netherlands. From these humble beginnings, DAF has evolved into a leading global truck manufacturer focused on innovation, quality, and transport efficiency.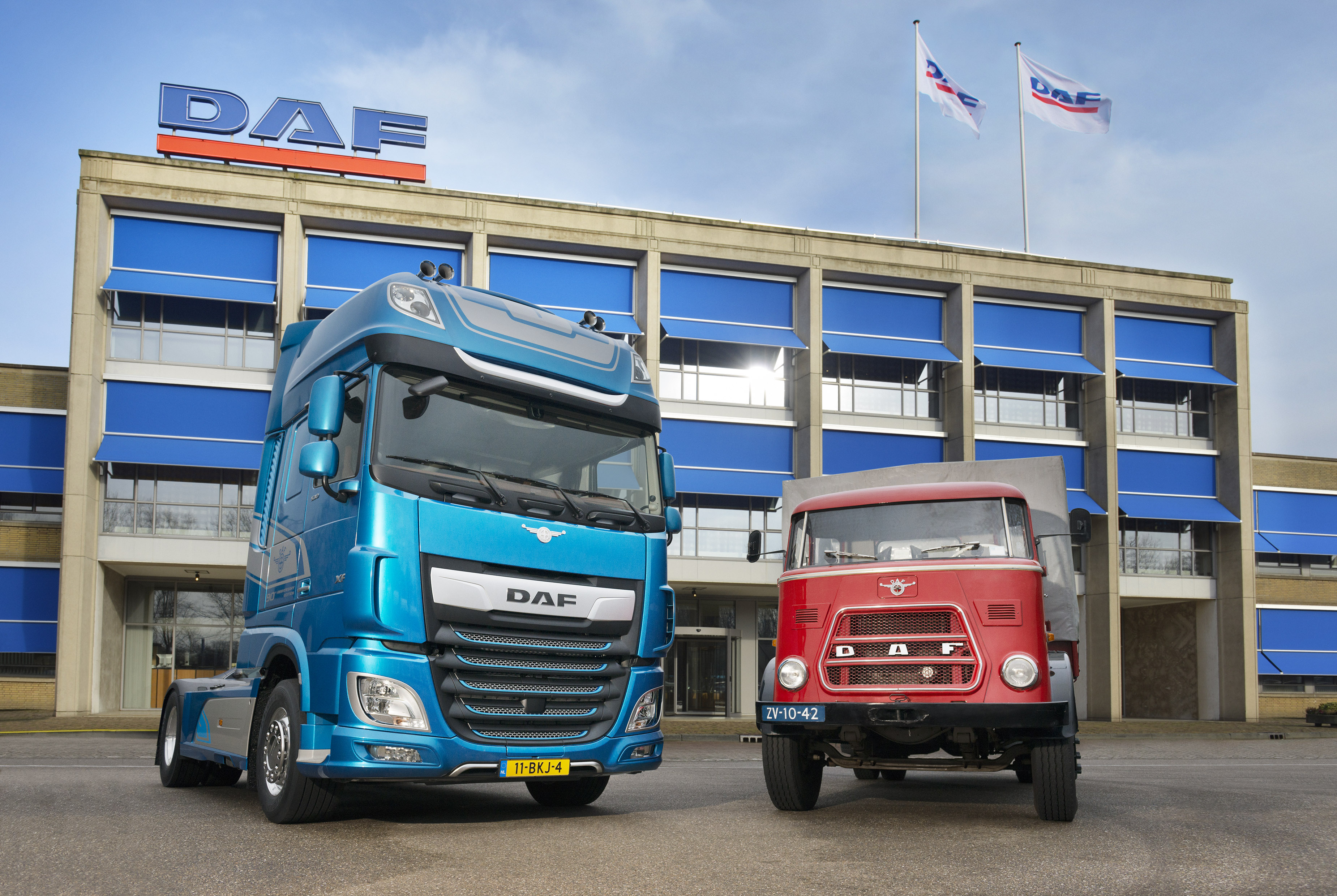 The highly talented Hub van Doorne opened his small workshop in the corner of the local Coolen brewery in Eindhoven. Initial work included welding and forging for the city and local companies like lamp and radio manufacturer Philips. The Great Depression inspired Hub van Doorne – together with his brother Wim – to expand services. The workshop evolved into a trailer manufacturing business in 1932 and the company name was changed into Van Doorne's Aanhangwagen Fabriek (Van Doorne's semi-trailer factory), abbreviated to DAF. Thanks to their welded chassis, the trailers and semi-trailers that left the small factory, stood out from the competition because of their high payloads. The welding – used to make these trailers was a unique innovation in those days that significantly saved weight. Another unique invention was the DAF container trailer which debuted in 1936 and was designed to quickly load and unload containers from a railway carriage. This was a very early example of intermodal transportation and made DAF one of the world's first suppliers of container trailers.
A New Truck Company Was Born
In 1949, the first DAF truck entered production and the company name became Van Doorne's Automobiel Fabriek. A year later a dedicated truck factory was built and production started with three, five and six tonne truck chassis and the truck company we know today was on its way.
Leading in engine development
In the early days, DAF installed Hercules and Perkins petrol and diesel engines, but in 1957 the Eindhoven company designed and began manufacturing the first DAF-branded engines. Two years later, DAF improved the DD575 diesel engine by adding a turbo charger which was another ground-breaking achievement. DAF introduced turbo intercooling as an industry-first in 1973. The technology was initially developed to meet the demand for higher engine outputs and lower fuel consumption, but also proved to be indispensable in realizing cleaner exhaust emissions. In the 1980s DAF launched ATi, Advanced Turbo Intercooling which provided further power and efficiency gains through a further refinement of injection technology and an optimised shape of the combustion chamber.
In 2005, DAF unveiled the PACCAR MX engine that is now installed in all of DAF's heavy-duty trucks and over 40% of Kenworth and Peterbilt built trucks. The latest generation MX-13 and MX-11 engines feature extremely efficient down speeded engines, intelligent drive lines and efficient rear axles that result in high torque being available at impressively low engine speeds for unmatched fuel efficiency and the highest driver comfort. Together with advanced vehicle software algorithms, excellent aerodynamics and a new compact after-treatment system, these DAF innovations result in a fuel efficiency gain of an impressive 7%, the largest fuel efficiency gain in the history of the company.
Cab sets new standards
The first DAF trucks from the late 40's, early 50's left the plant as just a chassis with in front of the engine the characteristic grille with seven chrome bars and a temporary seat made of wood. The DAF chassis were driven to bodybuilders for the mounting of a custom and locally made cab. In 1951 DAF introduced its own cab, with round corners and a slanted front grill for better aerodynamics. Driver comfort was enhanced by the introduction of a suspended seat.
In the 1960's, DAF further enhanced driver comfort with the first cab designed for international transport. The DAF 2600 offered two beds and windows all around for a spacious feeling and an optimal view on the road. Power brakes and power steering eased the demanding job of the driver. The 2600 is now considered to be the first of all international transport trucks. In 1969, DAF was one of the earliest manufacturers to introduce a tilting mechanism for the cab-over engine model which greatly improved maintenance access.
With the introduction of the Space Cab concept in 1988 DAF enhanced its leadership position as a truck manufacturer with its full focus on both operating costs and the driver. With the remarkable Space Cab concept, DAF again set new standards in cab size and comfort for international transport. Together with the even larger Super SpaceCab which was introduced in 1994 DAF cabs continue to be the benchmark when it comes to driver comfort and roominess.
DAF, A PACCAR Company
In 1996, DAF became a PACCAR company. Since then, DAF has continued its leadership position as a global technology leader with major developments in trucks, engines, and state-of-the-art facilities.
Excellent Trucks in the Market
DAF launched the new LF, CF and XF series in 2001 and 2002, the award-winning XF105 model in 2005, and the Euro 4 and 5 program in 2006. A full range of new, ultra-clean Euro 6 models entered production in 2013. And in 2017, the New CF and New XF were named 'International Truck of the Year 2018' for their class-leading transport efficiency and impressive fuel efficiency gain of 7%. Also in 2017, In the United Kingdom, the New LF was awarded 'Commercial Fleet Truck of the Year'.
DAF's commitment to quality has earned the company five International Truck of the Year awards, the industry's highest honor:
1988 - DAF 95

1998 – DAF 95XF

2002 – DAF LF

2007 – XF105

2018 – CF and XF
Developing Technologies for the Future
In 2015, DAF demonstrated truck platooning. The EcoTwin vehicle system enabled trailing vehicles to automatically follow the lead truck resulting in lower fuel consumption, reduced CO2-emissions and improved traffic flow. Due to EcoTwin's success, DAF was selected to exclusively participate in English platooning trials in 2017. DAF is engaged with leading European technology development projects to gain comprehensive experience with alternative electric and hybrid power trains.
Global Excellence
DAF is driving business globally in the 21st century. Its class-leading trucks are manufactured in the Netherlands, Belgium, the United Kingdom and Brazil, and DAF products are sold by 1,100 independent dealers on five continents.
DAF trucks are backed by industry leading services provided by PACCAR Parts and PACCAR Financial. Fleets are supported by Europe's best roadside assistance, International Truck Service (ITS) and DAF Connect, DAF's advanced fleet-management system.
"DAF provides a complete range of excellent trucks that offer the industry's lowest operating costs, best transport efficiency and highest driver comfort," said Preston Feight, DAF president. "Thanks to the wonderful team of over 10,000 dedicated people who design build, sell and support its quality trucks, engines, parts and services DAF is well positioned to continue growing successfully around the world."
Press Contacts
Are you a journalist? Contact us for more information about the company, our products and services or any other subject.
Rutger Kerstiens
Corporate Communications Department
Tel:+31 (0)40 214 4191
E-mail:rutger.kerstiens@daftrucks.com