DAF respects your privacy. We use cookies for a variety of purposes, such as website functionality, improving your experience of our website, building integration with social media and helping target marketing activities within and beyond our website. By continuing your visit on our website, you are consenting to our use of cookies. However, if you want to customize your cookie preferences, click on 'Change settings' below. You can withdraw your consent at any time. For more information, please visit our Cookie Notice.
DAF European Technician of the Year 2018
Who is the best DAF Technician in Europe? To find out, DAF Trucks is organising the fourth staging of its DAF European Technician of the Year competition. The quest to find the best DAF Technician in Europe underlines just how important the intensive training of professional workshop personnel is to DAF Trucks' aftersales portfolio.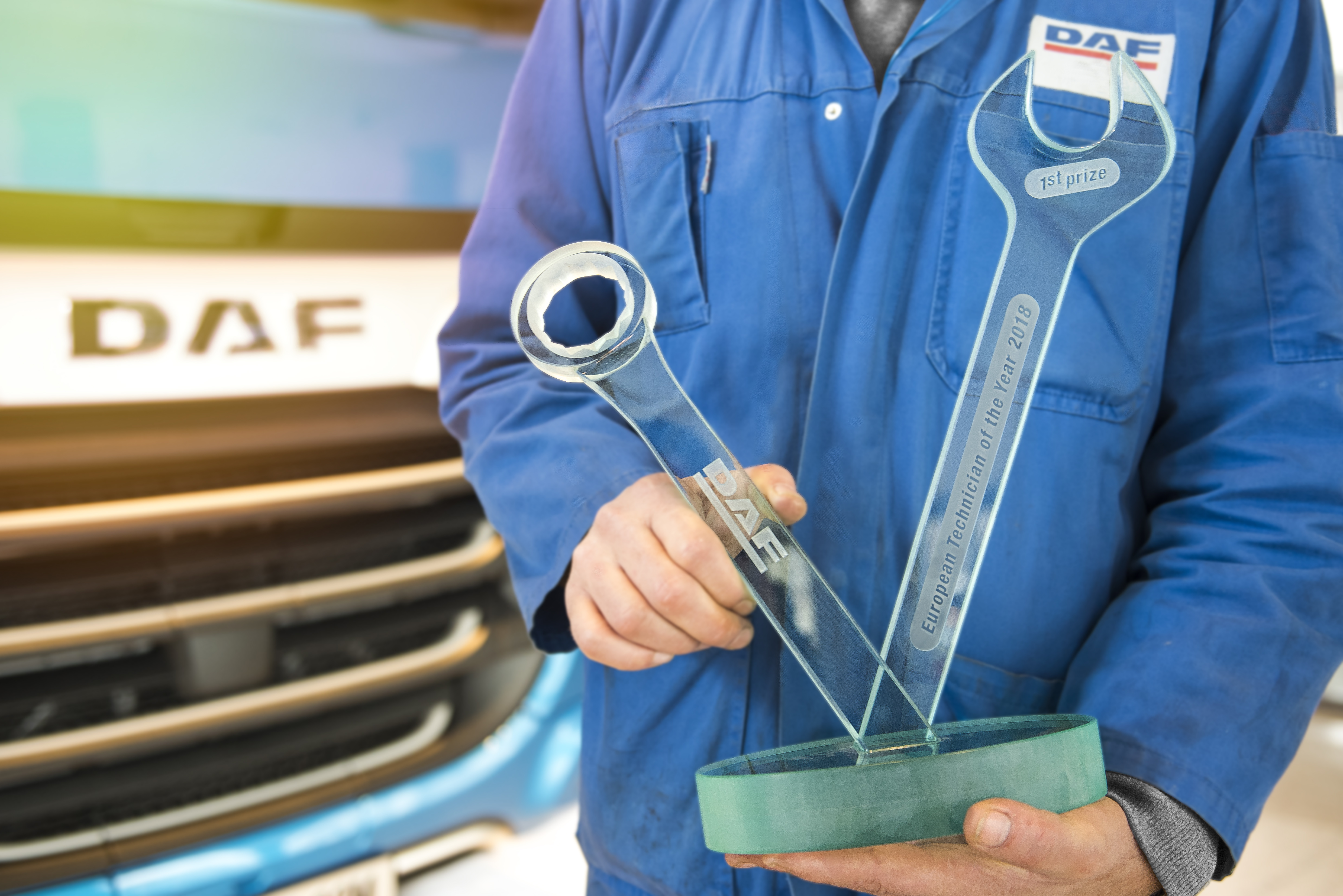 Last year, DAF launched a brand-new generation of ultra-modern trucks. Following their relaunch, the New LF, New CF and New XF trucks continue to lead the way in areas such as environmental friendliness, safety, driver comfort and, of course, total cost of ownership.
DAF Technicians possess an intimate knowledge of the latest DAF trucks. They are given intensive training to ensure that they are able to assist customers as quickly and as cost-effectively as possible using the most up-to-date information and systems. In addition, DAF Technicians represent the 'business card' in a DAF dealer's workshop, playing a crucial role in delivering customer satisfaction and providing exceptional service and quality, right down to the smallest details.
The competition
The DAF Technician of the Year competition consists of two phases. Last year, DAF Technicians in each of the 18 participating countries competed for their respective national title. Only the winners of each national title will compete against each other in the European final.

At the European final held on 11 and 12 April at DAF Trucks' headquarters in Eindhoven, the Netherlands, finalists will demonstrate their professional expertise in several challenging theoretical and practical exercises. Among other challenges, the contestants must find solutions to faults relating to engine and vehicle systems within a set amount of time.

All nominees have received the highest level of training and have achieved DAF Master Technician status.
Participants for 2018 DAF European Technician of the Year:
Marin Pavicic, Austria

Wim Vanderheyden, Belgium

Petr Valenta, Czechia

Mike Christensen, Denmark

Bruno Cormier, France

Mathias Lehmann, Germany

János Szekeres, Hungary

Fabio Zogno, Italy

Cor Kramer, Netherlands

Bjørn Måge, Norway

Łukasz Węgrzynek, Poland

Rui Manuel Tavares da Silva, Portugal

Martin Sako, Slovakia

Iván Manuel Grela Muiño, Spain

Hugo Bergman, Sweden

Stephan Rettenmund, Switzerland

Adam Baker, United Kingdom

Dragos (Vasile) Pop, Romania
> Go to the European Technician of the Year page
Press Contacts
Are you a journalist? Contact us for more information about the company, our products and services or any other subject.
Rutger Kerstiens
Corporate Communications Department
Tel:+31 (0)40 214 4191
E-mail:rutger.kerstiens@daftrucks.com