We use cookies for a variety of purposes, such as website functionality and helping target our marketing activities. Some cookies are essential, others help us improve your experience by providing insights into how the site is used. For more information, please visit our Cookie Notice.
Two DAFs CF Electric for Rhenus Logistics in Germany
DAF Trucks has delivered two fully electric trucks to Contargo in Germany. Contargo is a 100% subsidiary of the leading international Rhenus Group. The DAF CF Electric featuring E-Power Technology from VDL is used for container transport around hinterland terminals in the German Lower Rhine area. The two trucks delivered to Contargo are the first DAFs CF Electric that are put into operation in Germany, and the 6th and 7th to take part in an extensive field test.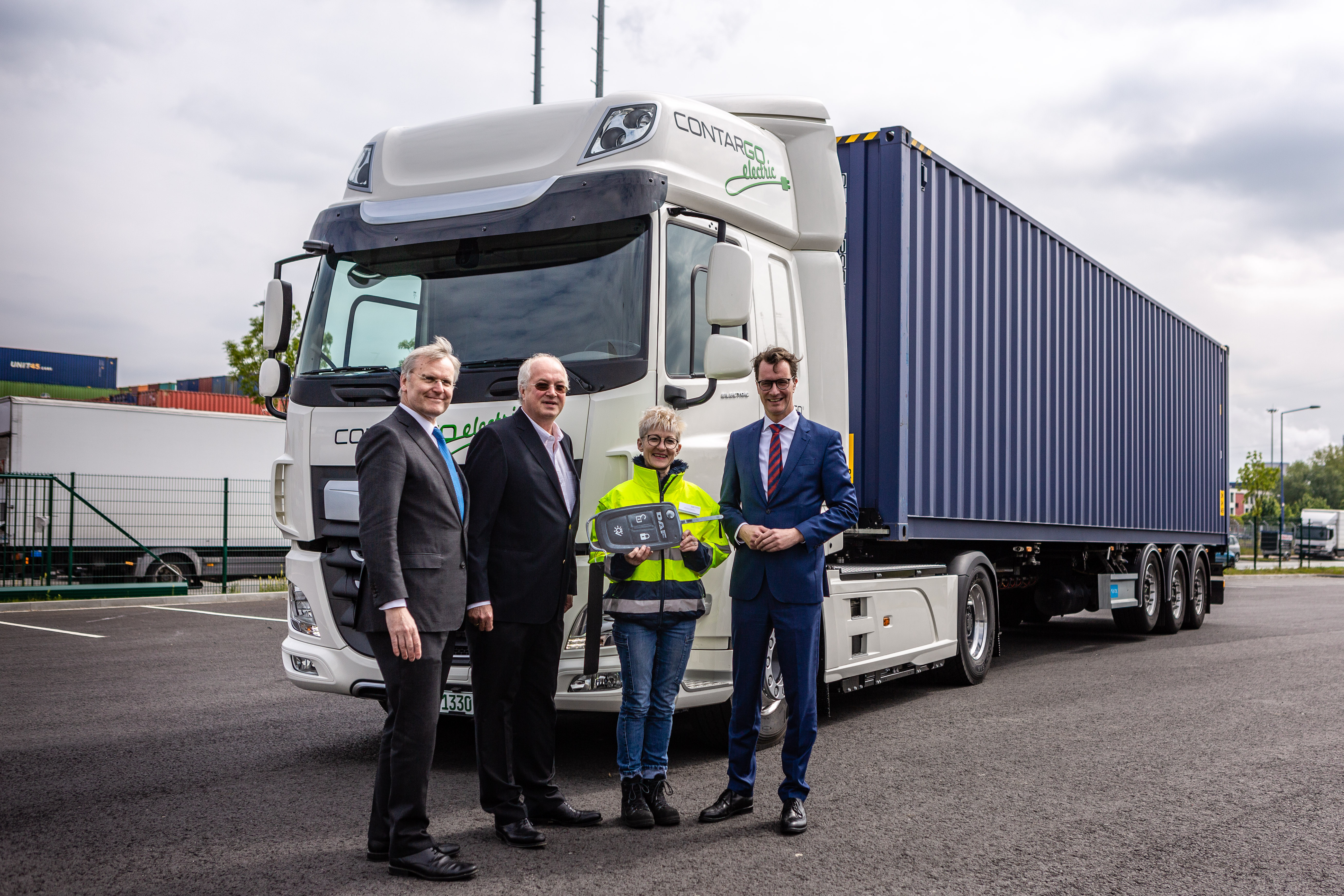 Richard Zink, Director Marketing & Sales and Member of the Board of Management at DAF Trucks, handed over the key of the CF Electric to Michael Viefers, Member of the Board of the Rhenus Group. Rhenus Group is a global logistics service company, specialized in Contract Logistics, Freight Logistics and Port Logistics. It has a turnover of € 4.8 billion, more than 610 locations worldwide and employs 29,000 people. The two CF Electric trucks join the fleet of the trimodal container hinterland specialist Contargo, a 100% Rhenus company, handling a total volume of 2 million containers per year.
Electric trucks for urban areas
"It is clear that the transport sector is on the cusp of a major transformation", states Richard Zink. "Take the better route is Contargo's aim and I am extremely proud that we can support this mission and drive the success of Contargo even further with two DAF CF Electric trucks. They are 'the better route' as the electric truck is set to become the norm in more and more urban areas in future, all around Europe." Zink continues: "We are delighted we can broaden our experience with electric trucks in collaboration with renowned companies like Rhenus. The data we collect about both the technology and the operational deployment will feed into the specifications for the final production models, thus ensuring that they fit seamlessly with the requirements of the market."
"Important step towards de-carbonization"
"We are very proud to be one of the first to drive these pioneering DAFs", states Jürgen Albersmann, Managing Director at Contargo. "One of our targets is to be de-carbonized by 2050. These trucks represent one important step towards this ambitious target."
Local container delivery
The DAF CF Electric trucks will have their home base in Duisburg and will be used for local container deliveries within the conventional truck fleet of Contargo. The management of the truck will be executed by Rhenus Trucking, acting as service provider for Contargo.
Press contacts:

Paul O'Malley, Torque Agency Group
M: pomalley@torqueagencygroup.com
Rutger Kerstiens
Corporate Communications Department, DAF Trucks N.V.