We use cookies for a variety of purposes, such as website functionality and helping target our marketing activities. Some cookies are essential, others help us improve your experience by providing insights into how the site is used. For more information, please visit our Cookie Notice.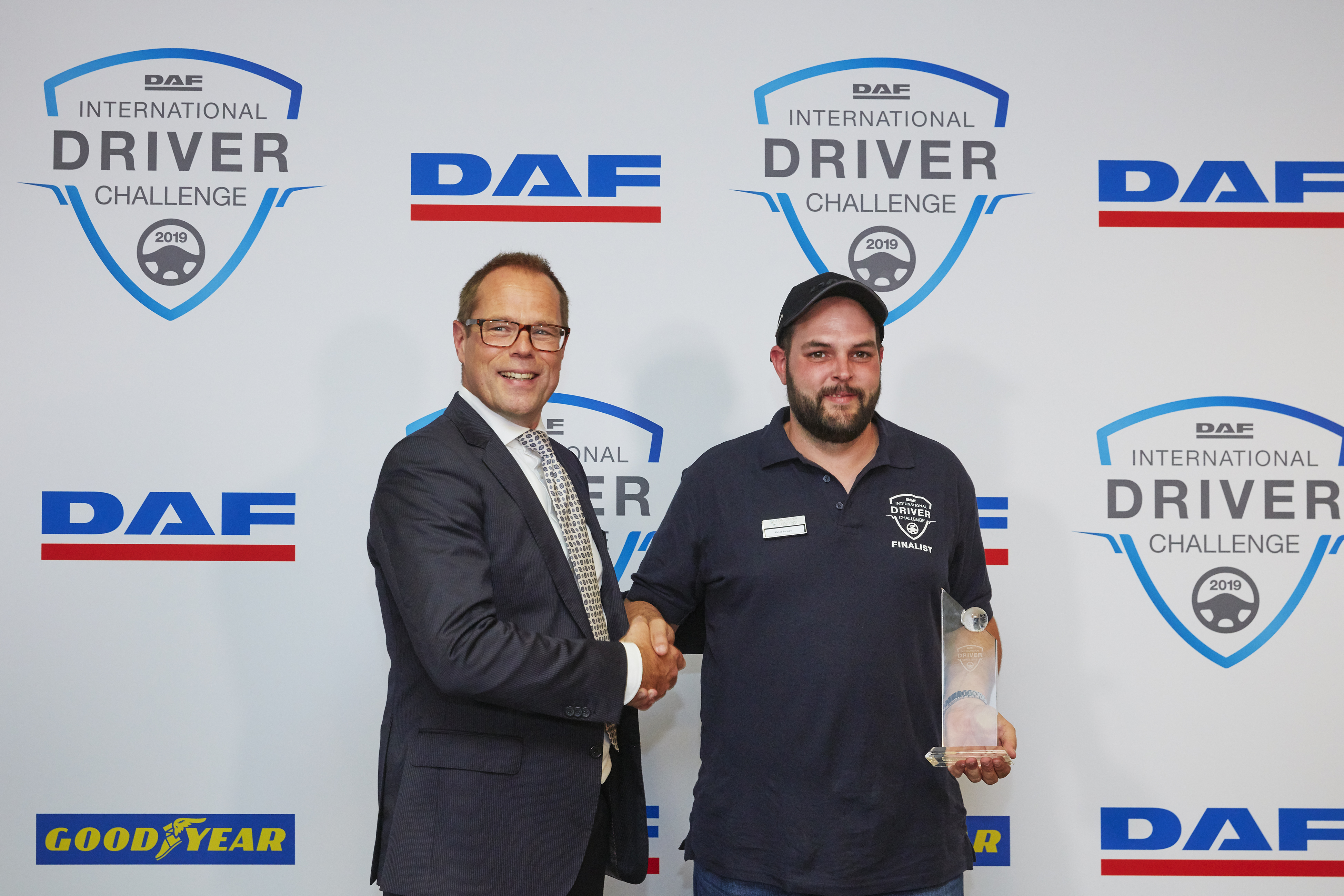 Peter Jacobs wins International DAF Driver Challenge 2019
18 candidates from across Europe compete at the Goodyear proving ground
Peter Jacobs from Belgium has been crowned 'DAF Driver Challenge Champion 2019' this weekend. In a spectacular international final at the Goodyear proving ground in Luxembourg, 18 candidates from across Europe, competed for this coveted title. Second and third places went to Nerijus Vitkauskas from Lithuania, and Miroslav Svoboda from the Czech Republic respectively.
"The competition was so incredibly strong that my win came as a total surprise", stated Europe's best truck driver Jacobs (32), who is driver for Alder Bulk Logistics on a daily base. Clearly emotional: "The national final was tough enough, but we had to really push ourselves here. The trials with the trucks and trailers were extremely challenging and the written tests that we had to take in the field of technology, legislation and regulations were downright tough. Some people state that I have an easy job. But that is far from reality. Therefore I would like to dedicate this award to all my highly professional colleagues who hit the road every day!"
The best of Europe and beyond
The DAF Driver Challenge competition was started with national events in 30 countries last spring with over 1,000 contestants, leading to the international final last weekend, for which only the 18 best truck drivers made the grade. A six-person jury carefully monitored the performance of the competitors, backed by a group of auditors from the European vehicle inspection organisation Dekra. DAF was looking for the very best driver, so participation in the DAF Driver Challenge was open to all, regardless of the truck brand normally driven.
'Truckers are craftsmen'
Harry Wolters, DAF Trucks' president and chairman of the jury, noted: "This final has again confirmed that an excellent truck driver needs a great skillset. It requires lots of knowledge, experience and skills to boost the performance of a truck to its maximum. We really feel that truck drivers deserve to be on a podium and to be celebrated for the challenges they face day-in day-out. With the International DAF Driver Challenge, we give them that platform to showcase their skills and knowledge. The jury was impressed by the dedication and cool-thinking candidates who were able to demonstrate their talent, even under the extreme pressure of the finale."
'Great drivers that make great trucks'
Richard Zink, Director Marketing and Sales and Member of the Board of Management of DAF Trucks: "For decades, we have built trucks that offer market leading driver comfort and feature a wide range of technologies designed to support drivers every day. However, it's the driver that unlocks a vehicle's true potential. It was impressive to see the best drivers demonstrating their exceptional driving skills behind the wheel of our industry-leading vehicles."
The jury
The jury consisted of six members:
Sabine Schmitz (German racing driver BMW and Porsche, Top Gear)
Ellen Lohr (German racing driver NASCAR, DTM and Dakar)
Michael Bleekemolen (Former Dutch F1-pilot, competing in the NASCAR)
Harry Wolters (President DAF Trucks, chairman of the Jury)
Renaud Dehillotte (Marketing Director DAF Trucks)
Matthias Stenau (Vice President Global Accounts DEKRA)
Press contacts:

Paul O'Malley, Torque Agency Group
M: pomalley@torqueagencygroup.com
Rutger Kerstiens
Corporate Communications Department, DAF Trucks N.V.