We use cookies for a variety of purposes, such as website functionality and helping target our marketing activities. Some cookies are essential, others help us improve your experience by providing insights into how the site is used. For more information, please visit our Cookie Notice.
DAF honours 'International Dealers of the Year 2020'
The British dealer group Ford & Slater has been awarded 'DAF International Dealer of the Year 2020' at DAF's International Dealer Meeting in Vilamoura, Portugal. Ford & Slater excels in customer service and is a leading player in the UK market for trucks, parts and Financial Services. Groupe Lefevre in France was awarded 'PACCAR Parts Europe International Dealer of the Year'; the German EBB Truck-Center received the award for 'PACCAR Financial Europe International Dealer of the Year'. Centrako in Lithuania became number one in the new category 'Used Truck Dealer of the Year'.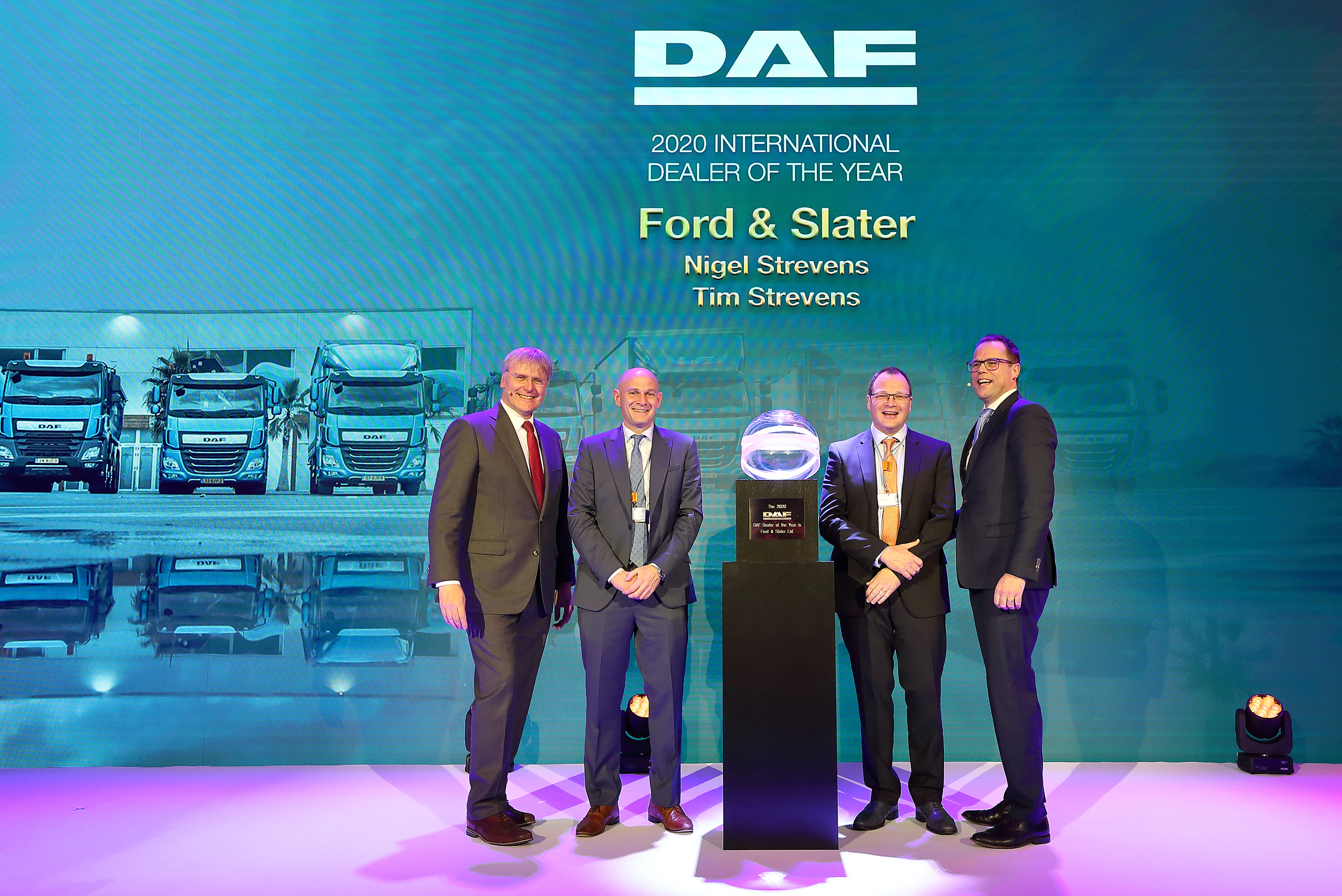 'DAF International Dealer of the Year 2020'
"To be voted 'DAF International Dealer of the Year', a dealer has to perform exceptionally well and be proficient in all aspects of the business," said DAF Trucks president Harry Wolters at the prize-giving ceremony. "To win the award you have to display the highest quality in terms of customer satisfaction and service, as well as business management. DAF's best dealer is one who excels in the sale and maintenance of both new and used trucks, and who knows like no other how to support customers to maximise their returns through services like those offered by PACCAR Parts and PACCAR Financial."
"The Ford & Slater dealer group from the UK maintains a sharp focus on improving customer experience and is constantly seeking to expand its activities, for example by providing pro-active customer support through DAF Connect and by investing in more service stations and training for its technicians. The group has also improved the efficiency of their workshops at its 11 different DAF locations, where only the best of service is provided to its customers. For years Ford & Slater has been a shining example to other dealers. This British dealer group possesses a professional and skilled team that is passionate about and committed to achieving improvement year after year. The proof can be found in the high level of customer satisfaction. My congratulations to the entire team!"
'PACCAR Parts International Dealer of the Year 2020'
"The Groupe Lefevre dealer group operates from 13 locations in France with the aim of ensuring that its customers can always rely on excellent parts availability. This is what makes the organisation a prime example of excellent service," according to Dick Leek, General Manager of PACCAR Parts Europe. "Thanks to its unsurpassed parts availability, as well as smart eCommerce solutions, Groupe Lefevre supports its customers to achieve the highest levels of efficiency and uptime. Groupe Lefevre is continuously looking for new ideas and is always willing to embrace the initiatives of PACCAR Parts in order to raise customer satisfaction to even higher levels. Examples include the TRP service location in Vesoul and the active support of the PACCAR Parts Fleet Services programme for international fleets."
'PACCAR Financial Europe International Dealer of the Year 2020'
DAF dealer EBB Truck-Center in Germany is the well-deserved winner of the title 'PACCAR Financial International Dealer of the Year', according to Gerrit-Jan Bas, Managing Director of PACCAR Financial Europe. "This dealer knows exactly what the customer needs to be successful. At EBB Truck-Center the customer is always king. The team delivers the best truck for the job in combination with a clear financial plan and made-to-measure repair and maintenance contracts. In other words, complete transport solutions that guarantee maximum return for the customer."
'DAF Used Truck International Dealer of the Year 2020'
First prize in a new category – DAF Used Truck International Dealer of the Year – was awarded to DAF dealer Centrako in Lithuania. Gerrit-Jan Bas, Managing Director of PACCAR Financial Europe and also responsible for the DAF Used Truck programme: "Selling a used truck requires dedication and focus. You want to find the best possible solution for the customer's transport requirements. Centrako has taken this very seriously and has established a professional Used Truck organisation. They are convinced that this is exactly what is required to be successful in the long term, also with regard to selling new trucks. Centrako ensures the perfect match between vehicle and utilisation and is also active in the development of services, specifically for Used Trucks, so that the new owner is guaranteed maximum return on their investment. They also score very highly in almost all other aspects of the dealer business."
In addition to the 'International Dealer of the Year Awards 2020', the following dealers received a 'Gold Award' for their excellent all-round dealer performance:
Turbo's Hoet Group, Bulgaria
Ciron, France
Hiltl Fahrzeugbau, Germany
De Burgh, The Netherlands
Van Tilburg-Bastianen Group, Poland
Press Contacts
Are you a journalist? Contact us for more information about the company, our products and services or any other subject.
Rutger Kerstiens
Corporate Communications Department
Tel:+31 (0)40 214 4191
E-mail:rutger.kerstiens@daftrucks.com