We use cookies for a variety of purposes, such as website functionality and helping target our marketing activities. Some cookies are essential, others help us improve your experience by providing insights into how the site is used. For more information, please visit our Cookie Notice.
Lawrence Vehicles Ltd. picks-up top honours at pan-European DAF Dealer event

The DAF Dealer group includes Lancashire DAF and Lothian DAF

Further awards for Chassis Cab, Ford & Slater and the Motus Group ensure impressive UK representation

"Lawrence Vehicles is a shining example to other dealers; it offers its customers a professional and skilled team…" DAF Trucks president, Harry Wolters
UK DAF Dealer group scoops International Dealer of the Year 2021
UK DAF Dealer group, Lawrence Vehicles Ltd. – which comprises the Lancashire DAF and Lothian DAF dealerships plus two TRP all-makes parts shops – has picked-up the manufacturer's pan-European, highly-prized International Dealer of the Year award.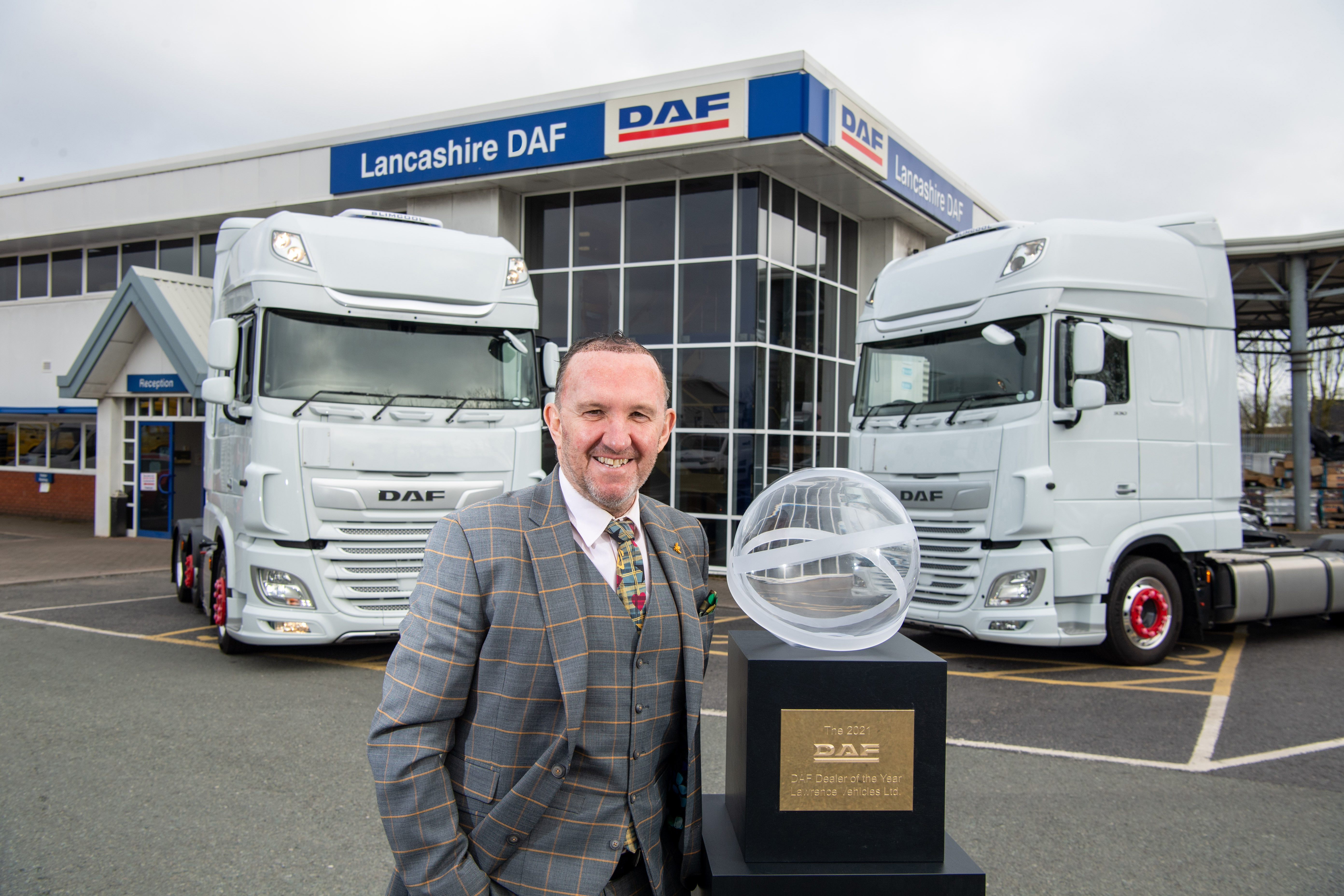 Further awards for DAF Dealers based in the UK were presented to Chassis Cab in East Anglia which scooped the PACCAR Financial Europe International Dealer of the Year award, a Gold Award for Leicester-based Ford & Slater for delivering 'excellent all-round dealer performance', together with a Silver Award for the Motus Group. Last week's award ceremony – a highlight of the annual DAF Trucks International Dealer Meeting – was switched to an online platform in accordance with coronavirus restrictions remaining in place across Europe.
Italian DAF Dealer, Zarpellon, was named PACCAR Parts Europe International Dealer of the Year, with Polish dealership DBK taking the award in the Used Truck Dealer of the Year category.
"Only a dealer that performs exceptionally well and is a true expert in all aspects of the business deserves the title 'DAF International Dealer of the Year'," said DAF Trucks president Harry Wolters commending the success of Lawrence Vehicles Ltd. "Such a dealer sets the benchmark in every single aspect of customer satisfaction and service, as well as in business management. In addition," he said, "they continuously invest in the DAF brand and recently opened an impressive new Pre-Delivery Inspection Centre [at Lancashire DAF in Preston] to boost the customer experience even more. Lawrence Vehicles is a shining example to other dealers; it offers its customers a professional and skilled team that is not only passionate but also committed to achieving continuous improvement year after year. The proof can be found in the high level of customer satisfaction. My congratulations to the entire team!"
The PACCAR Financial Europe International Dealer of the Year award for Chassis Cab was presented as a result of the Ipswich-based dealership's 'excellent performance in supporting customers with the best possible financial services and tailor-made repair and maintenance contract'. Gerrit-Jan Bas, Managing Director of PACCAR Financial Europe, said "This dealer has not only significantly over-achieved on all targets last year, but above all they continued to believe that the customer is always king. Chassis Cab also knows exactly what it takes to be successful as a transport operator. They offer complete transport solutions that guarantee maximum return for the customer and those solutions include attractive finance offers."
Press Contacts
Are you a journalist? Contact us for more information about the company, our products and services or any other subject.
Rutger Kerstiens
Corporate Communications Department
Tel:+31 (0)40 214 4191
E-mail:rutger.kerstiens@daftrucks.com