DAF respects your privacy. We use cookies for a variety of purposes, such as website functionality, improving your experience of our website, building integration with social media and helping target marketing activities within and beyond our website. By continuing your visit on our website, you are consenting to our use of cookies. However, if you want to customize your cookie preferences, click on 'Change settings' below. You can withdraw your consent at any time. For more information, please visit our Cookie Notice.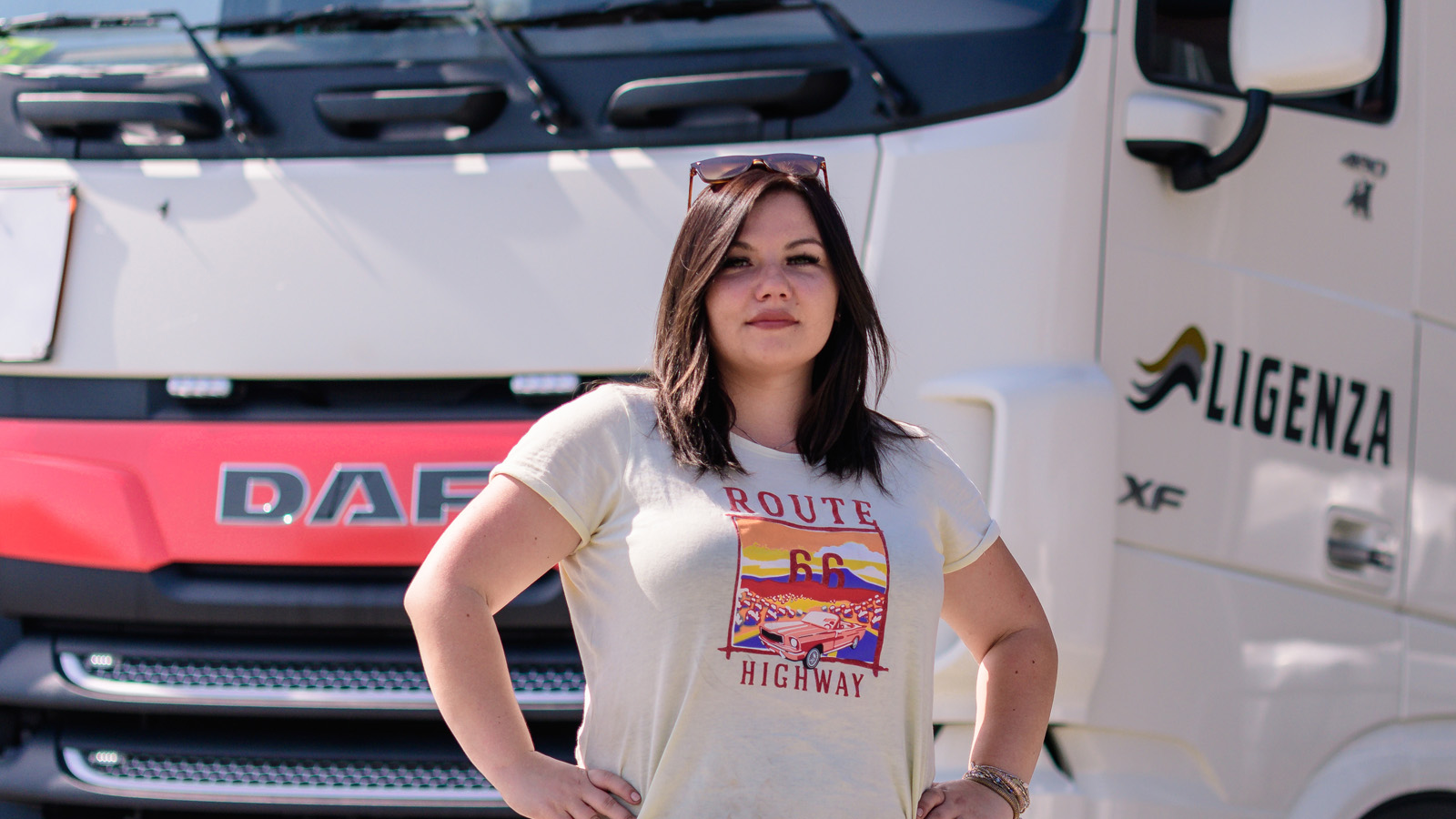 "It's true that women can get things done faster."
Ada Wiacek
Female truck drivers are upcoming
A large truck with the youthful face of a petite woman behind the wheel. A DAF truck with an eye-catching Mickey Mouse decal. For Ada Wiacek, it's a hobby, everyday work, and lately also a way of doing business.
Seeing a woman driving a truck is becoming more common these days. It is estimated that in Poland alone, there are as many as 3200 "driving ladies". More importantly, employers declare that in this industry, women's performance is as good as men's: They're hard-working, thorough, punctual, and have better social skills, which is useful when you need diplomacy to resolve issues. "It's true that women can get things done faster. When a woman walks into an office, finding or unloading a ramp suddenly isn't a big problem anymore," Ada laughs. She is both a driver for and co-owner of Ligenza Transport.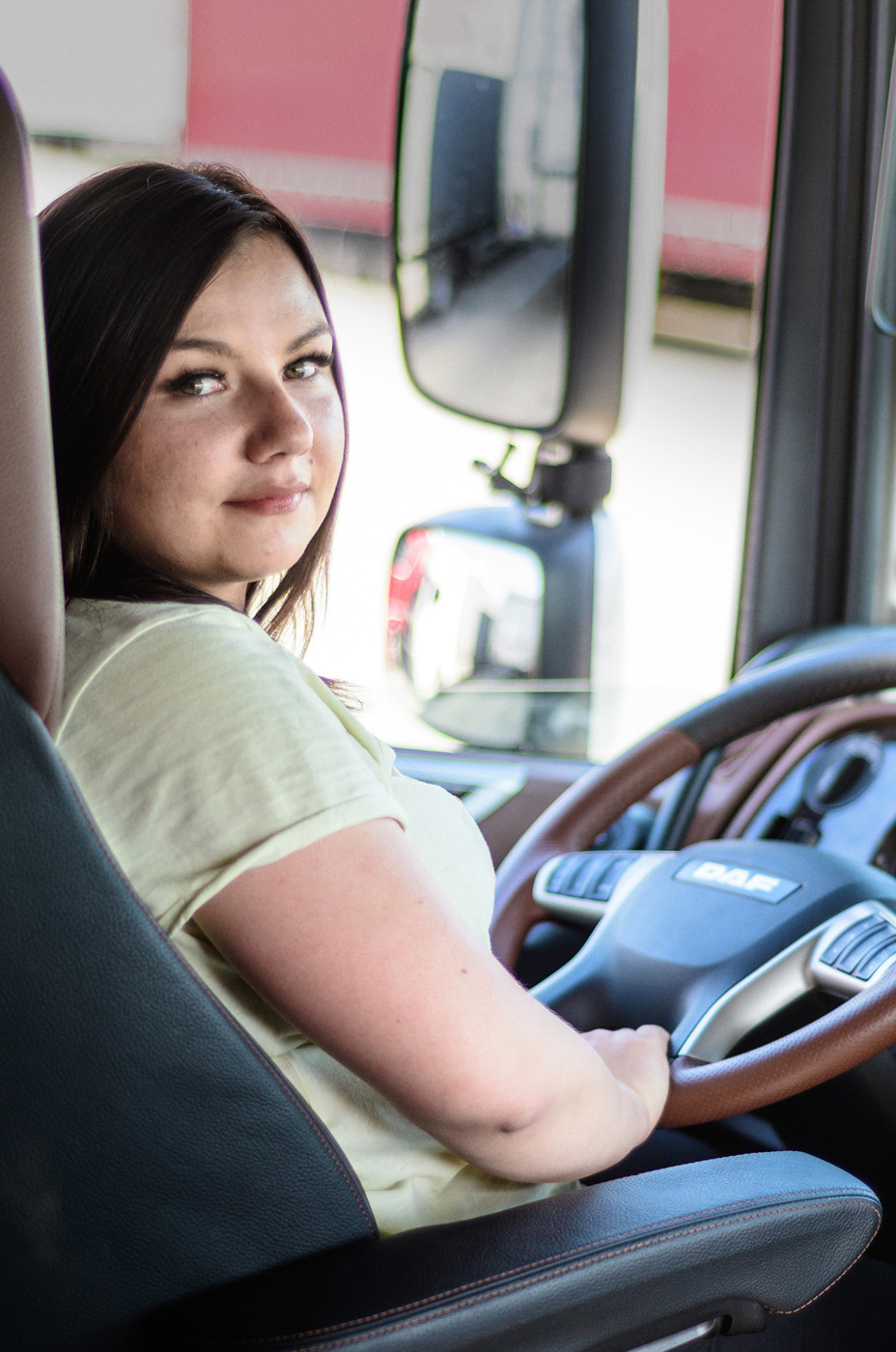 "Can you do it?" "Sure!"
Ada works as a co-driver with her fiancé, Pawel Ligenza. Together they travel thousands of kilometres in the white and red 480 HP DAF XF Pure Excellence. Its Mickey Mouse decal is recognisable even from a great distance. They also run a small car parts delivery company that usually operates in the Spanish market. They work on contracts for Wichot Transport, their former employer, which didn't mind them starting a new company and even offered them help. "Both Pawel and I started driving professionally when working for that company. Pawel has seven years of experience, I have three. How did it start? I found it harder and harder to spend days without Pawel while he was on the road. One day I just said: 'That's enough! I'm going to drive with you!' At that time there was a vacant position at the company. Pawel told his boss he had an ideal candidate for his co-driver. At first, the company owner couldn't believe it, but he did invite me to a meeting, which lasted about three minutes. He asked me one question: 'Can you do it?' I said: 'Of course I can!' So here I am!" laughs Ada, the first woman to join the company ranks.
An increase in "driving ladies"
It was a novelty back then, but the situation has changed over the years, on both Polish and European roads. "Some may find it surprising, but I honestly don't see any difference between men and women when it comes to either their driving style or the attitude towards them in the industry. There's no longer a line defining professions as strictly male or female these days. Many men are excellent cooks, hairdressers or beauty salon employees. I see women driving trucks literally a few times a day, especially in France or Spain, and often in double shifts. I have the same duties as Pawel: I drive, I help with unloading, I change tyres, I pull down the canvas. I have some trouble with the upper beams — not because I'm female, I'm just short (1.54 m). Lately, I even set a record, 40 minutes for changing a tyre!" says Ada.
Future transport with DAF XF Pure Excellence
Ligenza Transport may have been in business for only a year, but they already have plans for subsequent investments. The company already owns two 480 HP DAF XF trucks with high-grade cabs, and this year they plan to buy the newest XF SSC Pure Excellence. The young co-owner couple also have two drivers, another couple of co-drivers—and they're hiring. All the DAF trucks have Disney-animation-related decals, that's another mutual interest of Ada and Pawel. So if you see a DAF truck with Polish plates and Mickey Mouse on the bodywork, be sure to raise your hand and wave. It's probably Ada behind the wheel.