DAF respects your privacy. We use cookies for a variety of purposes, such as website functionality, improving your experience of our website, building integration with social media and helping target marketing activities within and beyond our website. By continuing your visit on our website, you are consenting to our use of cookies. However, if you want to customize your cookie preferences, click on 'Change settings' below. You can withdraw your consent at any time. For more information, please visit our Cookie Notice.
Two new DAF CF Electric tractor units destined for Cardiff-based FSEW

Extensive operational analysis undertaken by Egnida and experts from DAF Trucks

FSEW plans to cut CO2 emissions by 50% short-term, with further ten vehicles earmarked

"DAF Trucks and the local dealer in Cardiff, Watts Truck & Van, have been very receptive to our requirements. Their can-do attitude has helped enormously…" Geoff Tomlinson
FSEW orders UK's first electric tractor units from DAF Trucks
DAF Trucks has received an order for two new DAF CF Electric tractor units from Cardiff-based international freight forwarders, Freight Systems Express Wales (FSEW). It is the UK's first order for battery electric heavy tractor units, as well as a first order for DAF Trucks and its new zero-emissions product offering.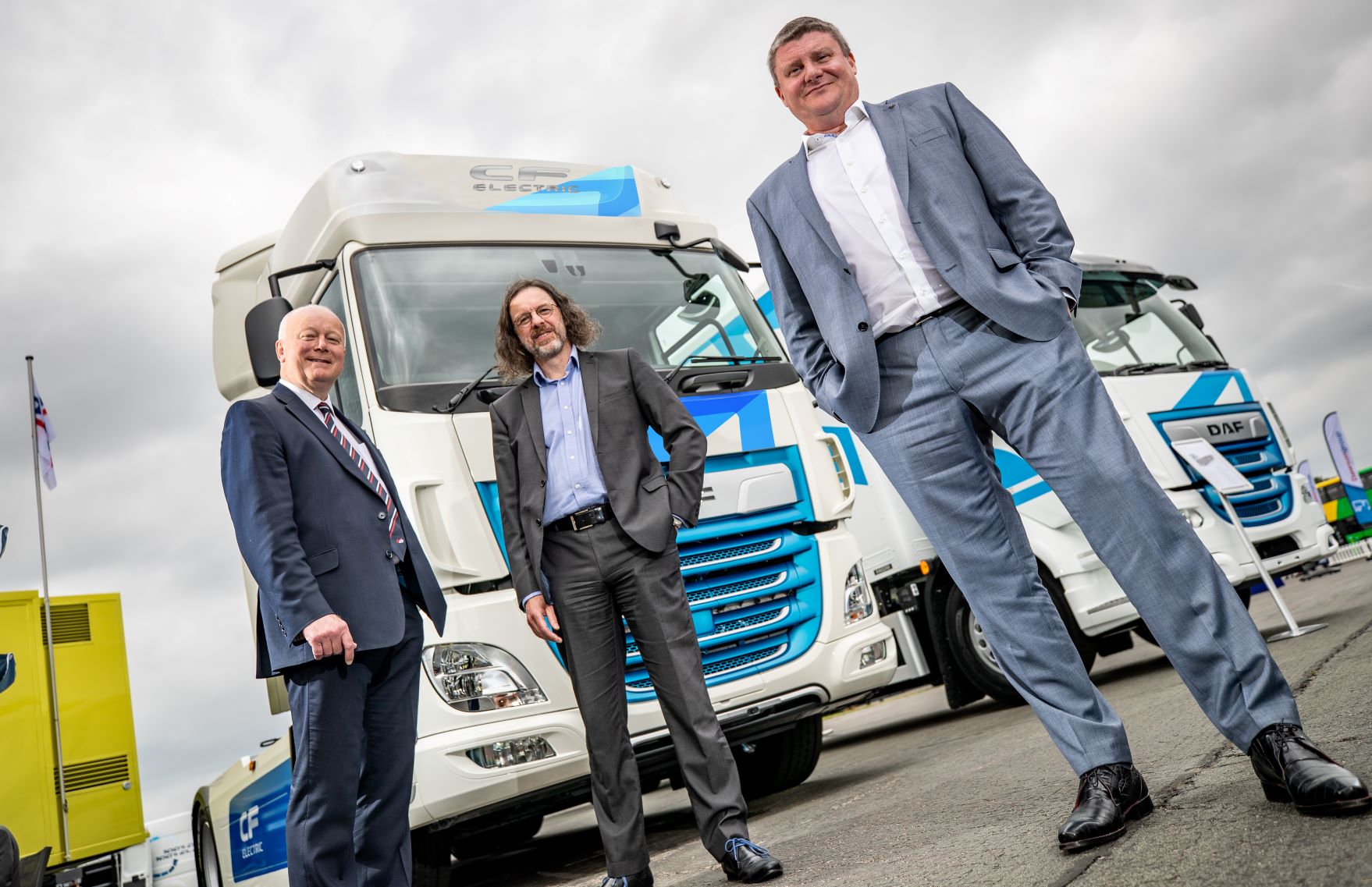 The order was rubberstamped last week at the ITT Hub exhibition and conference in Farnborough, where right-hand-drive, UK-ready DAF CF Electric and LF Electric trucks both made their public debuts. Both models are now available to order in the UK, with models including a CF Electric 37.0-tonne GCW tractor-unit and a 27-tonne GVW 6x2 rigid, alongside an LF Electric at 19.0-tonnes GVW.
FSEW's new DAF CF Electric represents the company's first major step towards its objective of switching to a fleet-wide zero-emissions transport operation. In collaboration with decarbonisation specialists, Egnida and DAF Trucks' own electric vehicle experts, the partnership embarked upon a month-long, end-to-end appraisal of all aspects of FSEW's business, encompassing detailed journey analysis and comparison of potential vehicle and charging options, including ongoing support capability.

The results were used by Egnida to create a profitable low-carbon business model for FSEW to extract maximum benefits from the DAF CF Electric and provide a zero-emissions service demanded by FSEW's own customers. Driven by their appetite for decarbonisation, the two DAF CF Electric trucks now on order form part of an ambitious plan for FSEW to replace more than 40 diesel vehicles with low-carbon alternatives. Once the two CF Electrics are bedded-in, FSEW's says it will introduce a further ten vehicles to reduce its carbon emissions by more than 50% in the next nine months. The company says its longer-term aim will be to hit 'net-zero' in two-and-a-half years.
"It's a change of mindset," said FSEW Managing Director, Geoff Tomlinson, "it's a journey which began two-and-a-half years ago and one in which the whole business is engaged. If these trucks perform as they should – and we're fully confident of that following the painstaking evaluation programme – then we'll be in for another ten DAF CFs.

"DAF Trucks," he said, "and the local dealer in Cardiff, Watts Truck & Van, have been very receptive to our requirements. Their can-do attitude has helped enormously in our journey here today and we're very much looking forward to strengthening the relationship.
"As a business owner involved in road transport, and as a father of two small children, I have a huge opportunity, and an obligation, to make a positive impact on our environment and I'm enormously excited at the prospect of leading the switch to zero-emissions transport."
DAF CF Electric

DAF CF Electric | 'FT' tractor 37-tonnes GCW
Chassis: 4x2
Wheelbase: 3.8m
Weight tractor: 9,000kg
Electric motor: 210kW
Torque: 2,000 Nm
Battery capacity: 350kWh (315kWh effective)
Range fully charged vehicle: up to 220km
Quick charge batteries: 75-minutes (at 250kW)
Full details of DAF Trucks' electric product range and solutions can be found here:


Extensive CF Electric Operational Experience
The CF Electric is new to the UK market but has been extensively tested in operation with a number of European transport operations over the last three years in both tractor and rigid configurations.
PACCAR battery-charging solutions
DAF Trucks has also brought to market a full range of fixed and mobile battery-charging solutions to support its new LF Electric and CF Electric trucks. The range of PACCAR battery-chargers may also be used with other electric commercial vehicles, including vans. The complete range of electric vehicle charging stations is backed by a two-year warranty. Fixed charging stations are available with power levels ranging from 20kW up to 360kW. To provide maximum flexibility, a range of mobile battery-chargers are offered with power levels from 24kW up to 40kW. Charging capability of between 20kW to 50kW can support the daily operations of an individual truck charged during the evening or overnight.

Where fast-charging is critical, 120kW and 180kW PACCAR battery-chargers are an ideal solution for fleets operating electric vehicles on multiple routes or across multiple shifts. The 180kW PACCAR unit delivers power to charge most truck types in under three hours. The top-rated 350 kW PACCAR charger is an ultra-fast solution that can charge vehicles at full power in less than two hours or can be deployed to fast charge two vehicles simultaneously.

PACCAR mobile battery-chargers are ideal for roadside assistance or in workshops where maximum flexibility is needed in the charging infrastructure.
'Pre-sales' and Aftersales commitment
For operators considering the acquisition of DAF LF Electric and CF Electric vehicles, DAF Trucks offers its own dedicated 'pre-sales' programme to ensure customers select the right truck and charging solution to maximise the benefits of electrification, including site assessments, energy modelling, route simulation, and practical guidance on charging infrastructure, 'smart' and efficient battery recharging. The aftersales commitment also covers maintenance of the PACCAR battery-charging equipment.