We use cookies for a variety of purposes, such as website functionality and helping target our marketing activities. Some cookies are essential, others help us improve your experience by providing insights into how the site is used. For more information, please visit our Cookie Notice.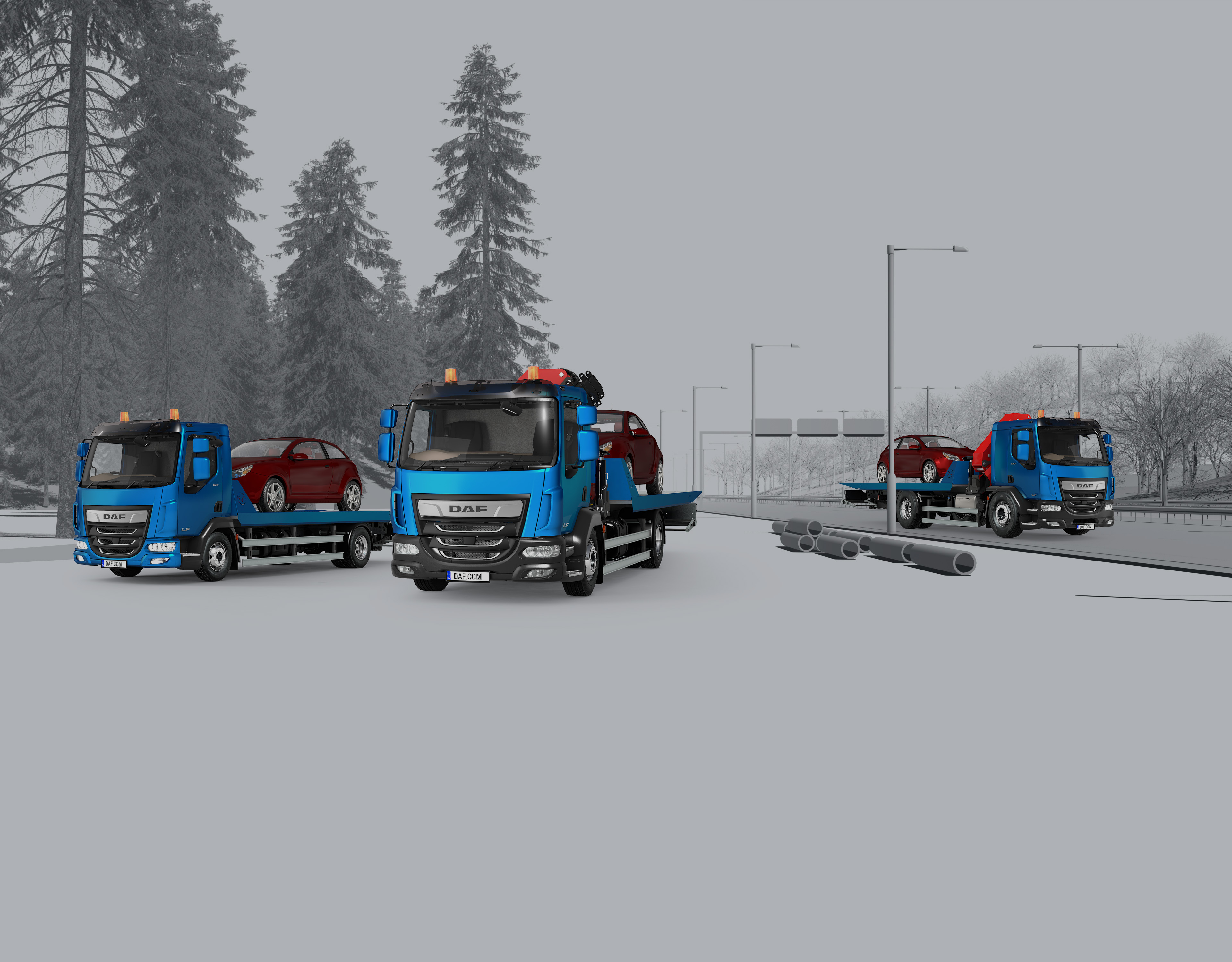 Discover the DAF solutions for car recovery
Specials
Car recovery vehicles
Need to recover a stranded van safely and quickly from the motorway or remove an illegally parked car? DAF has a full range of chassis available for vehicle transport and recovery services. Complete with smart and all-inclusive solutions for maximum efficiency and reliability.
It makes a big difference whether it is a motorbike or a car that needs transporting or a tractor or a truck that needs to be recovered. This determines whether a two-axle chassis will suffice or if you will need a 6x2 or even 6x4 solution with a maximum engine output of 390 kW/530 hp. If you are operating in urban areas, you will need a compact recovery vehicle for maximum manoeuvrability, but if your work is more heavy-duty or internationally oriented, you will probably want the most spacious cabin available on the market.
The one thing that all trucks used for the transport and recovery of vehicles have in common is a powerful and efficient PTO for driving telescopic loading platforms, underlifts, cranes and hoists. A drawbar coupling is often added to the front or rear of the chassis to enable the pulling or pushing of vehicles.
DAF knows that trucks in this segment often come with a lot of extra equipment, including hydraulic hardware, chains and ratchet straps. To that end, the chassis offers more than enough space for the storage of items such as large toolboxes. This space is also very useful whenever the operation of a crane requires stabilisers. And another important feature: the axles on a DAF are technically equipped to deal with extra weight, which can be important when handling loads that are heavier than usual.
Your car transporter or recovery vehicle needs to be able to perform very specific tasks. And to be available at any time of the day or night. That's why DAF is the best choice. For maximum operational reliability!
Want to know more? Contact your nearest DAF dealer