We use cookies for a variety of purposes, such as website functionality and helping target our marketing activities. Some cookies are essential, others help us improve your experience by providing insights into how the site is used. For more information, please visit our Cookie Notice.
8 benefits of the DAF Webshop
Fast, efficient online ordering
Thanks to automation, artificial intelligence and smart search, you will be able to order all the parts you need in no time. In this article we will focus on 9 important benefits of the DAF Webshop.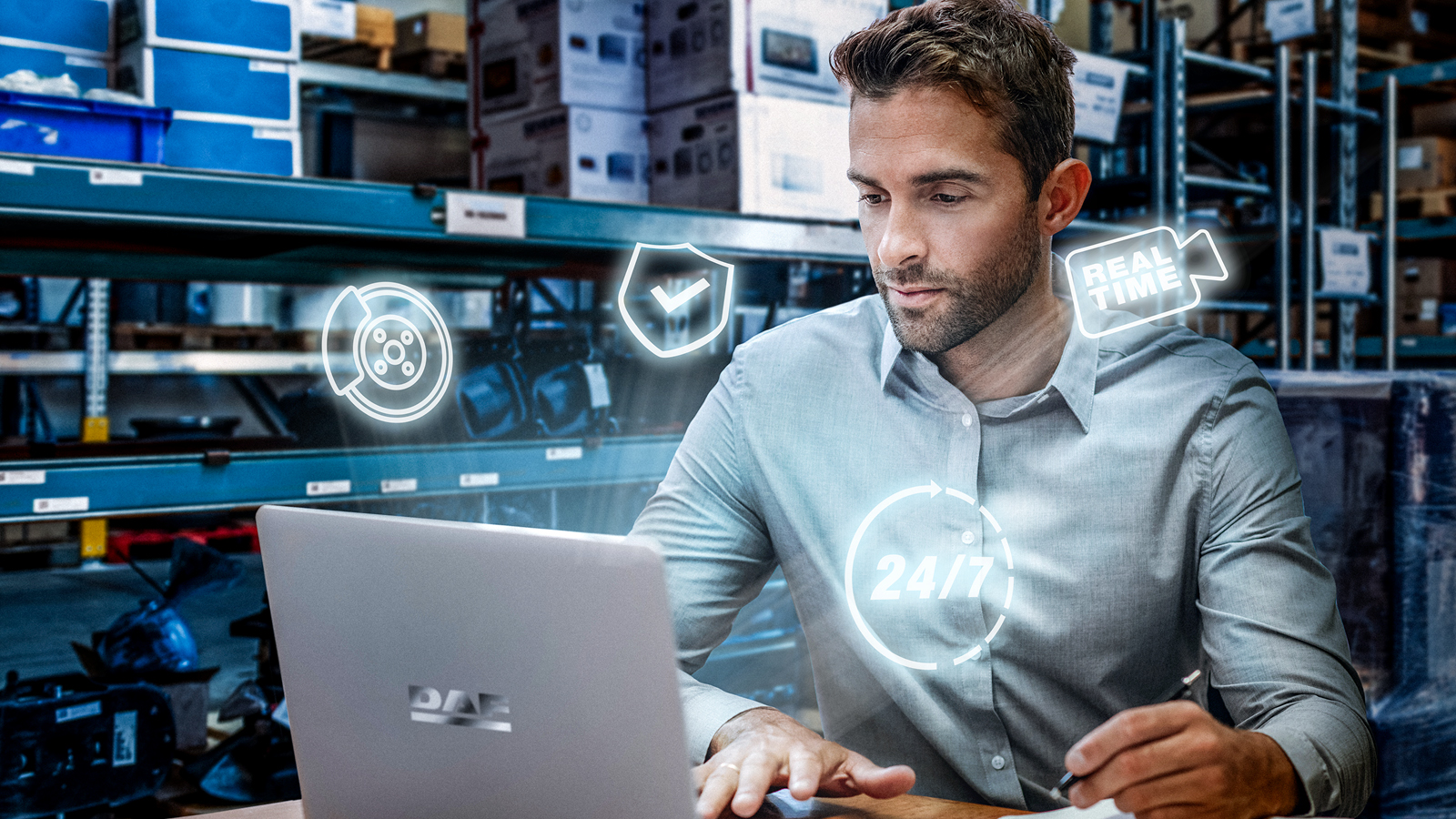 Benefit 1: One-stop shop for all your parts
The DAF Webshop is the online platform for all of your (spare) parts. In addition to the complete DAF OEM range, you will also find our complete TRP range and thousands of spare parts from other leading manufacturers. In total there are more than 180,000 parts available in our shop.
Benefit 2: An intelligent webshop
Big data, artificial intelligence and smart innovations are the cornerstones of the DAF Webshop. In order to provide customers with a great experience, we use different techniques:
First of all, you can search for parts by filling in the number plate of the DAF truck, the

chassis number or a brief description.

The scan function even allows you to do this faster. By clicking on the camera icon, you can take a picture of the part number or the packaging and you will immediately see the part and the possible alternatives.

Finally, with the new shopping cart RMI (Repair and Maintenance Information), you can now search for specific jobs and immediately see all the parts that you need. This provides you with a complete overview and ensures you never forget any parts needed.

Benefit 3: Customer specific pricing
Do you have specific price agreements with a DAF Dealer? When you login with your account you will be able to see these prices right away. This is also the case when you take part in the PACCAR Parts Fleet Services (PPFS) programme, which guarantees fixed maximum pricing.
Benefit 4: Out of stock solutions
If an item is out of stock, you can see its availability at the closest PACCAR Parts Distribution Centre (PDC) and all other PDCs. This way you always know how long it will take to get a particular part delivered. Can't wait that long? The DAF Webshop also shows suitable alternatives right away.
Benefit 5: Assistance of your DAF Dealer
Having trouble finding a part in the DAF Webshop? In that case your DAF Dealer is able to help out. Dealers can login as a 'Power User' and can assist with finding the right part and even ordering it directly for you.
Benefit 6: All information in one place
The DAF Webshop provides you with all the product information you need, up to the smallest details. You can browse categories, apply filters and find all the necessary information of every product such as length, width, diameter, weight and brand. Most DAF parts also include technical drawings.
Benefit 7: 24/7 Access
The DAF Webshop is available at all times. You can order your spare parts anytime, anywhere: 24 hours a day, 7 days a week.
Benefit 8: Internal references for vehicles
Many companies use internal references for vehicles (e.g. 'trucks 001' or simply the number plate). This information can be added to the DAF Webshop and linked together — to the chassis number, for example. Now, if you search for the reference, the DAF Webshop will only show you the parts you need for this particular truck.
Create a free user account
Not using the DAF Webshop yet? Create your account straight away. Go to dafshop.com/account and profit from all the benefits of a free user account.
Find your nearest DAF dealer