DAF respects your privacy. We use cookies for a variety of purposes, such as website functionality, improving your experience of our website, building integration with social media and helping target marketing activities within and beyond our website. By continuing your visit on our website, you are consenting to our use of cookies. However, if you want to customize your cookie preferences, click on 'Change settings' below. You can withdraw your consent at any time. For more information, please visit our Cookie Notice.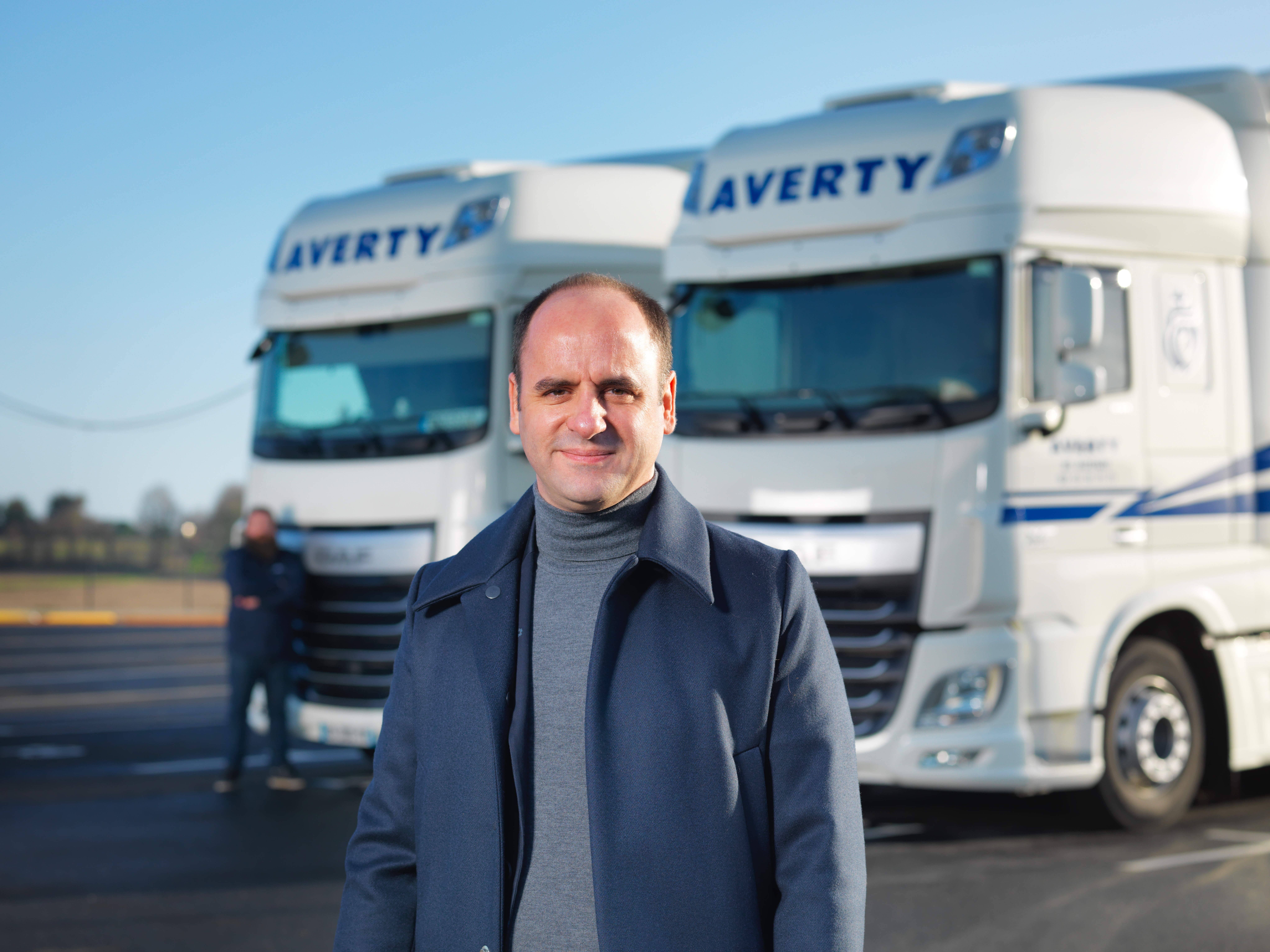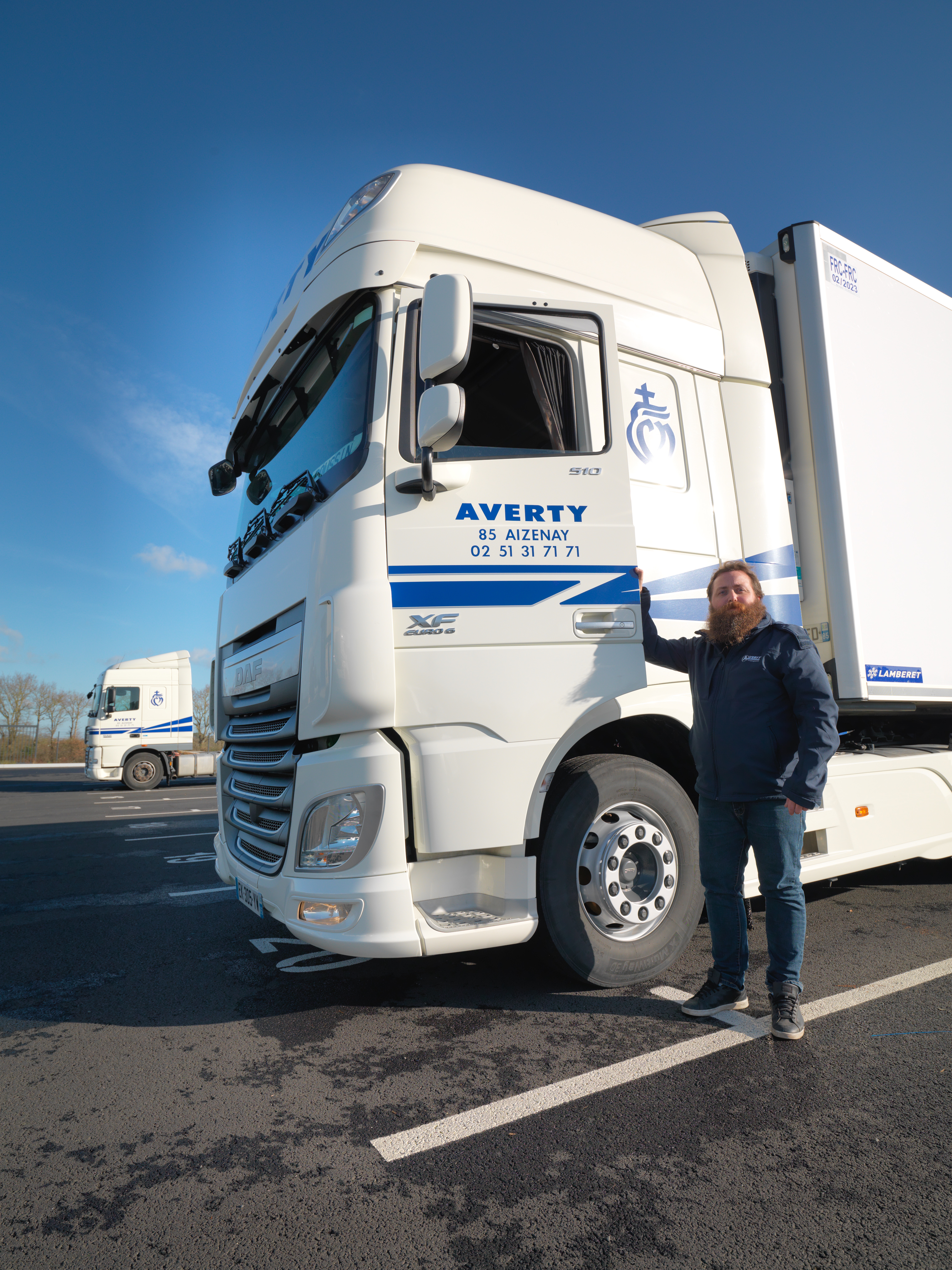 How personalization keeps drivers happy
AVERTY Transport - Charles Dehergne
For Charles Dehergne, director of TCDA, AVERTY Transports and DUTAY Transports, giving drivers the vehicles they want fosters involvement and loyalty and helps to ensure the success of the Group.


The TCDA Group relies on DAF vehicles to continue its growing success. Charles Dehergne, originally a freight forwarder when the group was founded in 2011, runs the TCDA Group, which forged its path in the transport industry when it acquired AVERTY Transports and DUTAY Transports. With its success based on its social focus and sharing benefits with employees, the Group's turnover reached €12 million in 2016.

Charles Dehergne is counting on his employees to increase turnover to €20 million next year with the 2020 Performance Project. "Making customers happy is what drives me, and the key to my success is listening to my employees and making sure they're happy too", he says. He cares about his drivers and often consults them on Group matters: "I see them as my first-line salespeople and I involve them in the management side of things", he reveals.
"Making sure my drivers are happy is the key to my success", says Charles Dehergne.
Since being bought out by the TCDA Group, Averty Transports and Dutay Transports have started adding DAF trucks to their fleet, a choice promoted by director Charles Dehergne who recognises the brand's excellent value for money and sees this as a way to build loyalty among drivers and involve them in the company.

The TCDA group relies on DAF vehicles to continue its growing success. A freight forwarder when founded by Charles Dehergne in 2011, the TCDA group entered the refrigerated and industrial freight transport sector in April 2012 when it bought Averty Transports. Since then, the group's young director has acquired two DAF models to integrate into the Averty fleet. His satisfaction was immediate: "The local DAF branch gave me a good price for a five year contract or 650,000 kilometres, explains Charles Dehergne. The vehicles proved to be reliable, fuel-efficient and highly effective for refrigerated transport. Moreover, the DAF branch has proved to be the best in terms of its workshop facilities, maintenance services and customer relations. Finally, the excellent value for money of DAF trucks has enabled me to build in the social dimension that I was looking for with my drivers".

Motivating drivers
Raised and shaped in the world of transport by his uncle, Charles Dehergne failed to find the staff and driver motivation that he considered essential for corporate growth among his employers: "A company that wants to progress has to communicate with its staff and motivate them through profit-sharing", he explains. "That's how you earn their respect and commitment. However, I was told it was out of the question to create a social laboratory at the company's expense. So I created one at home and I benefited from the results: whilst Averty was showing a loss of 150,000 euro when I bought it, my social management and profit-sharing with employees and drivers yielded 800,000 euro the following year".
Higher volumes and fewer drivers
In 2016 Charles Dehergne predicted that the transport crisis would end and that his drivers would play an important role in reaching the €14 million sales-mark in 2017 and €20 million in 2020, according to his 2020 Performance Project: "I knew the reduction in vehicle fleets caused by the crisis would oblige companies to manage their transport better", states the director of TCDA. "With an increase in volume was added to the lack of drivers, I knew that customers would pay closer attention to our offers and services. So I set myself the objective of providing each prospect or customer with information about our business that would enable them to anticipate their transport plans. When the information is confirmed, the customer remembers and calls me".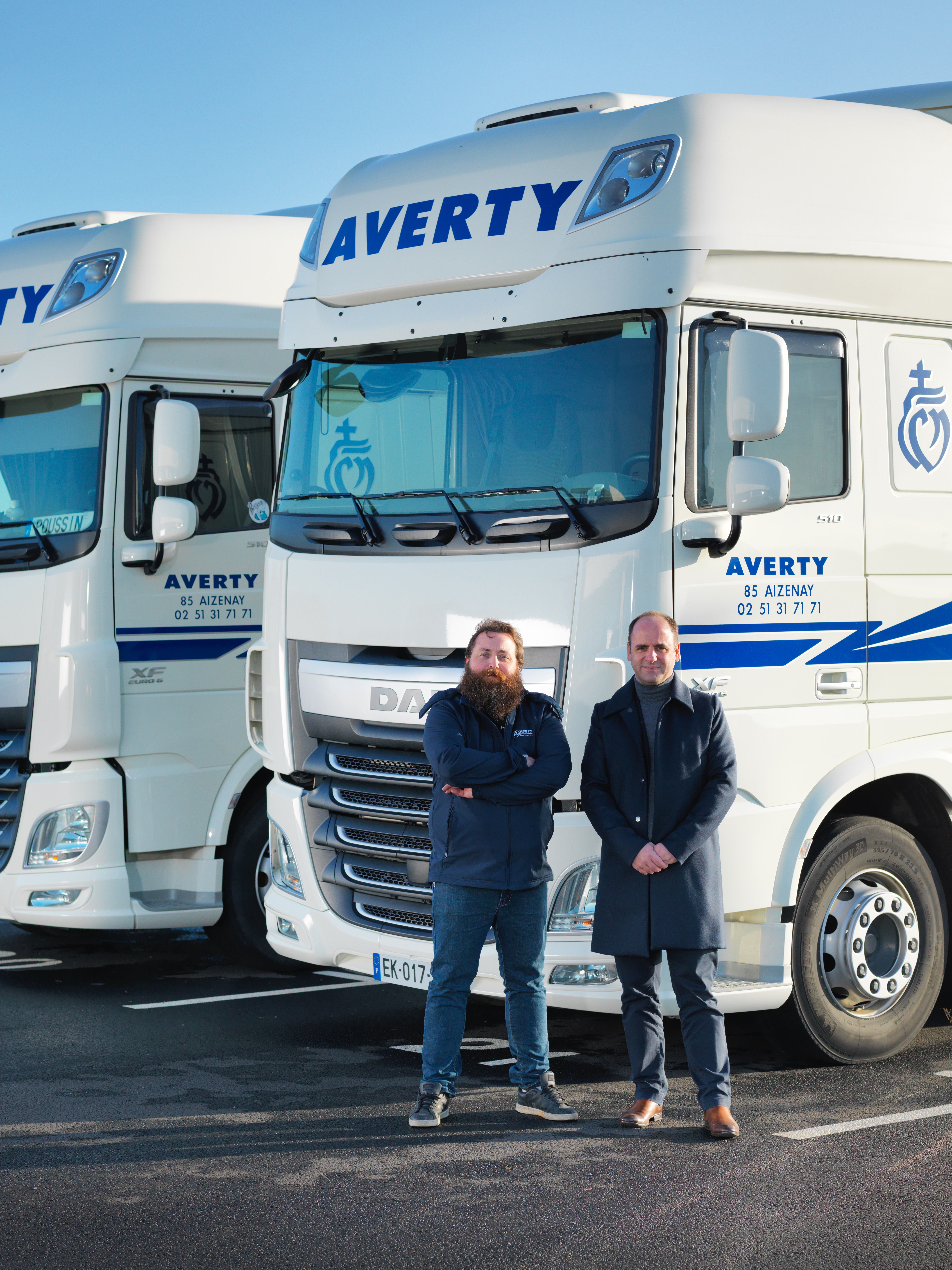 Empowering drivers
At the same time, Charles Dehergne has prepared his employees to respond to shippers' demands within 48 hours: "Since my motivation is to keep customers happy by making them central to my concerns, then the key to the success of this strategy lies in getting operators and drivers on board with my business plan", he insists. "So I do everything to keep them happy in exchange for their commitment, since they're the ones who run the company when I'm not there". Drivers are at the heart of his service model: "In addition to team-building days between operations and driver teams, I organise a working group every two months with two consultant drivers. We look at all areas of non-compliance so that drivers and operation teams can work effectively together. I make them accountable by discussing business results, fuel costs and incidents. I also tell them about our commercial achievements and planned investments. In exchange, they tell me about any driver complaints and wishes. They also pass on any commercial information gleaned from customers. I try to show my appreciation by obliging their desires".
17 DAF vehicles purchased in 18 months
Charles Dehergne invited his drivers to choose the ten new vehicles of their fleet – they opted for the DAF XF510, and the TCDA director immediately accepted. "With its automatic gearbox, the DAF XF510 Euro 6 seems to be reliable and performs well", says Charles Dehergne. "Its side fenders make it fuel efficient as well as making it look good. Its large cabin is very comfortable for drivers and its roof headlights are a great safety feature for night driving. Finally, its excellent price-quality ratio offered another opportunity to strengthen the social dimension with my drivers". In early 2017, Charles Dehergne purchased ten DAF XF510 Super Space Cabs all fitted with a cooling box, bunk mattress, TV, daytime air conditioning and roof headlights. The drivers were won over. Delighted with this success, Charles Dehergne went on to buy more DAF vehicles: "In 2018, I bought two DAF XF510 for Averty and two XF480—a more versatile model— for DUTAY, all Super Space Cabs, he says. At the end of February, Dutay will receive a further three XF480 Super Space Cabs. "In 18 months I've bought 17 DAF vehicles".
Extra €1500 on resale
Charles Dehergne is the most satisfied member of the TCDA Group: "These features have cost me 5,000 to 6,000 euro per vehicle, but they've enabled me to recruit and keep the best drivers", confides Charles Dehergne. "I also know that on resale I'll get 1500 euro more per vehicle". The young manager has also improved the daily lives of his drivers by providing comfortable showers and toilet facilities at the new site opened in June 2018 in Aizenay. The car park has two fuel stations equipped with a small satellite for the second tank: "The drivers no longer have to slide under the truck with the fuel pipe to fill it", he says with satisfaction. The car park also includes three washing stations, one of which is equipped with a platform and Karcher hoses attached to an aboveground structure: "With these hoses, drivers can easily clean the wheels and roofs of the trailers", explains Charles Dehergne. "This equipment saves them forty minutes during the weekly truck clean".
A driver's perspective: "A DAF truck is always comfortable"
There's a long-standing love affair between Aurélien Bignon and DAF trucks: "I rode in DAF trucks with my dad as a child, as he was a driver and my mum worked in operations", he says. "My first job as a driver was with a DAF in 2002". So he was keen to drive one of the ten DAF XF510 Super Space Cabs that Averty Transports acquired in January 2017. It wasn't easy as he had only been driving the national routes for them since March 2015: "But I would have been upset not to get one", he confesses. So getting a DAF XF510 equipped with all the best features for his weekly trips, when he transports fresh and frozen products between Aizenay (85) and Paris made him very happy: "A DAF is always so comfortable", he begins, eyes shining. "It has a large cabin, a comfortable bunk mattress, a cooling box and a TV… it's an absolute delight. The ergonomic instrument panel has all the controls close at hand and the steering wheel's perfect for precision driving".
Proud of his DAF
For night drivers on the major routes, the long reach of the roof headlights is a godsend: "When I drive through woods, I can see wild animals crossing the road". But the feature I like best is the daytime air conditioning: "The air conditioning keeps an even temperature in the cabin, even in summer", he says. "I get less tired, sleep better and I'm happier in my work. All of sudden, customers relax and we start talking about the trip or they say how smart my truck is. Then they're happy to load their goods on board". Aurélien Bignon is proud of his DAF and grateful to his boss. He sees himself staying at Averty Transports for a long time to come, with one ambition after ten years of service: "To become a consultant driver", he hopes.