DAF respects your privacy. We use cookies for a variety of purposes, such as website functionality, improving your experience of our website, building integration with social media and helping target marketing activities within and beyond our website. By continuing your visit on our website, you are consenting to our use of cookies. However, if you want to customize your cookie preferences, click on 'Change settings' below. You can withdraw your consent at any time. For more information, please visit our Cookie Notice.

New DAF XF 530 for Woodgate Sawmills
Down in the woods
The middle of a forest isn't the first place you'd expect to see a 44-tonne artic. Tight turns, low-hanging branches, 'variable' terrain, and flora and fauna just inches from the wheel-nuts; Nevertheless, it's the natural domain for Woodgate Sawmills' latest DAF XF 530 'FTS' dual-mounted 6x2 tractor and its similarly-specified DAF stablemates.
Since 2005, Woodgate has steadily grown its fleet into a trio of top-of-the-range tractor units. The first DAF, a 53-plate CF 480 low-cab sleeper remains in regular service today. "It's been an excellent motor for us", says company director Andrew Humphries, "we bought her on the used market at 18-months old, so she's been with us for a long time."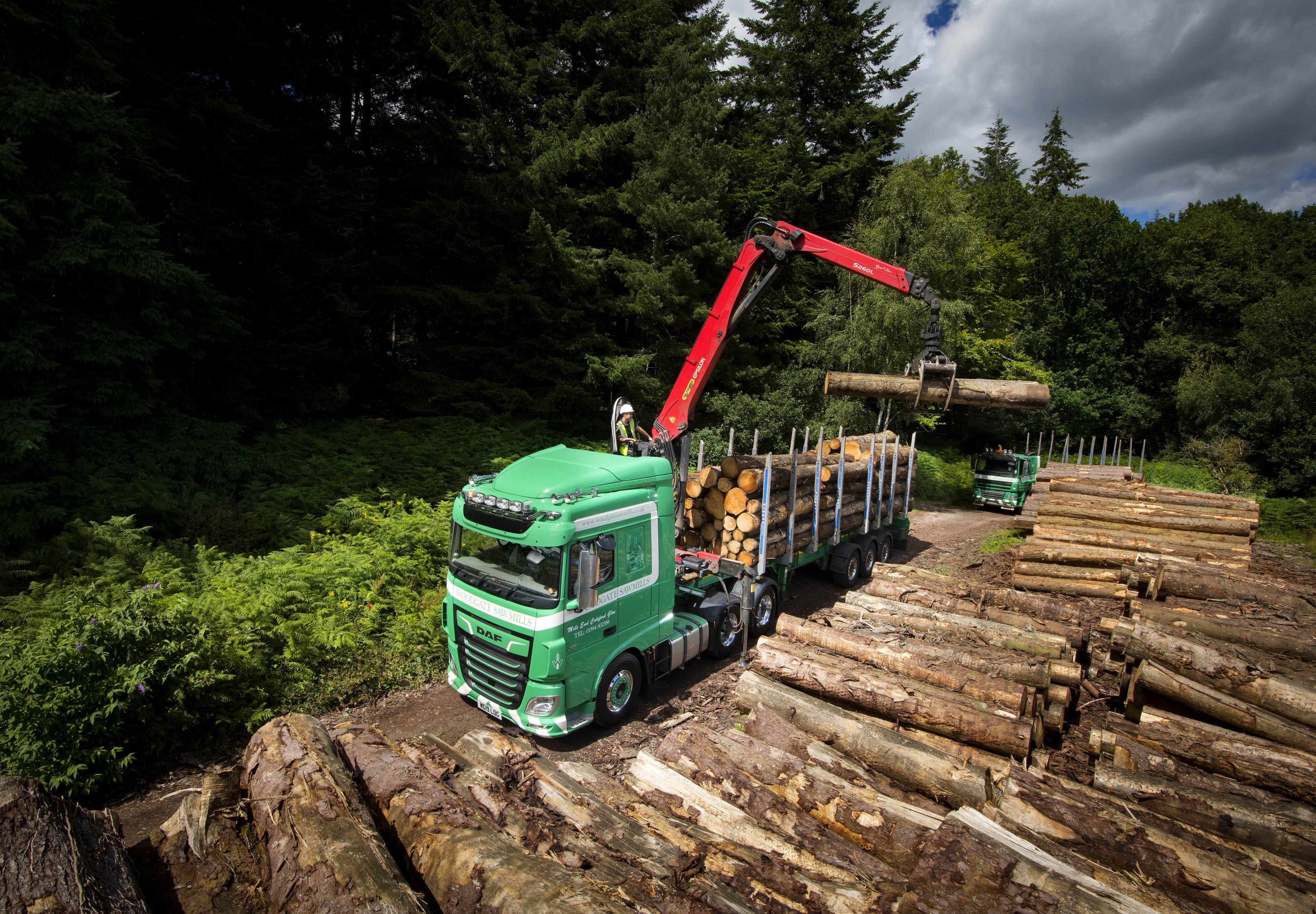 The next arrival, a then brand-new XF 510 was followed by a 19-plate XF 530. "Our latest XF is a very highly spec'd example and handles the biggest jobs", Andrew says, "We always go for the biggest engine and the latest gearbox available at the time. Our loads are often close to 44-tonnes, and we can be running at that extensively off-road. Forests aren't typically the most accessible places to venture, and a mix of narrow lanes and steep hills are part and parcel of the job."
Getting the spec right
To cope with the unforgiving terrain, all Woodgate's trucks are spec'd to meet the demands of logging. All three benefit from a dual-mounted rear bogie and lifting tag-axle, with the latest 530bhp unit running full rear air suspension to provide extra articulation when required. Lightbars, rear-mounted working lights and beacons have also been added to aid visibility under light-starved woodland canopies.
An essential piece of kit for both XFs is the Central Tyre Inflation System, which Andrew is keen to highlight as a benefit to both the operation and the environment. "The system's benefit to us as a business is two-fold," he says, "By allowing us to deflate and then reflate the tyres remotely from the cab, we can increase the surface area of the tyres to provide better traction on loose or unstable surfaces. The forest floor is awash with tyre-shredding debris," he says, "and punctures are a constant worry. The onboard compressors allow us to maintain a safe pressure in the tyre so that we can make it back to base."
Out and about
While all three of Woodgate's tractors come with extremely well-appointed DAF Super Space Cabs, the drivers tend to return to base most evenings, making use of the trucks' overnight facilities as and when a job requires. "They love the trucks", says Andrew, "The driving position is very comfortable, and the full rear air suspension on the 530 makes for a very smooth ride.
Working with the loads that they do, stability is everything, and the trucks give them the confidence they demand behind the wheel," he said.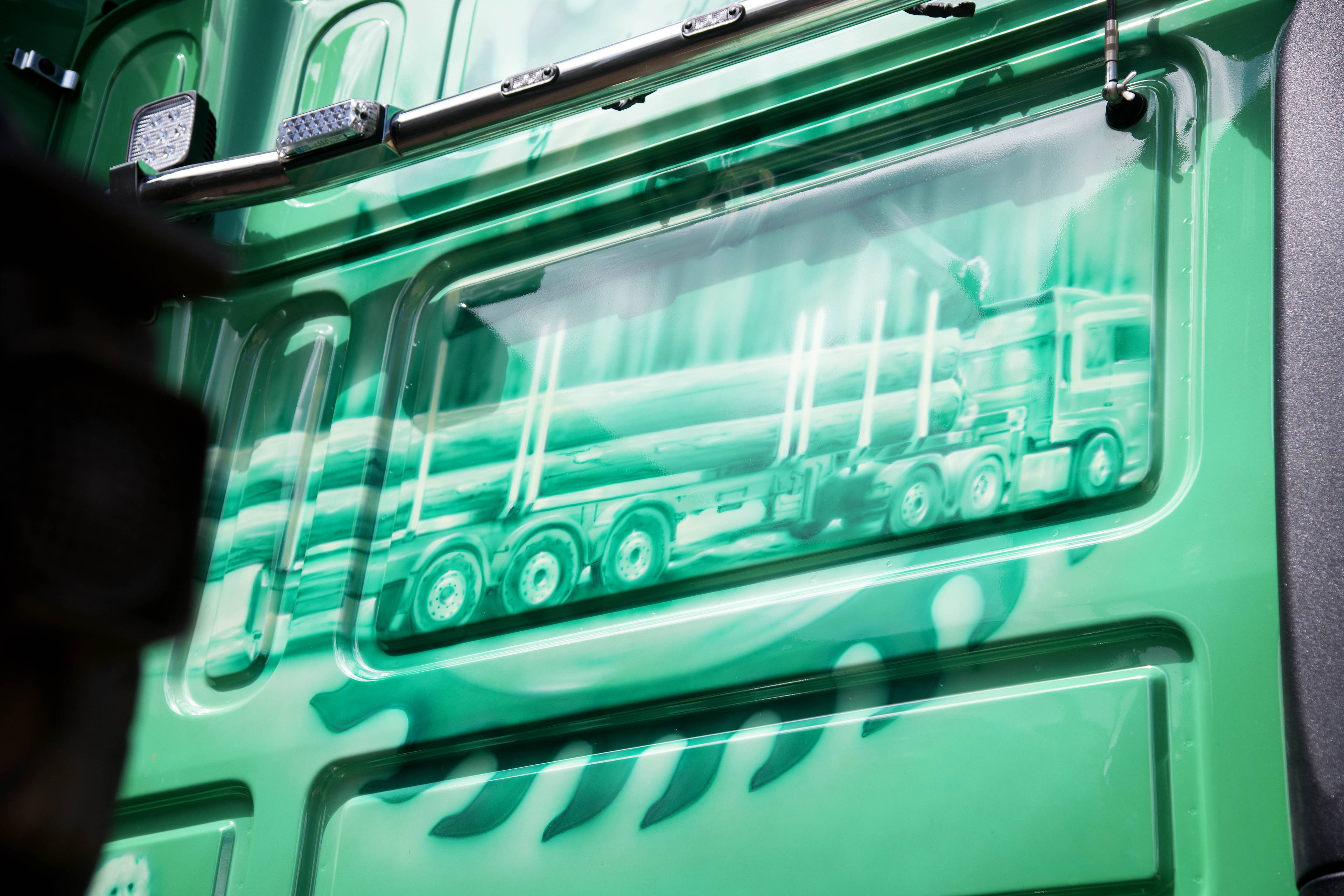 Of course, tip-toeing a loaded 44-tonne artic on trails through dense
woodland in the rain isn't for the faint-hearted, and the drivers must always be alert to the ever-changing risks around them. "We have to be sure that the drivers are not only confident in their driving skills," adds Andrew, "but they're taking all the necessary precautions to keep themselves and those around them safe. Forest roads are often little more than a dirt track and can quickly become extremely challenging, even for a smaller vehicle. It's a delicate balance of maintaining power without breaking traction, lifting the tag-axle as and when required, adjusting tyre pressures and being aware of the surroundings at all times. It can be a treacherous job," he says, "but a combination of skill, experience and a cool head will see you right."
Find your nearest DAF dealer