DAF respects your privacy. We use cookies for a variety of purposes, such as website functionality, improving your experience of our website, building integration with social media and helping target marketing activities within and beyond our website. By continuing your visit on our website, you are consenting to our use of cookies. However, if you want to customize your cookie preferences, click on 'Change settings' below. You can withdraw your consent at any time. For more information, please visit our Cookie Notice.

Efficient
your DAF Dealer
Our mechanics participate regularly in specialised training programmes so that they can keep up with the newest developments in the area of truck maintenance. No one knows our trucks better than we do!
Our modus operandi
When your truck comes to us for maintenance our aim is to get it back on the road as quickly and as safely as possible. If you are having problems with your truck or require expert advice, our DAF dealers can give you all the help you need. It is even possible to drop in and have minor repairs carried out immediately. And if you have to be back on the road on a certain day, we will make sure your truck is ready to go. Your wish is our command.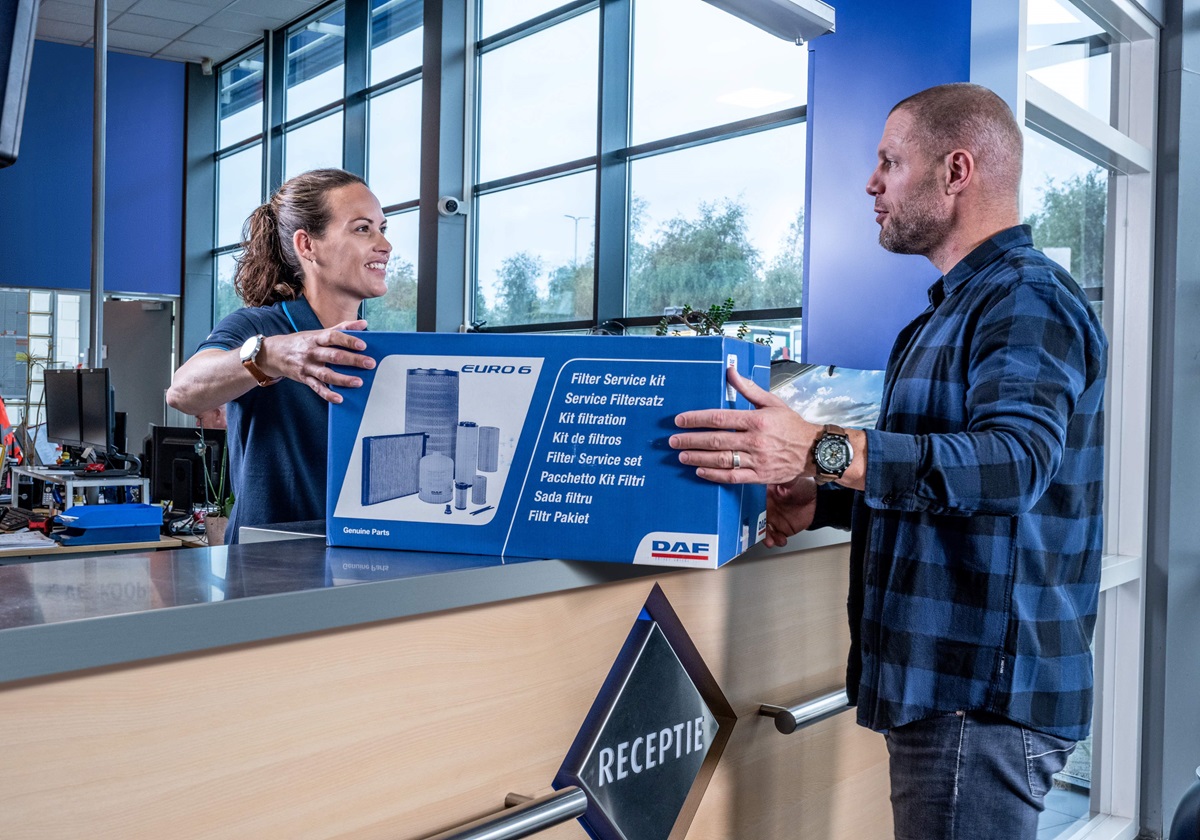 Personal contact
We believe that personal and informal contact forms the basis for fruitful and long-lasting cooperation. If you are in need of assistance and happen to be driving past one of our dealers, don't hesitate to drop in. When your truck requires only a small adjustment or minor repairs you can wait at the dealer's until the job is done. If the repairs require more time, you will be provided with alternative transport so that you can stick to your schedule. In the meantime we will keep you up-to-date on the status of your own truck. Our personal touch is one of the reasons why we have so many repeat customers and we are very grateful for their custom.


Keeping everyone in the loop: transparency
When we have identified the problem we immediately provide you with the relevant information. If the repair work turns out to be more expensive than expected, we will discuss this with you first so that the eventual costs won't come as an unpleasant surprise to you. We tell you exactly what the problem is, how quickly we can fix it and give you a realistic estimate of the costs. In doing so we take all relevant factors into consideration, such as the age of your truck. In the end, you are the one who makes the decision whether or not to carry out the repairs.


Ready at all times
If it turns out that it is going to be difficult to get the required spare parts on the same day, we never fail to rise to the challenge, no matter what. We will even send a taxi to pick up parts or work afterhours if we have to! We do everything within our power to get the job done.
Your DAF dealer is ready at all times to help you, even from a distance. If your truck breaks down out on the road, we will send a mechanic to fix the problem or arrange to have your truck towed. 24 hours a day, 7 days a week. No matter what the situation, you are always welcome at your DAF dealer. And the coffee is always hot.
5 reasons to choose a DAF workshop
Your DAF dealer has the skills and experience to help you with all repairs and maintenance. Using advanced diagnostic equipment, highly qualified service professionals maintain your truck at peak efficiency.
Learn more about the DAF dealer
BETTER SERVICE
BETTER DAF